Precious metals had an impressive day yesterday as Bernanke gave traders the ammunition to go bear hunting. Gold moved back above the $1600/ounce level, which is psychologically important but does not yet get us out of the woods so to speak. We still need to see a roughly $50/ounce move higher to get us back to bullish territory and to fight the bears back. That is what we have seen and it seems reasonable and should this happen we would expect to see a reaction in the shares of some of the beaten down gold names which should be higher on inflation concerns alone, in our opinion.
Commodity prices this morning are as follows:
Gold: $1605.10/ounce, down by $10.40/ounce
Silver: $29.04/ounce, down by $0.22/ounce
Oil: $92.85/barrel, up by $0.22/barrel
RBOB Gas: $2.9816/gallon, UNCH
Natural Gas: $3.45/MMbtu, down by $0.006/MMbtu
The Indicator
We continue to be impressed with Cheniere Energy (NYSEMKT:LNG) and the way the stock tends to be a barometer for the industry as a whole. It is something we have pointed out numerous times to readers, and although we do not necessarily look at it day-to-day, it is one of our measurements for where investors' risk appetite stand at any given moment. The shares are in fact off of their highs, but after yesterday's nearly 3.5% move higher we still find shares above the $21/share level which is far better than a lot of the E&P plays can say for their performance during this correction and the weeks leading up to it. This continued strength is a positive and gives us confidence that the oil and natural gas plays currently down will reverse course strongly during the correction upwards.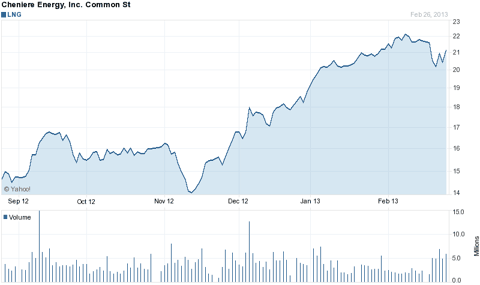 Chart courtesy of Yahoo Finance.
Oil & Natural Gas
We finally saw a bit of action, and life, in the units of EV Energy Partners, LP (NASDAQ:EVEP) for the first time in what seems like months. Volume was decent for the MLP at 399k but what we found impressive was the overall strength across the entire session. We anxiously watched into the close expecting to see a sell-off, or some other shenanigans, but nothing of the sort materialized. This leaves us to wonder about the upcoming conference call the company has scheduled and how that will play out among investors. The units closed up $2.02 (3.67%) yesterday to close at $57.13/unit and despite the pullback we are not buyers here but rather holders of the options and units already in our portfolio. The risk of disappointment at this point seems to be too great and we would rather hunker down with our current bet than add more to it.
We found it interesting that Rosetta Resources (NASDAQ:ROSE) announced that their Chief Executive Officer, Randy Limbacher will be leaving the company effective April 2013. The road has not always been smooth at Rosetta, especially with the disappointment of the large Bakken position they built which turned out to be outside the area deemed economical, but the one thing which we could always count on was the more than capable management team and their experience at the top. The team is more than one individual, but the company is refilling the ranks by promoting from within and it appears that at this point they will not miss a step. We are not buyers on yesterday's weakness, but should the shares fall as they did only a few months ago to the $42-45/share range, we would be tempted to once again open a trading position in the company. One can view the conference call from the latest quarterly results here, and the press release announcing Mr. Randy Limbacher's departure here.
One company which we have discussed a few times in this morning update is Diamondback Energy (NASDAQ:FANG) which has been a strong performer since its IPO a few months ago. The company has been helped by investors' desires to focus on liquids plays and value the oily ones even more. Thus all things Bakken and Permian have garnered attention and that has led to the run-up here. We have stated that finding information on the company was hard early on, but now it is becoming easier and with the latest quarterly results we are happy to point out that the transcript is available online (located here) now for readers who have thus far been unable to obtain information (as we know some have from various emails and twitter direct messages) regarding the company and their latest happenings.
Politics and the Oil Patch
We continue to watch Petrobras (NYSE:PBR) and their trend lower and are left to shake our heads. At one point this was a big winner with their exposure to the vast oil reserves off of the coast of Brazil and a management team working to create shareholder value and doing a great job at it. Then the government stepped in, as is more the rule than the exception in South America, and since then all hell has broken loose. We are simply left to wonder how this story ends as it appears at this time that the government is simply using investor funds to pay for this expensive development as they move to use the entity for their own political goals. At some point this situation is going to deteriorate to the point where the investors simply walk away or the government moves in to steal these assets from beneath investors. Brazil is a great country with an impressive economy, but in the next few years they will have to loosen their grip on Petrobras in order to appease the investor community and guarantee that these projects are completed on time. This is something we are keeping on our radar as it could have far ranging effects.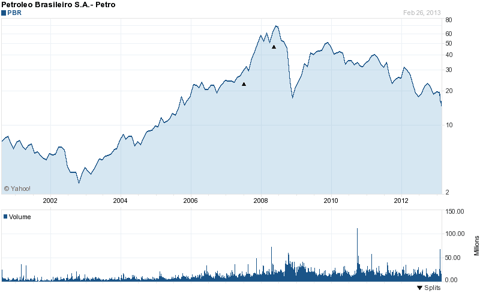 Chart courtesy of Yahoo Finance.
Disclosure: I am long EVEP. I wrote this article myself, and it expresses my own opinions. I am not receiving compensation for it (other than from Seeking Alpha). I have no business relationship with any company whose stock is mentioned in this article.