North Korea is still a rogue state, the country just recently conducted its third nuclear test in defiance of existing U.N. resolutions.
The North said the test had "greater explosive force" than the 2006 and 2009 tests that were widely seen as small-scale. Its KCNA news agency said it had used a "miniaturized" and lighter nuclear device, indicating that it had again used plutonium which is more suitable for use as a missile warhead.
The threat to use nuclear, chemical or biological weapons by rogue states or terroristic organizations is still there and that's why the U.S. government is providing funding for all kind of programs under different umbrellas.
One of the programs that is heavily supported by The Biomedical Advanced Research and Development Authority (BARDA) is the research on Acute Radiation Syndrome (NYSE:ARS). An interesting company with an interesting program in ARS that is ready to take off is Soligenix (NASDAQ:SNGX).
Why? The company could be granted with a multi-million contract which could have a huge impact on the stock price going forward.
But first I will tell you more about BARDA and ARS before I go to Soligenix. In my Final Note you will find my summary why I think Soligenix is a good investment choice.
The Biomedical Advanced Research and Development Authority
The Biomedical Advanced Research and Development Authority is the component of the Public Health Emergency Medical Countermeasures Enterprise that focuses on the advanced development, manufacturing and acquisition of medical countermeasures against chemical, biological, radiological and nuclear (CBRN) threats, pandemic influenza, and emerging infectious diseases. BARDA's staff includes experts in the fields of physical, chemical and biological sciences, engineering, clinical medicine, public health, product development, regulatory affairs, and program management.
Acute Radiation Syndrome
Acute Radiation Syndrome (ARS) (sometimes known as radiation toxicity or radiation sickness) is an acute illness caused by irradiation of the entire body (or most of the body) by a high dose of penetrating radiation in a very short period of time (usually a matter of minutes). The major cause of this syndrome is depletion of immature parenchymal stem cells in specific tissues. Examples of people who suffered from ARS are the survivors of the Hiroshima and Nagasaki atomic bombs, the firefighters that first responded after the Chernobyl Nuclear Power Plant event in 1986, and some unintentional exposures to sterilization irradiators. The three classic syndromes are:
•Bone marrow syndrome:(sometimes referred to as hematopoietic syndrome) the full syndrome will usually occur with a dose between 0.7 and 10 Gy (70 - 1000 rads) though mild symptoms may occur as low as 0.3 Gy or 30 rads4.
◦The survival rate of patients with this syndrome decreases with increasing dose. The primary cause of death is the destruction of the bone marrow, resulting in infection and hemorrhage.
•Gastrointestinal (NYSE:GI) syndrome: the full syndrome will usually occur with a dose greater than approximately 10 Gy (1000 rads) although some symptoms may occur as low as 6 Gy or 600 rads.
◦Survival is extremely unlikely with this syndrome. Destructive and irreparable changes in the GI tract and bone marrow usually cause infection, dehydration, and electrolyte imbalance. Death usually occurs within 2 weeks.
•Cardiovascular/ Central Nervous System syndrome: the full syndrome will usually occur with a dose greater than approximately 50 Gy (5000 rads) although some symptoms may occur as low as 20 Gy or 2000 rads.
◦Death occurs within 3 days. Death likely is due to collapse of the circulatory system as well as increased pressure in the confining cranial vault as the result of increased fluid content caused by edema, vasculitis, and meningitis.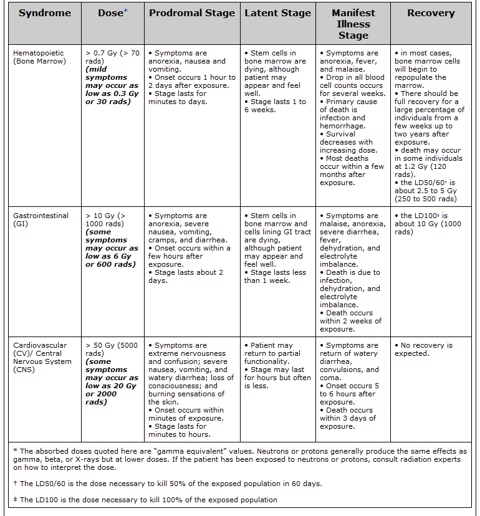 Investors who are eager to invest in biotech companies that are developing medicines against ARS have several choices in the U.S. biotech market. I will introduce to you three companies that could be worthy investments going forward. My main focus will be Soligenix because I think their prospects for a providing a substantial return on investment, given their current market cap, are extremely strong.
Soligenix
Soligenix, Inc. is a clinical- stage biopharmaceutical company that is focused on developing products to treat the side effects of cancer treatment and serious gastrointestinal diseases where there remains an unmet medical need, as well as developing several biodefense vaccines and therapeutics.
The company maintains two active business segments: BioTherapeutics and Vaccines/BioDefense. Soligenix's BioTherapeutics business segment intends to develop oral beclomethasone dipropionate (oral BDP) for indications such as pediatric Crohn's disease and acute radiation enteritis, as well as SGX942, a novel innate defense regulator technology for oral mucositis and various infectious disease applications. The Vaccines/BioDefense business segment includes development programs for RiVax™, a ricin toxin vaccine, VeloThrax™, an anthrax vaccine, and OrbeShield™, a gastrointestinal acute radiation syndrome ("GI ARS") therapeutic that appears to be picking up significant momentum within the various government agencies: National Institute of Allergy and Infectious Diseases (NIAID), BARDA and FDA.
Soligenix is a relatively new player to the ARS arena. At the beginning of this year, BARDA had informed the company that after careful analysis and consideration, it was inviting Soligenix to submit a full contract proposal for a potential multi-year, multi-million dollar contract to develop OrbeShield™ from its current level of technical readiness to FDA approval. As of this writing, Soligenix has submitted this contract proposal to BARDA, see press release.
OrbeShield™ (an oral immediate and delayed release formulation of the topically active corticosteroid BDP) is being developed for the treatment of GI ARS. Corticosteroids are the best understood and most widely used class of anti-inflammatory drugs. BDP is a corticosteroid with predominantly topical activity in the GI tract that is already approved in aerosol and inhalant form for use in asthma and allergic rhinitis.
In a canine model of GI ARS, OrbeShield™ demonstrated a statistically significant survival advantage in animals that received OrbeShield™ therapy up to 24 hours following exposure to lethal doses of total body irradiation (NYSE:TBI) when compared with placebo control animals (p=0.04). Median survival post TBI exposure in the control group was 8 days, compared to 87 days in the OrbeShield™ treated group. A subsequent study to replicate and expand upon the observations made in the canine model is being initiated and, like the previous study, is supported by a recent Small Business Innovation Research (SBIR) grant award of $600,000.
On January 29, the FDA granted Soligenix "Fast Track" designation for OrbeShield™ for the reduction of mortality associated with GI ARS. The company has also previously received IND clearance and Orphan Drug designation from the FDA for oral BDP for the prevention of death following a potentially lethal dose of total body irradiation during or after a radiation disaster.
Fast track is a designation that the FDA reserves for a drug intended to treat a serious or life-threatening condition and one that demonstrates the potential to address an unmet medical need for the condition. Fast track designation is designed to facilitate the development and expedite the review of new drugs.
The main ARS competitors
Cleveland BioLabs, Inc.
Cleveland Biolabs (NASDAQ:CBLI) is a clinical-stage biotechnology company with a focus on oncology and orphan drug development. Since the inception in 2003, the company has pursued the research, development and commercialization of proprietary products that have the potential to treat cancer, prevent and treat acute radiation syndrome and counteract the toxic effects of radio and chemotherapies for oncology patients.
Presently, they have nine product candidates in the pipeline. Their main product in development against ARS, which is currently supported by a $45 million contract award received in 2010, is Entolimod™ (CBLB502). Entolimod™ (CBLB502) is a recombinant protein that induces a spectrum of protective effects upon direct interaction and signaling via toll-like receptor 5 (TLR5), an innate immune system receptor. It has multiple advantages compared to agonists of other TLRs, including those that are currently under development for oncology applications, stemming from its unique mechanism of action.
Osiris Therapeutics
Osiris Therapeutics, Inc. (NASDAQ:OSIR) is a leading stem cell company focused on developing and marketing products to treat medical conditions in the inflammatory, autoimmune, orthopedic and cardiovascular areas. Osiris' stem cell products have significant therapeutic potential because of their ability to regulate inflammation, promote tissue regeneration and prevent pathological scar formation.
Their main product in development against ARS, which is supported by a $225 million contract award received in 2008, is Prochymal™, a formulation of adult stem cells derived from bone marrow, to treat the potentially lethal complications of acute radiation syndrome (ARS). Prochymal™ is a highly purified formulation of mesenchymal stem cells (MSCs) that are grown in culture, permitting large-scale production. The MSCs utilized in Prochymal™ are isolated from the bone marrow of healthy adult donors. Because the cells can be expanded, thousands of doses can be produced from a single donation.
Final note
There are currently no FDA-approved treatments for ARS. In the area of radiation-protective antidotes, there are a number of companies in direct competition with each other, but when you look at those developing therapies specific for the GI component of ARS, the field narrows to just a few key players, such as RxBio, Inc., the University of Arkansas Medical Sciences Center, and Soligenix. And of these companies Soligenix, with its OrbeShield™, in my opinion, appears to be the most promising., because their drug is already generally understood by the FDA to be safe, as the FDA has previously approved the active ingredient BDP, in OrbeShield™. Pursuant to their recent contract submission to BARDA (at BARDA's request), the company is nicely positioned for its first potentially large contract where it can bring in big money going forward, which will be very beneficial for both the company and its investors, especially given where the company's market cap and stock price are today. Below is a table illustrating significant BARDA and Department of Defense (NYSEARCA:DOD) awards for ARS/GI ARS product development in chronological order:
Company

Compound

ARS/

Stage of Development

Award Amount

Date of Award

Agency

GI ARS

Osiris Therapeutics

Prochymal

ARS

Phase 1

$225 million

January-08

DoD

Cleveland Biolabs

CBLB502

ARS

Pre-clinical

$15.6 million

sep-08

BARDA

Cellerant

CLT-008

ARS

Phase 1

$11 million

sep-08

BARDA

Cleveland Biolabs

CBLB502

ARS

Phase 1

$45 million

sep-10

DoD

Cellerant

CLT-008

ARS

Phase 1

$153 million

sep-10

BARDA

Aeolus

AEOL 10150

ARS

Pre-clinical

$118 million

February-11

BARDA

Neumedicines

HemaMax

ARS

Pre-clinical

$17 million

sep-11

BARDA

RxBio

Rx100

GI ARS

Pre-clinical

$15 million

sep-11

BARDA

Araim Pharmaceuticals

ARA 290

ARS

Phase 1

$3.1 million

sep-11

BARDA

University of Arkansas/Novartis

Pasireotide

GI ARS

Phase 1

$4.5 million

sep-11

BARDA
With a market cap of only $20 million, I think Soligenix could be an interesting investment opportunity going forward. Given the many ARS awards previously handed out by BARDA and DoD, and the fact that BARDA invited Soligenix to submit a proposal for funding, I think the chances are good that they receive a multi-million dollar contract award. Further, the company can compete against its competition based on the following differentiating attributes of OrbeShield™:
• Generally more advanced than other programs specifically targeting GI ARS
* Oral tablets making self-administration easy for the masses
• Extensive human safety database
• Ability to formulate and manufacture at large scale and under cGMP conditions
• Long-term drug stability that does not require any special storage (e.g., refrigeration)
• Promising pre-clinical data in a large animal model
Risks involved
The companies mentioned in this article are subject to risks common to companies in the biotechnology industry including, but not limited to, development of new technological innovations, dependence on key personnel, protections of proprietary technology, compliance with FDA regulations, litigation, and product liability.
Disclosure: I have no positions in any stocks mentioned, but may initiate a long position in SNGX over the next 72 hours. I wrote this article myself, and it expresses my own opinions. I am not receiving compensation for it (other than from Seeking Alpha). I have no business relationship with any company whose stock is mentioned in this article.