By Jason Napodano, CFA
Prediction: Takeda Pharmaceuticals USA and Aastrom Biosciences (ASTM) will form a joint development and commercialization alliance for ixmyelocel-T sometime in the next few months.
I do not say things like this very often. As a professional equity research analyst I try to rely on concrete sources of information and my financial models when I'm developing an opinion of a stock. I try to avoid speculation based on rumors or hearsay. For a company like Aastrom Biosciences, concrete sources of information include published data in medical journals or presentations at peer-reviewed conferences, information found in SEC filings, and conversations with management. So before we get into the guessing-game of when or if Aastrom will partner ixmyelocel-T, let's lay out the facts:
Fact #1: Aastrom is currently studying ixmyelocel-T in a phase 3 trial for critical limb ischemia (NYSE:CLI) and a phase 2 trial for ischemic dilated cardiomyopathy (iDCM).
- Data from Aastrom's phase 2b CLI trial, dubbed RESTORE-CLI, was presented at the 2011 American Heart Association (AHA) scientific session in November 2011. A copy of the presentation can be found HERE, and my analysis of the data can be found HERE. The company's phase 3 CLI trial, dubbed REVIVE (Clinicaltrials.gov: NCT01483898), began enrollment in May 2012. The trial is being conducted under a Special Protocol Assessment (SPA) from the U.S. FDA. Ixmyelocel-T has also been granted Fast Track designation for CLI. Data is expected in 2015.
- Data from Aastrom's phase 2a DCM trial, dubbed IMPACT-DCM, was presented at the 15th Annual Heart Failure Society of America Scientific Meeting in September 2011. A poster of the data can be found HERE, and my analysis of the data can be found HERE. The company's phase 2b iDCM trial, dubbed ixCELL-T (Clinicaltrials.gov: NCT01670981), began enrollment during the third quarter 2012. The U.S. FDA has granted ixmyelocel-T Orphan Drug status for DCM. Data from ixCELL-T is expected in 2014.
Fact #2: Aastrom will require significant funding to keep both REVIVE and ixCELL-T on pace.
- According to the company's Form 10Q filed in November 2012, Aastrom used approximately $22.2 million in cash to fund operations during the first nine months of 2012. As of September 30, 2012, Aastrom held roughly $21.1 million in cash and investments. If we assume operating burn in the fourth quarter 2012 consistent with the first nine months of the year (~$2.5 million month), then Aastrom should have exited 2012 with roughly $13.6 million on the books. Another approximate $5.0 million burn for the first two months of 2013 puts Aastrom's current cash position around $8.6 million. At a rate of $2.5 million per quarter, Aastrom is sitting on only 3-4 months of cash.
Fact #3: In January 2013, I met face-to-face with Daniel Orlando (NYSE:CEO) and Brian Gibson (VP. Finance).
- It was good to meet Aastrom's new CEO. In the past when I spoke with former CEO Tim Mayleben on the opportunity for financings and partnerships in 2013, the company seemed dead-set on pushing forward in CLI and DCM alone. Yes, this ultimately maximizes the profits to Aastrom, but if the company struggles to get there because of cash constraints and a low-stock price, then the point is moot. That being said, the key takeaway from my meeting is that Aastrom now seems to be talking more about partnering ixmyelocel-T, at least in CLI, this year. Management has spent the past few months doing market research and looking at why enrollment in the company's Phase 3 REVIVE-CLI trial is proceeding so slowly. I do not think we will see Aastrom change any of the inclusion/exclusion criteria for REVIVE. This is an incredibly well-designed program with significant feedback from the FDA (note the SPA above). However, what I think we will be seeing Aastrom do throughout the next few months is changing the lexicon around the inclusion/exclusion criteria. For example, instead of calling it "critical limb ischemia", we may start hearing more "severe peripheral artery disease," or instead of using the term "Rutherford-5″, we may start hearing more "confirmed tissue loss." These are the same patients, but with a more widely acceptable or obvious classification. Aastrom also seems to be dropping the "no option" phrase for a "low confidence in revascularization" phrase. Again, same patient only with more understandable terminology. Investors should hear more about this on Aastrom's fourth quarter 2012 conference call in mid-March 2013.
These are good facts, things any professional investor can hang their hat on. But sometimes as an analyst you have to take a leap and connect some dots and make some bold predictions. Since I do not cover Apple (NASDAQ:AAPL) or Google (NASDAQ:GOOG), I cannot gain fame on CNBC by posting a $1000 price target. Instead, I'm predicting a development and commercialization partnership in the next few months. And my best guess is Takeda Pharmaceuticals, USA.
Takeda makes sense. The company has a history of making bold acquisitions, including acquiring Nycomed in September 2011 and Millennium Pharmaceuticals in May 2008. Takeda has also shown a history of embracing new technologies, as evidenced by its acquisitions of LigoCyte in October 2012 and Envoy Therapeutics in November 2012.
Plus, Takeda has publicly stated they are seeking partnerships in cardiovascular and metabolic diseases. On the company's website, under the "Partnerships/Opportunities" tab, Takeda lists specific areas of interest. One area caught my eye:
That's pretty telling in my opinion. Now clearly Aastrom is not the only regenerative medicine company with a focus on peripheral arterial disease and heart failure. Pluristem (NASDAQ:PSTI), Cytomedix (CMXI), and even Cytori Therapeutics (NASDAQ:CYTX) would all fit the bill. But Aastrom has the inside track.
You see, Daniel Orlando, Aastrom's new CEO, has a history with Takeda. Dan was the Vice President of Business Development for North and South America at Takeda Pharmaceuticals. He also served as the original brand director for diabetes drug Actos, which became the #1 branded anti-diabetic agent in the U.S. According to his LinkedIn profile, Dan worked at Takeda from January 1999 up until March 2012, a total of 13 years and 3 months. I think it's safe to say that Dan still knows a lot of people in the business development area at Takeda.
One final dot worth connecting is a conference that will take place in May 2013: The World StemCells Regenerative Medicine Congress 2013, taking place in London, UK. The conference will be attended by the "who's who" of regenerative medicine. Aastrom's CEO will be there. In fact, Dan is sitting on a one-man panel on May 22, 2013 at 11:50AM GMT. The name of the panel is, "How to get a larger partner brought into your innovation?" A snap-shot of the talk is posted below.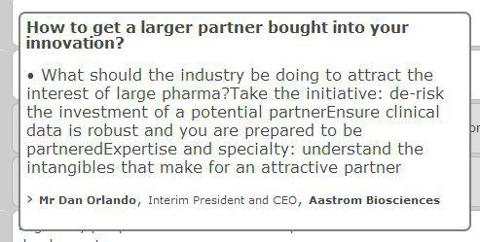 That's a pretty bold panel to sit on as the CEO of a publicly traded biotechnology company that currently does not have a larger partner bought into their innovation! It's a sports equivalent of Dallas Cowboy starting QB Tony Romo sitting on a panel called, "How to win the big game" or New York Yankee Alex Rodriquez sitting on a panel called, "Clutch hitting in the playoffs." It would certainly behoove Dan to have a deal in place by late May 2013 to lend some credibility to his talk. I think Dan would like that.
Someone else that might like that is former CEO, Tim Mayleben. When Tim resigned as CEO in October 2012, little detail about the resignation agreement or the transition package was made public. However, if investors check out this Form 8K filing in December 2012, they will learn that the transition period runs from December 14, 2012 until May 31, 2013. Tim stands to make a lot of money if the stock pops before May 31, 2013. See a snap-shot of the filing below:

Conclusion
Let's summarize. Aastrom is a company with a phase 3 asset in ixmyelocel-T that has published and peer-reviewed proof-of-concept in two potential blockbuster indications, CLI and DCM, for which is has been designated Fast Track and Orphan Drug status, respectively. The company is running low on cash, but the new CEO seems far more open to partnering than the previous CEO. The current market capitalization is only $52 million.
Takeda Pharmaceuticals is a company with a history of making big and bold acquisitions. They have publicly stated that they are interested in the area of regenerative medicine and are looking for therapeutic candidates with efficacy in peripheral arterial disease / critical limb ischemia and heart failure. Dan Orlando, Aastrom's current interim CEO, worked at Takeda Pharmaceuticals, most recently as Vice President of Business Development. Dan is also sitting on a one-man panel in May 2013 at the Regenerative Medicine Congress called, "How to get a larger partner brought into your innovation?"
This all has the making of a potential deal in the next few months. It's a bold prediction, yes, I know. Let me clearly state, I have no inside information. I fully admit I'm connecting dots that probably have no business being connected. But if I'm right, Aastrom at $1.17 per share is a heck of a good buy.
Disclosure: I have no positions in any stocks mentioned, and no plans to initiate any positions within the next 72 hours. I wrote this article myself, and it expresses my own opinions. I am not receiving compensation for it. I have no business relationship with any company whose stock is mentioned in this article.
Additional disclosure: PropThink is a team of editors, analysts, and writers. This article was written by Jason Napodano, CFA. We did not receive compensation for this article, and we have no business relationship with any company whose stock is mentioned in this article. Use of PropThink's research is at your own risk. You should do your own research and due diligence before making any investment decision with respect to securities covered herein.You should assume that as of the publication date of any report or letter, PropThink, LLC and persons or entities with whom it has relation ships (collectively referred to as "PropThink") has a position in all stocks (and/or options of the stock) covered herein that is consistent with the position set forth in our research report. Following publication of any report or letter, PropThink intends to continue transacting in the securities covered herein, and we may be long, short, or neutral at any time hereafter regardless of our initial recommendation. To the best of our knowledge and belief, all information contained herein is accurate and reliable, and has been obtained from public sources we believe to be accurate and reliable, and not from company insiders or persons who have a relationship with company insiders. Our full disclaimer is available at www.propthink.com/disclaimer.