USG Corp (NYSE:USG) has suffered from unprofitable operations since the start of the US Housing crisis, with its last profitable quarter posted in Q3 2007. However, its most recent quarterly information release, coupled with promising figures on housing starts have brought the stock to a high of $30.44, with the latest trading price standing at $27.78. The following article will be devoted to understanding the new string of enthusiasm and determining whether it is justified.
Background
USG Corp operates under three broad categories as follows:
North American Gypsum - USG's largest business is the manufacturing and marketing of gypsum products. Gypsum is a natural or synthetic rock that is used primarily in drywall. USG extracts 57% of its used gypsum from 13 owned quarry or mine sites in North America and produces gypsum products and purchases the remainder. It produces wallboards in 19 plants in North America.
USG represents 26% of the sales of Gypsum board in the U.S. under its many brands including SHEETROCK. Sales of its products can be broken into three broad categories as follows:
| | |
| --- | --- |
| Market | 2012 Proportion |
| New Residential Constr. | 55% |
| New Non-Residential Constr. | 31% |
| Repair and Remodel | 7% |
| Other | 7% |
For the quarter ended December 31, 2012, North American Gypsum represented approximately 53% of total sales, up from 51% in Q4 2011. USG generated a positive operating profit before inter-division eliminations of $14 M compared to $17M in the comparable period in 2011.
Worldwide Ceilings - USG manufactures and markets interior systems products including primarily ceiling tile systems through subsidiaries under the Worldwide ceilings division. These systems are primarily sold for commercial applications, and USG estimates they are the second largest manufacturer in the industry.
In Q4 2012, USG announced that it had sold the European subsidiary under the Worldwide ceilings division. As of the end of the year, USG maintained continuing operations in North America, Latin America and the Asia-Pacific region.
For the quarter ended December 31, 2012, Worldwide Ceilings represented approximately 16% of total sales, down from 17% in Q4 2011. USG generated a positive operating profit before inter-division eliminations of $17 M compared to a loss of $21 M in the comparable period in 2011.
Building Products Distribution - This division consists of L&W Supply, which operates a consumer market retailer of primarily gypsum wallboard and other building materials. L&W supplied 7% of all Gypsum wallboard sales in the U.S. through its 142 distribution branches, which represents 27% of USG's production.
Since 2007, this division has been underperforming the other two, and USG has closed a total of 125 distribution centers in that period.
For the quarter ended December 31, 2012, Building Products Distribution represented approximately 31% of total sales, down from 32% in Q4 2011. USG generated an operating loss of $10 M compared to $15 M in the comparable period in 2011.
Betting on a Housing Recovery
A recovery in the U.S. housing market is an important factor USG requires to return to a profitable state. At the time of the collapse in 2008 USG had just begun recovering from its bankruptcy filing in 2006 relating to asbestos personal injury lawsuits. During the financial crisis, Revenues plummeted over 40% between 2007 to their lowest year in 2010.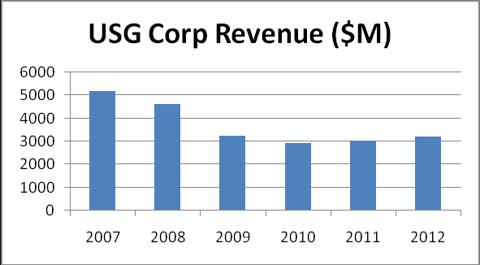 Housing Starts
Since the low in 2010, sales have risen a modest 3-7% year over year until 2012. During this period, USG was relying more than ever on sales from home remodeling and repairs than on new construction starts due to their short demand. The sharply lower demand hurt USG's revenues proportionately, but reduced margins more severely as USG suffered from excess production capacity.
The recovery in housing starts from the low in 2008 is largely positively correlated with a recovery in sales of USG, and a continuing recovery in starts to pre-crisis levels continues to be a strong components of USG's recovery.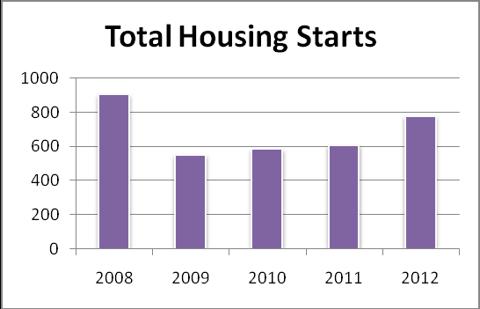 A housing start occurs when excavation begins on a residential housing unit. The figures presented are averages and tracking these is relevant towards the projected growth in USG sales as new residential construction accounts for a significant portion of the direct revenues of North American Gypsum, as seen above.
2012 Housing starts largely exceeded USG's expectation in 2011 and USG has since revised its projections for 2013 to 900,000. The most recent housing start figures were of 973,000 in December 2012 and 870 in January 2013. While the figures for January disappointed analyst expectations, the overall pattern leading up to this period continues to show a stubborn growth pattern.
Nevertheless, these levels continue to lag behind historical averages, and at the level of 750,000 USG's capacity utilization was only around 50%. USG will be well poised to take advantage of a stronger recovery, but will be significantly impacted by a weakening during the year.
Wallboard Sales Statistics
Another key metric used for assessing the market by USG is the wallboard realized selling prices and shipment volumes observed.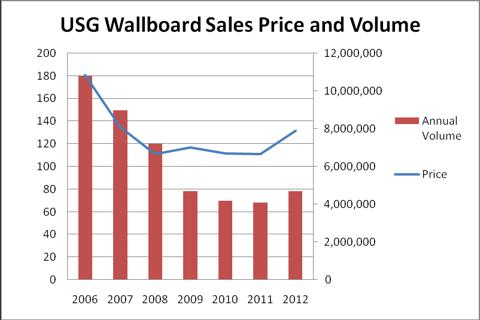 Sale prices have slowly begun recovering into 2012, but their recovery far delayed the re-start in the housing industry. USG's increase in sales of $86 M from 2011 to 2012 in North American Gypsum was in a significant part due to this increased price achieved, which represented $24 M or 28% of the increase.
USG's Operations in the meantime
USG has most recently stated that it won't wait for a full housing recovery to return to profitability. Cost cutting initiatives such as offsetting inflation on SGA and production costs. 2012 alone saw a $7 M reduction in operating costs which helped promote the bottom line in North American Gypsum.
USG Corp Select Income Statement Items ($K)

30-Dec-12

30-Dec-11

30-Dec-10

Total Revenue

3,224,000

2,910,000

2,834,000

Cost of Revenue

2,829,000

88%

2,752,000

95%

2,697,000

95%

Selling General and Administrative

304,000

9%

289,000

10%

295,000

10%

Interest Expense

206,000

6%

211,000

7%

183,000

6%
Using the above calculation, we can project a strong impact the cost-cutting techniques coupled with the increase in sales will have on their operations going forward. The success in reducing each of these important expense items in proportion to revenues will help bring USG back to a profitable state with the recovery in the housing market.
As of the end of 2012, USGs margins are far short of those of its peers as follows:
| | | | |
| --- | --- | --- | --- |
| | | Gross Margin | Operating Margin |
| USG Corp | | 12.25 | 0.99 |
| Building Materials Competitors | | | |
| Simpson Manufacturing Co Inc. | (NYSE:SSD) | 43.13 | 9.39 |
| Eagle Materials Inc. | (NYSE:EXP) | 16.92 | 14.32 |
SSD and EXP's margins far exceed those of USG for the period considered. Furthermore, these two companies have been posting positive earnings since 2009. USG is significantly lagging these two competitors in performance. Going forward, USGs overwhelming size and unused production capacity, as well as its lack of diversification into other construction streams will continue to hold these margins tightly until substantial sales volumes can be recovered.
But how does the Share Price stack up to all of this
Initially, the stock price reflected the housing crisis with a sharp drop in share price from the closing price in 2007 of $36 to a low of $4.29 in March of 2009. USG has since recovered significantly and at the time of writing stood near the pre-drop levels at $27.78.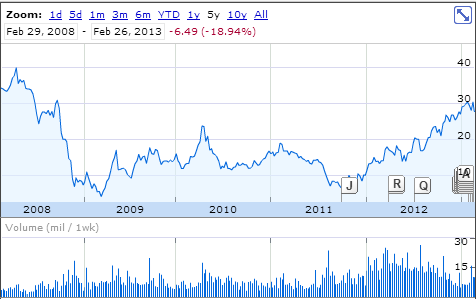 For a company having posted a series of losses and slowly recovering sales, this seems to be an optimistic recovery. A large portion of USG's share price recovery followed the encouraging home starts figures released throughout 2012. Looking further, it seems the current valuation assumes a continued trend in recovery as it prices in a significant amount of growth and margin improvement in the following years.
USG's current price reflects a P/E ratio of 44 on the analyst projected EPS of $0.63 for 2013, and a ratio of 18 on the 2014 projected EPS of $1.6. Considering USG has yet to post a positive quarter in EPS terms since the housing crisis, this valuation assumes significant growth and substantial margin improvement in earnings in the coming years.
Conclusion
USG's is very well poised to benefit from an ongoing recovery in the U.S. Housing market. Its cost-cutting techniques as well as the increased utilization of production capacity through higher volume sales should allow it to recover a stronger margin and turn a profit in the coming year.
However, its current valuation prices in a significant deal of growth in the coming years. A significant drawback to a position in USG is its overwhelming dependence on positive news of the recovery in the housing market. Given its current position producing at less than 50% capacity with negative or very poor margins, USG is not well positioned for an upset in the housing recovery.
Given the significant investment risks associated with USG, investors may be better off looking elsewhere to gain exposure on the housing market recovery.
Disclosure: I have no positions in any stocks mentioned, and no plans to initiate any positions within the next 72 hours. I wrote this article myself, and it expresses my own opinions. I am not receiving compensation for it (other than from Seeking Alpha). I have no business relationship with any company whose stock is mentioned in this article.