By Serkan Unal
Insider transactions can represent good starting points for research by investors looking for undervalued or growth stocks that may have upside potential. In fact, empirical research shows that copycat strategies based on insider stock purchases can generate excess returns over time relative to benchmarks. The assumption is that insiders know their own companies inside out and thus can judge better when it may be a good time to buy stock in their own companies.
The following represents a selection of six dividend-paying stocks with yields above 2.0% that have had meaningful insider buying over the past week. Some of these stocks, such as Philip Morris International (NYSE:PM), an international cigarettes marketer, and Targa Resource Partners LP, (NYSE:NGLS) an independent midstream energy MLP, are well positioned for growth. Others, such as asset manager Manning & Napier (NYSE:MN), boast value characteristics.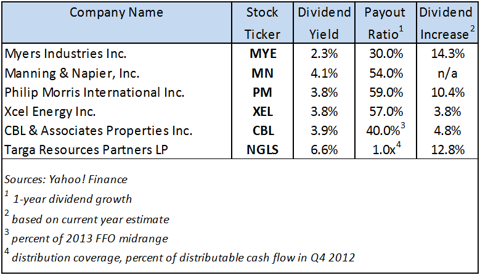 Myers Industries Inc. (NYSE:MYE), a producer of polymer products for the industrial, agricultural, automotive, commercial, and consumer markets, missed analyst earnings estimates for both top and bottom lines in the fourth quarter 2012. Still, full-year 2012 sales were up 4.7% from 2011, adjusted EPS surged 40%, driven by productivity gains and product innovation. For the year as a whole, margins expanded by a full percentage point. While the company's management sees the current business environment as "weak," it expects new products and services introduced in 2012 to help "drive top-end growth in 2013." The company's CEO "expects results to improve year-over-year" after the first quarter. The company has paid dividends since 1992. It has recently seen strong purchase activity from both insiders and institutions. Its net institutional purchases have increased 40% over the past six months. The company has a forward P/E of 13.0x versus 14.7x for its respective industry. Its price-to-book of 2.2 is lower than its peer group's 3.7.
On February 19, the company's CFO, Greggory Branning, purchased 3,500 shares of MYE at a price of $13.80 per share. The stock is currently trading at $14.90 per share. Billionaire Mario Gabelli has accumulated a 15.7% stake in MYE and plans to nominate his candidate to Myers Industries' Board of Directors (check out Gabelli's top picks).
Manning & Napier Inc. , a fast-growing boutique asset manager, has seen strong growth in assets under management [AUM] over the past few years. Last quarter, the company reported economic net income in line with analyst estimates. The asset manager's overall AUM at the end of last year was 12% higher than a year earlier, driven by market appreciation and growth in separate account AUM. A reason for concern, however, is the company's net client outflows of $300 million in the last quarter of 2012. Still, the asset manager boasts strong long-term investment performance and solid separate accounts business. Given that Manning & Napier's AUM consists mostly of equity and asset allocation vehicles, inflows may improve this year, if the rotation out of bonds and into equities materializes. The stock is debt free and has higher fees than its peers on average. The stock is a value proposition, trading at 12.7x its forward earnings and a price-to-book of 1.2, which represent discounts to its industry's multiple of 15.2x and a price-to-book of 1.7.
On February 20, one of the company's directors, Zak Robert, purchased 5,000 MN shares at an average price of $15.54 a share. The stock is currently trading at $15.03 a share. Last quarter, small-cap value investor Chuck Royce reduced his MN stake by 16% to $13 million.
Philip Morris International , the marketer of cigarette brands such as Marlboro and L&M outside the United States, is geared for growth in emerging markets. Its long-term EPS CAGR is forecasted at 11%, faster than long-term CAGR of all its peers. The company recently beat analyst expectations for both top and bottom lines in the fiscal third quarter. Revenues increased 2.8%, adjusted for the foreign exchange impact, mainly due to favorable pricing and shipment volume growth of 2.9%. The EPS was up 12.7%, adjusted for currency. However, the company's 2013 EPS guidance of between $5.68 and $5.78-representing growth of 10%-to-12% year-over-year-was below consensus estimates. Still, Goldman Sachs recently upgraded its rating on PM to buy, based on a bullish EPS outlook, saying that the stock "offers the best combination of growth and yield at a reasonable valuation among large-cap staples." EPS growth should be buttressed by a strong share buyback program, which is worth $18.0 billion since August 2012. The stock is priced above industry at 16.2x forward earnings.
On February 20, Sergio Marchionne, a company's director, purchased 1,000 PM shares at an average price of $92.20 per share. The stock is currently trading at $93.42 per share. It should still be noted that two other PM insiders, Marco Kuepfer (VP Finance and Treasurer) and Even Hurwitz (SVP Corporate Affairs), sold in February 2013, some 59,355 shares in total at average prices of $90.28 a share and $89.75 a share, respectively. Last quarter, hedge funders Tom Russo, Ken Fisher, and Jim Simons were all bullish about PM.
Xcel Energy Inc. (NYSE:XEL), an electric and natural gas utility, recently reported estimates-beating EPS for 2012 that was 7.6% above 2011 levels. The increase mainly reflects a margin expansion in the electric power segment due to conclusions of various rate cases and a lower tax burden. According to the company's CEO, 2012 was the "eighth consecutive year in which we have met or exceeded our earnings guidance and the ninth consecutive year (in which) we increased our dividend." The company expects to see 2013 EPS in the range between $1.85 and $1.95, with the midpoint guidance beating the analyst consensus estimate by a penny. The company is investing in capacity expansions and maintenance, with capital expenditures totaling nearly $13 billion by 2017. The utility could be a major player in the low-cost wind energy, as "AWEA ranks Xcel Energy as the utility with the most wind power on its wires." The stock has a low beta and is trading at a price-to-book of 1.6 versus 1.4 for its peers on average. XEL's forward P/E is 14.8x, lower than its industry's multiple of 15.8x, even though it boasts a faster long-term EPS growth than its industry.
On February 15, one of the company's directors, Gail Boudreaux, purchased 1,780 shares of XCEL at an average price of $28.08 per share. The stock is currently trading at $28.23 a share. Earlier this month, another director, Timothy Wolf, purchased 4,000 shares for $27.98 per share. Last quarter, hedge fund managers Israel Englander (Millennium Management) and David Harding (Winton Capital) were especially bullish about the stock.
CBL & Associates Properties Inc. (NYSE:CBL), a REIT that invests in enclosed malls and open-air centers, reported its fourth-quarter adjusted funds from operations (FFO) of $0.62 per share, up 3.3% from the figure for the year-earlier quarter. The REIT also guided its FFO to a range between $2.18 and $2.26 per share, well above the analysts' consensus FFO estimate of $2.18 per share. The retail outlook remains positive, and is likely to improve with the general improvement in the economic growth. This bodes well for the REIT. Some of its tenants include Limited Brands (LTD)(3.1% of revenues), Foot Locker (NYSE:FL)(2.35% of revenues), and AE Outfitters Retail Company (NYSE:AEO)(2.07% of revenues). Aside from strong growth prospects, this REIT is also a major value play, with a price-to-FFO of only 10.0x. Its peers Simon Property Group (NYSE:SPG) and a General Growth Properties (NYSE:GGP) pay lower dividend yields and boast much higher forward FFO multiples of 18.9x and 17.6x, respectively.
On February 21, one of the company's directors, Matthew Dominski, purchased 15,000 CBL units at an average price of $25.50 per unit. The company's units are currently trading at $22.29 a unit. It should be noted that another corporate director, Winston Walker, sold a total of 24,000 units from the beginning of the year, while this month, CBL's COO, Augustus Stephas, sold 6,485 units at an average price of $22.22 a unit. Last quarter, the stock was popular with billionaire Jim Simons. Value investor David Dreman trimmed his stake by 2% to nearly $34 billion.
Targa Resources Partners LP delivered a record 2012 adjusted EBITDA of $515 million, an increase of 4.9% over the previous year. In 2012, its distributable cash flow grew 5.1% year-over-year to almost $354 million. The company issued 2013 EBITDA guidance in the range of between $600 million and $650 million. On average, analysts were expecting the MLP to report EBITDA of $630 million. Targa Resources Partners LP plans to hike its cash distributions by 10%-to-12% this year. The MLP has stable income flows from high-quality assets and boasts a solid balance sheet with ample liquidity. This MLP is valued at 10.6x its trailing distributable cash flow.
In two separate transactions on February 19 and 20, the company's EVP, Paul Chung, purchased 7,500 NGLS units at an average combined price of $41.14 per unit. The company's units are currently trading at $41.46 a unit. Another insider, Ruth Dreessen, one of Targa Resources' directors, acquired on February 21, 3,000 units at an average price of $40.50 a unit. Last quarter, Dmitry Balyasny (Balyasny Asset Management) initiated a new position in the stock.
Disclosure: I have no positions in any stocks mentioned, and no plans to initiate any positions within the next 72 hours.
Business relationship disclosure: Dividendinvestr is a team of analysts. This article was written by Serkan Unal, one of our writers. We did not receive compensation for this article (other than from Seeking Alpha), and we have no business relationship with any company whose stock is mentioned in this article.