Yesterday I presented data demonstrating the superiority of Dynavax's (NASDAQ:DVAX) Heplisav treatment for Hep-B, chronic kidney disease (CKD), and other indications over the competing treatment, Engerix-B, from GlaxoSmithKline (NYSE:GSK). As I noted (and presented data to substantiate), compared to Engerix-B, the current standard of care, Heplisav provides faster, higher and longer lasting protection. As well, Heplisav is safe and well-tolerated. Compared to Engerix-B, Heplisav requires only 2 doses on a 0, 1 month schedule for Hep B. For patients with CKD or on dialysis older than 18 years, it only requires 3 doses (0, 1, 6 month schedule) versus 8 doses of Engerix-B at 0, 1, 2, and 6 months. Finally, local and systemic reactogenicity, adverse events and serious adverse events occurred at similar rates.
As many readers already know, an FDA advisory committee last November voted 13-to-1 that Dynavax's Hepatitis B vaccine Heplisav was effective, but by a vote of 8-to-5 (with one abstention), the panel voted the data were insufficient to demonstrate safety (which is different from saying the vaccine was not safe, an important distinction). Wall Street was quick to knock the stock down, dropping it more than $2 following the advisory committee vote. With the announcement by the company that the FDA sent them a Complete Response Letter (NYSE:CRL), the stock once again was sent tumbling, this time below $2, before recovering to close just above that level Monday and Tuesday of this week. But is the Street, in its hast to throw the baby out with the bath water, ignoring the possibility that Big Pharma is waiting in the wings to purchase this small biotech, which, importantly, has yet to partner the rights to Heplisav? And if that's the case, what companies might have an interest. Certainly, GSK, and the other producer of Recombivax HB, Merck (NYSE:MRK), could not be a contender, given US antitrust regulations.
At least three companies come to mind immediately, all of which have been impacted significantly by recent patent expirations and resulting impacts to their top and bottom lines: Novartis (NYSE:NVS), Sanofi (NASDAQ:GCVRZ) and AstraZeneca (NYSE:AZN).
In January, 2013, Novartis won European backing for Bexsero, the first meningitis B vaccine. The Swiss company, which is Europe's second-largest drug maker by market value, needs the profits from vaccines to offset its reliance on prescription drugs ahead of a wave of patent expirations. In fact, as reported last October, the expiration of the US patent for the company's leading hypertension drug Diovan caused a significant drop in demand for the drug, which had sales of US$6 billion in a single year.
Sanofi is facing much the same problem. This company recently had its six-in-one pediatric vaccine recommended for European approval. According to news accounts, "The hexavalent vaccine (DTaP-IPV-Hib-HepB vaccine) was developed by Sanofi Pasteur, the vaccines division of Sanofi. Once approved, the vaccine will be commercialized under two brands names: Hexyon in Western Europe and Hexacima in Eastern Europe. The vaccine will also be available in international markets under the trade name Hexaxim." This product puts Sanofi in direct competition with GSK, which has dominated the European market for pediatric vaccines.
Sanofi also faces patent expiry problems. In fact, 2012 was longed "marked in red" by that company's management, given that patent expiries were forecast to cut its profits by 15%. In particular, the loss of patents on its cardiovascular drugs Plavix and Avapro were the most painful to its top (and bottom) lines.
AstraZeneca was the first company to receive approval from the FDA for the first four-strain flu vaccine (which apparently now will become the norm in the US). Specifically, a year ago, MedImmune, its biologics arm, has received approval for FluMist Quadrivalent (Influenza Vaccine Live, Intranasal) in the prevention of influenza. But that company, too, has major problems with key patent expirations. In October, 2012, for example, the company reported its net profits sank 56 percent in the third quarter, as group revenues tumbled on the expiry of key drug patents. Earnings after tax slumped to $1.53 billion in the three months to the end of September, compared with $3.48 billion in the same period of 2011. Sales tumbled 19 percent to $6.68 billion.
What would make AstraZeneca an "interesting" acquirer is the fact it already is working closely with Dynavax in the area of asthma therapy. According to the company's Web site: "Under our worldwide collaboration with AstraZeneca to discover and develop products for asthma and chronic obstructive pulmonary disorder (COPD), we are developing AZD1419, a novel candidate drug for asthma. AZD1419 utilizes our proprietary second-generation ISS and represents a new strategy for the treatment of allergic respiratory diseases." Dynavax amended its agreement with AstraZeneca for the development of AZD1419 in October 2011 such that development expenses will be fully funded by AstraZeneca through Phase 2A.
Conclusion
This article is not meant to be an exhaustive review of potential acquirers of Dynavax. It is meant only to raise investor awareness of the possibility that with the recent setback in the FDA and the drop in the stock's price, the company may become an even more inviting target for a takeover. Recall a similar situation with Medarex some years ago, when that company's trial for ipilimumab ('ipi') for the treatment of metastatic melanoma yielded marginally positive results. The stock was languishing around $6-8 a share when Bristol-Myers Squibb (NYSE:BMY) surprised the Street and bought the company for $16 per share. The drug is today marketed as Yervoy. Surprises do happen!
Technical Analysis
The Daily chart, courtesy StockChart.com, shows the stock languishing around $2. It is oversold.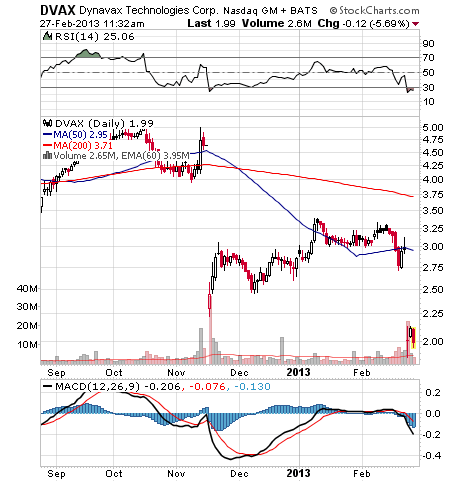 On the Weekly chart, the stock broke support at the 200-week moving average and is in "uncharted" territory. It is nearing oversold territory. The MACD is negative.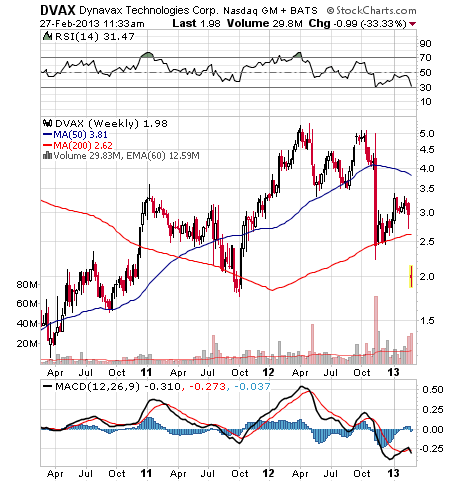 Disclosure: I am long DVAX. I wrote this article myself, and it expresses my own opinions. I am not receiving compensation for it (other than from Seeking Alpha). I have no business relationship with any company whose stock is mentioned in this article.
Additional disclosure: I am long DVAX. I am not a registered investment advisor and do not provide specific investment advice. The information contained herein is for informational purposes only. Nothing in this article should be taken as a solicitation to purchase or sell securities. Before buying or selling any stock you should do your own research and reach your own conclusion. It is up to investors to make the correct decision after necessary research. Investing includes risks, including loss of principal.