The CIT Group (NYSE:CIT) is a bank holding company founded in 1908 that operates four primary businesses: corporate finance ($200m in 2012 income), trade finance (-$129m), vendor finance ($4.1m), and transport finance (-$107.9). The corporate finance division provides leases and loans to small and medium sized businesses in the US, EU, and Canada. The trade finance division underwrites various forms of secured financing including factoring and receivable management products to businesses. CIT provides leasing and financing solutions to global manufacturers and distributors via its vendor finance division. The transportation and defense industries are served via CIT's trade finance division which offers these industries equipment leases and other secured financing. CIT also operates a Utah chartered bank through which over 95% of the four operating segments loans are originated. The firm's net income swung to a loss of $592 in 2012 from a profit of $26.7m in 2011 due primarily to debt redemption charges.
Balance Sheet Strength
CIT Group is well positioned vis-à-vis its competitors to both increase loan volumes and return capital to shareholders. An analysis of CIT Group's mid-market bank holding company peers indicates an average tier 1 capital ratio of approximately 13.20% versus CIT's ratio of 16.20%. CIT Group has committed itself to a minimum 13% ratio under its written agreement with the Federal Reserve. The surplus capital can potentially be utilized to enhance shareholder value via an increase in originations in any of the four operating segments, purchase additional high cost debt to increase net interest margin (NYSE:NIM), or further build out its online bank presence. In addition, the company is anticipated to request a share buy back in its 2013 written agreement with the Fed.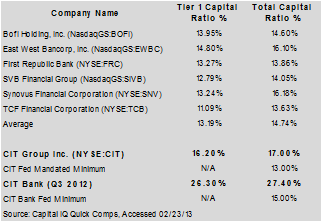 After multiples rounds of assets sales, CIT's balance sheet is now in an ideal position to increase its NIM and lease income via lower borrowing costs. According to management's Q4 conference call, the legacy effects of FSA accretion have largely run their course and should have a negligible effect on the income statement going forward. The firm still has $2.6 billion in outstanding operating leases that according to management will primarily have a marginal effect on the amortization of the operating leases into depreciation. Net borrowing costs have plummeted to 3.05% from a high of 13.46% largely on the back of legacy debt repurchases, and an increase in deposits as a percentage of CIT's total funding base. Continued debt repurchases that further reduce borrowing costs are feasible given the firm's roughly $5.6 billion in cash and $2.5 billion in remaining 7% May 2016 notes that can be replaced with lower cost debt.
As of Q4 2012 approximately 30% of CIT's funding was derived from bank deposits versus approximately 11% at the start of 2011. Management has demonstrated both the willingness and ability to increase deposits to 35-45% of CIT's capital base. Furthermore, CIT has several high cost 3% CD's that are expiring which can be replaced by lower cost 2% CDs.
Macroeconomic Environment
The Macroeconomic environment supports above trend loan growth in 2013 and improved NIM over the long term.
Industrial and commercial loans, a proxy for CIT's finance division's market, grew by 9.8% year to date according to the Federal Reserve. This figure is still substantially below the market peak of $1.65 trillion and demonstrates the potential for further increases in the corporate finance division's loan volumes. CIT's transportation division should also benefit from continued strength in capital equipment demand and the maintenance of high utilization in the freight rail and airplane leasing markets.
According to the Equipment Leasing and Finance Foundation, the demand for capital equipment is projected to increase by 2.9% in 2013, versus growth of 6.7% in 2012. CIT's rail and airline leasing divisions are currently operating at 98% and 99% capacity utilization. Although rail ton miles have flat lined over the last quarter, rates have surged and capacity remains constrained according to the USDOT. The interest rate environment over the next 5 years is also likely to have a favorable effect on earnings as the Fed eventually raises interest rates. CIT's internal sensitivity testing at the end of Q3 2012 indicated that earnings increase by 8.9% for every 100bp increase in interest rates.
Other Avenues for Income Growth
CIT has additional avenues for income growth via market share gains, increased fee income, and cost containment. The strength of CIT's balance sheet provides it with the ability to better compete on price in its corporate and vendor finance divisions where the firm has been sacrificing loan growth to fund higher loan loss reserves. Fee income from the firm's advisory practice has fallen, but CIT has recently announced several deals in excess of $100m each that indicate management is serious about identifying new fee generating business. Similarly, management has set a goal of decreasing the firm's annual cost run rate by $60-80m a year to a total of 200-225 basis points of average earning assets. The firm's expansion into online banking, increased use of consultants versus full time employees, and augmented asset base should provide additional operating leverage that help the firm meet this target.
Valuation
Direct comparisons between CIT and other firms are difficult given the diverse nature of CIT's operating segments. Using a peer group primarily comprised of regional banks and an internet bank with comparable levels of revenue, CIT trades at a discount (11.72x) to its peers (15.00x) on a forward 1 year PE Ratio basis. The firm trades at an even steeper discount to its peers on a price to book basis with a P/B of 1.1 versus a peer group average of 1.6. Given the firm's stronger liquidity profile, highly profitable transportation division, and ability to further reduce funding costs, I believe that CIT warrants a higher multiple on a price to book basis of 1.25 and a smaller discount to its peers on a forward PE basis of 13.50x times 2013 consensus estimates of 3.63 which respectively imply a price target of $49.50 and $49.00.Taking a blended price comprised of P/B and forward P/E results in a target price of $49.25. This valuation is in line with the rumored $10 billion buyout offer from Wells Fargo that would value the company at $49.77 a share.

Risk
CIT may face pricing pressure from competitors. The firm is larger than most of its regional or alternative finance competitors, but is significantly smaller than large bank holding companies such as Bank of America. Several banks most notably Wells Fargo have started to compete aggressively with CIT in equipment leasing. In addition, banks have purchased aircraft leasing portfolios and are starting to ramp up competition in this market. Margins in both areas could therefore face potential compression as well funded competitors drop prices. A recession could increase loan delinquency rates and charge offs. CIT has aggressively sought new business over the last two years and charge-offs and nonaccrual loans have largely leveled off at 2% and $415m. Deterioration in economic conditions could increase both figures especially given the small and mid-market nature of CIT's client base.
Disclosure: I have no positions in any stocks mentioned, and no plans to initiate any positions within the next 72 hours. However, a university fund which I am affiliated with holds a position in this security. I wrote this article myself, and it expresses my own opinions. I am not receiving compensation for it. I have no business relationship with any company whose stock is mentioned in this article.