Yesterday, the S&P 500 managed to gain back about a third of Monday's decline. As shown in our trading range screen below, the index has pulled back from overbought levels over the last week, but it's still above its 50-day moving average (the black vertical neutral line). Three sectors remain in overbought territory, but they're all defensive in nature -- Consumer Staples, Utilities, and Telecom. When the market's leaders are defensives, most of the time the market is trending downward.
On the downside, Materials and Technology have seen the biggest pullbacks within their trading ranges over the last week. As shown, both sectors are below their 50-days, and the Materials sector is just above oversold territory.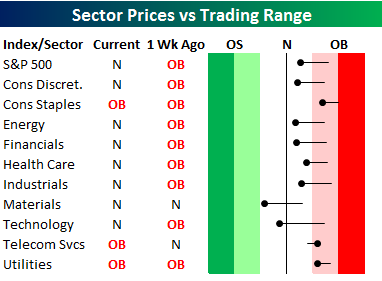 Below we have run our trading range screen on the 30 stocks in the Dow Jones Industrial Average. (A detailed description of how to read the screen is included below.) There are still quite a few Dow stocks in overbought territory, but there are also five that are now oversold. Those five stocks are Alcoa (NYSE:AA), Bank of America (NYSE:BAC), Caterpillar (NYSE:CAT), Intel (NASDAQ:INTC), and UnitedHealth (NYSE:UNH). Alcoa has had by far the biggest move lower within its trading range over the last week, and the stock is now down 3.11% year to date.
Quite a few Dow stocks have held up nicely over the last week as well. Stocks like Boeing (NYSE:BA), Hewlett-Packard (NYSE:HPQ), Coca-Cola (NYSE:KO), McDonald's (NYSE:MCD), Merck (NYSE:MRK), Verizon (NYSE:VZ), and Wal-Mart (NYSE:WMT) have all moved higher within their trading ranges, which is pretty impressive given the broad market sell-off that we've seen. Hewlett-Packard is currently the most overbought stock in the Dow, and it's also the Dow stocks that is up the most in 2013 with a gain of 38.88%.