Endeavour Silver (NYSE:EXK) released an update on their Resource and Reserve (R&R) statement at the start of this week accounting for mineralization documented until the end of 2012. We decided to take a close look at the numbers and ask the company a few questions. Bradford Cooke, CEO of Endeavour Silver, was friendly enough to answer and provide some valuable insight into EXK's plans for 2013 in the process.
The newly released R&R statement features the following highlights:
Silver-equivalent Proven and Probable (P&P) reserves up 67% to 34.2M oz.
Silver-equivalent Measured and Indicated (M&I) resources up 67% to 84.7M oz.
Silver-equivalent Inferred resources up 92% to 87.1 million oz.
The diagram below illustrates the R&R development comparing the previous 2011 statement with the new (2012) statement. While reserves in the Guanacevi decreased by over 30% they more than doubled at the Bolanitos mine. The 67% reserve increase mentioned in the highlights above is mostly due to the addition of the El Cubo mine which was purchased last year from AuRico (NYSE:AUQ). The resources and reserves for El Cubo are still unchanged from the time of this takeover and it will be interesting to see the numbers once EXK release their own findings.
Combined M&I resources at Bolanitos and Guanacevi actually decreased from the 2011 statement. However, the El Cubo acquisition brought some new resources into the company near the mine. The Guadelupe y Calvo project was also part of this deal, including drill results which were modeled into a resource by EXK for the new R&R statement. Even more noteworthy in this context is the increase in resource at San Sebastian which is shaping up as a very promising growth prospect for the company.
And finally, there is also a noticeable increase of inferred resources at most mines and projects across the board.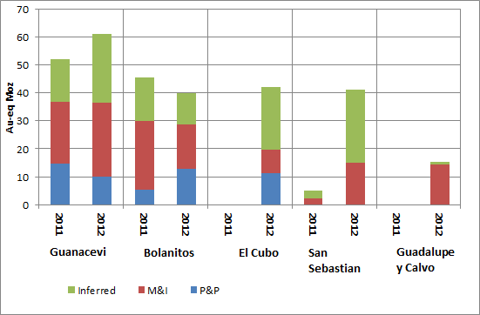 The second diagram below shows the grades of mineralization at the Guanacevi and Bolanitos mines. The drop in reserve grades at the Bolanitos mine is quite significant with resources hovering around the same level. At the Guanacevi mine reserve grades also decreased but higher grades are noted for both resource categories. The company's own R&R statement for the El Cubo mine is pending.
The new resources, and especially at San Sebastian, are showing some very promising grades increasing significantly from the 2011 values, especially for gold by-products.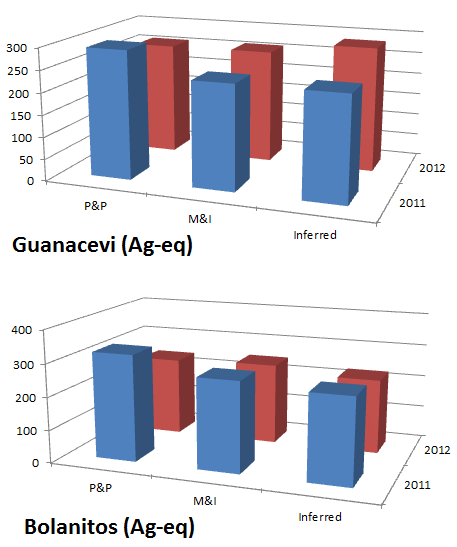 Following our analyses we proceeded to contact Endeavour Silver and asked the following questions which were answered by Bradford Cooke, the CEO of the company.
Q: In Bolanitos and Guanacevi P&P grades dropped from the 2011 statement to the new 2012 statement (El Cubo had only depletion but no new data). We would imagine that grades play an important role in the economics of the two mines. What is the company's expectation with regards to future reserve grades at Bolanitos and Guanacevi?
BC: These types of bonanza epithermal vein deposits are normally higher grade near the tops and lower grade near the bottoms. Because Guanacevi is our oldest and deepest mine, we are getting towards the bottom of those deposits which explains why the grades have dropped in recent years. We also lower our cutoff grades as metal prices rise which also reduces production grades. However grades should be stable for the rest of the mine life at Guanacevi unless metal prices take off again, in which case we would be able to mine lower grade ores and because we have enjoyed significantly higher metal prices in recent years, our operating profit margin has actually remained quite stable also.
Q: Are there any studies on how a change in grades affects the profitability of the two mines?
BC: All other factors being fixed, declining grades should lead to lower profits, but in fact most companies reduce their cutoff grades and therefore production grades with rising metal prices.
Q: At El Cubo the only difference between 2011 and 2012 is a reduction in proven reserve, presumably due to depletion of 140,000 tonnes. However, I noted that M&I grades at El Cubo are significantly lower than P&P grades, but inferred grades are higher again - a real mixed bag. What are the company's expectations with regards to near-mine exploration at the El Cubo mine and the effects on the El Cubo reserve grades?
BC: Because Aurico did very little mine exploration and development, the grades are "lumpy" depending on where they did some work, and also there are many veins being mined at El Cubo and some are higher grade than others and some suffer more dilution than others.
Q: When can we expect a new reserve & resource at El Cubo?
BC: We will drill all year and release updated R&R on all our projects at year end.
Q: The San Sebastian resource is great news in our interpretation: tonnes up by a factor of 6, grades up significantly on the back of increased gold content. There isn't a lot of information available on the web site with regards to depths and accessibility of the San Sebastian resource.
BC: We will publish more info this year but it is basically identical geologically to Guanacevi and Bolanitos.
Q: Is it old mines that could potentially be re-activated, or would you need to build a new mine from scratch?
BC: It is an historic mining district that has been dormant since 1910 so we are the first to do modern exploration in the district, hence the virgin discovery. So we will not be re-opening [an] old mine, we will develop new mines.
Q: Is there an open pit possibility or is it all underground?
BC: Underground just like Guanacevi and Bolanitos.
Q: Is purchasing the Santa Quiteria mine an option in order to include it into a future operation there? [EXK's property surrounds a small area where this mine is currently in production].
BC: Yes if we can reach a deal with them - it is tiny but they do have a permit which would speed up our own permitting.
Q: Is there a time line with regards to a decision to mine and potentially mine development?
BC: Last year was a discovery year for San Sebastian and because it has obvious growth potential, this year is basically a resource expansion and delineation year. If we can increase the current resource by 50% or more by year-end, it will then have a very good chance to become mine #4 for us. We would move to pre-feasibility and permitting next year, followed by construction in 2015 for a 5 million oz Ag Eq per year mine.
Q: Guadalupe y Calvo looks like a sizeable prospect judging from Endeavour's interpretation of the AuRico data. On the web site there is mention of plans for a 2013 drilling program there, but this was not mentioned in the latest announcement. What is the plan for 2013 with regards to this property?
BC: Guadalupe y Calvo is still a bit too small to try and build a mine and the upside is mostly early stage so this year is basically a prospecting and non-drilling exploration year to further evaluate the upside potential. Our results will determine what we do after that.
Q: At Parral and Arroyo Seco the 2010 resources are still valid and there was no mention of 2013 exploration. What are Endeavour's intentions with regards to Parral and Arroyo Seco?
BC: They are too small now for us to develop so we will probably seek buyers for them.
Q: The acquisition of the El Inca property in Chile took us by surprise last year. Since then there hasn't been much news on this project. What are the company's intentions with regards to El Inca?
BC: Last year, we did the basic geological mapping and geochemical sampling and geophysical surveying to define drill targets. This year we drill them.
We would like to thank Bradford Cooke and Lana McCray for making themselves available and responding on very short notice.
Disclosure: I am long EXK. I wrote this article myself, and it expresses my own opinions. I am not receiving compensation for it (other than from Seeking Alpha). I have no business relationship with any company whose stock is mentioned in this article.