The market is close to approaching its highs from 2007, at least for the Dow Jones and the S&P. Nonetheless, it has been a tough slog for investors for more than a decade. The NASDAQ is still down almost 2000 points from its height during the internet boom. One sector of the market has defied the poor returns of the last decade; Energy MLPs (Master Limited Partnerships) and LPs (Limited Partnerships). These entities have returned almost 400% to investors over the last decade in distributions and capital appreciation. The sector has outperformed the overall market every year since 2000 with the exception of 2012, when tax selling and concern over possible tax changes caused the sector to underperform the S&P by some 12% for the year. Since the end of 2012, the sector has made up a good portion of that underperformance.
Barron's had a cover story on the these energy structures in this week's magazine. It interviewed a couple of top performing managers in the space who believes the sector will be strong over the next few years for the following reasons:
The United States is still in the early innings of a massive production increase in domestic oil & gas.
Thanks to Federal Reserve policies, good yield opportunities are limited and highly prized.
Energy MLPs have a substantial yield advantage over traditional REITS despite much higher distribution growth, mainly because of their complex tax structure. This should narrow over time.
Given the importance of growing our domestic energy production, it is unlikely tax changes will be made to these entities in the near future.
These structures have made up a majority of the positions in my income portfolio for quite some time. I think they have better yields and growth opportunities than traditional dividend sectors such as Pharma, Telecom and Consumer Staples. Back in November, I also highlighted why these entities were a much better bet for income investors than Utilities. In the roughly three months since that time, the JPM Alerian MLP (NYSEARCA:AMJ) has not only paid out more dividends that either the S&P Utility Index (NYSEARCA:XLU) or overall S&P Index (NYSEARCA:SPY) but it has also has beat both on a capital appreciation basis as well (See Chart).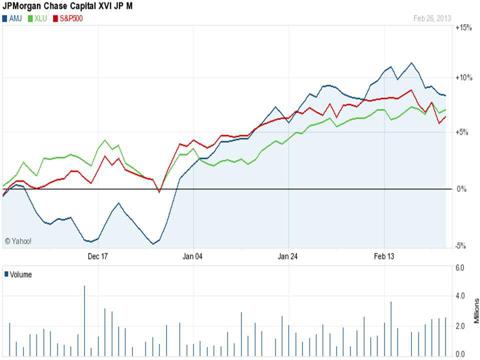 Finally, I think these type of entities will do very well in the era of stagflation I see coming by 2014 or 2015. Hard assets that throw off increasing cash flow should get a premium in that sort of environment. Investors investing in the SPDR Gold Shares (NYSEARCA:GLD) as an inflation hedge who are disappointed by the recent decline in gold over the past couple of months (See Chart), might consider investing in these types of entities for inflation protection as they also have the benefit of paying cash distributions.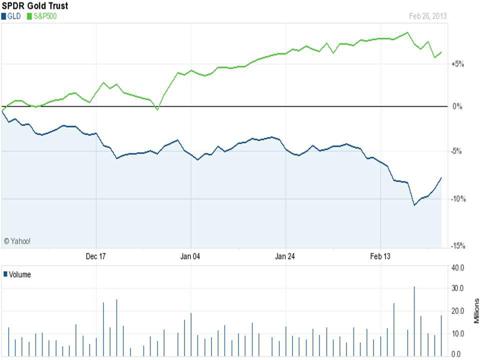 The managers interviewed in the Barron's piece had good advice for investing in this space:
Buy MLPs that are in the traditional oil & gas transport or storage sectors rather than some of the newer structures such as fertilizer, refiners and even materials used for fracking.
Pick selections that have little commodity exposure and charge fees for storage or transport.
Be ready to exchange a slightly lower yield for better distribution growth over time.
Here are three picks meeting the criteria that was highlighted that I think have value at these levels as well. All three are showing substantially revenue growth as well as net insider buying as well.
ONEOK Partners, L.P. (NYSE:OKS) engages in the gathering, processing, storage, and transportation of natural gas in the United States.
4 reasons OKS is a good addition to an income portfolio at $53 a share:
It yields 5% and increased its payouts 20% in the fifteen months it has been a public company.
The company has $7B of projects in process that analysts believe will raise revenues some 17% in FY2014.
The 14 analysts that cover the stock have a $62 median price target on ONEOK on top of the five percent yield.
Insiders have been net buyers of the shares over the last year and the company has increased operating cash flow by some 80% over the past three years.
Targa Resources Partners LP (NYSE:NGLS) provides midstream natural gas, natural gas liquid, terminaling, and crude oil gathering services in the United States. The company operates in two divisions, Gathering and Processing, and Logistics and Marketing.
4 reasons NGLS provides good value at under $41 a share:
The stock yields 6.6% and the company has doubled its payouts in the last five plus years.
Two directors made purchases in February and there have been no insider selling in at least two years.
Analysts expect revenue growth in the 20% to 25% for both FY2013 and FY2014 and NGLS has a low five year projected PEG (1.26) for such a high yielder.
The median price target by the 14 analysts that cover the stock is $47 a share. By 2014, 65% of its income should come from fee based sources up from 50% currently.
Tesoro Logistics LP (NYSE:TLLP) assets consist of a crude oil gathering system in the Bakken Shale/Williston Basin area of North Dakota and Montana; eight refined products terminals in the midwestern and western United States; a crude oil and refined products storage facility; and five related short-haul pipelines. It was recently spun off from Tesoro (NYSE:TSO) which consistently drops down assets to the new entity.
4 reasons TLLP is a good growth and value play at $49 a share:
TLLP yields almost 4% and it has roughly double its distribution payouts in the less than two years it has been a public company.
Analysts expect better than 80% revenue growth in FY2013 and over 40% sales increases in FY2014.
Since the company became public in April 2011, there has been no insider selling in the shares. Insiders have made frequent small purchases throughout its history, most recently in February.
The company has beat earnings estimates each of the last three quarters and has doubled its operating cash flow over the last year.
Disclosure: I am long TLLP. I wrote this article myself, and it expresses my own opinions. I am not receiving compensation for it (other than from Seeking Alpha). I have no business relationship with any company whose stock is mentioned in this article.