Taubman Centers (NYSE:TCO) current stock price presents a rare opportunity; the ability to buy a blue chip industry leading REIT at a historic discount to its net asset value (NAV) per share.
Taubman Centers consistently leads its peers in real estate operations. In 2012 the company reported a deceivingly excellent quarter. I say deceiving because funds from operations (FFO) per share, in the 4th quarter of 2012, decreased over the same quarter last year. However, core FFO, which excludes the gain on property dispositions is up almost $10 million over the same quarter. The reason; during the 4th quarter of 2011, the company executed property dispositions in excess of $170 million, which significantly inflated FFO.
However, when core FFO is considered, property dispositions are excluded from line items to illustrate a much more accurate measure of operations.
A cursory review of the company's 4th-quarter results, and year end results:
Higher occupancy quarter over quarter, ending with a total occupancy for all centers at 93.40% a record for Taubman Centers.
Sales per square foot increased to $688, another company record, a growth rate of 7.3%, leading the sector.
The company accreted $21 to its NAV in 2012, and reduced its total debt by over $1 billion during the same year.
Leasing spreads were 19% in 2012, leading the sector.
The company reported NOI of $156 million, a $13 million increase over the same period in 2011.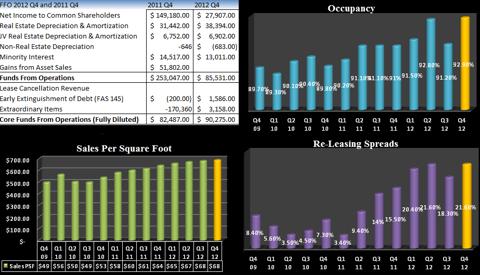 Why I believe Taubman Centers is significantly undervalued
Taubman has traded at a consistent one-year average premium to consensus NAV of 3.88%. However, after the 4th quarter of 2012 reporting period, shares have fallen 8.51% and are currently trading premium of 10.4% to consensus NAV per share of $83.12; this premium represents a spread of 14.28% over the company's consistent premium to NAV.
Analysts are currently focused on Taubman Centers Chesterfield Outlet Center, a development that is currently in fierce completion with Simon Property Groups (NYSE:SPG). Due to competitive concerns, Taubman has tentatively revised its cash flow after tax estimate by 100 bps (from 8.5% to 7.5%).
However, the entire project represents less than 1% of the company's GAD. Analysts seem to ignore the fact that the company has a development pipeline of over $1.5 billion, represented by domestic and Asian development opportunities that offer pronounced advantages over the Chesterfield project;
Higher returns (domestic developments) and;
Strong upside via diversification and access to higher sales growth markets (South Korea and China developments).
Figure 1 illustrates a sharp drop in the company's share price, and highlights a significant discount to consensus NAV;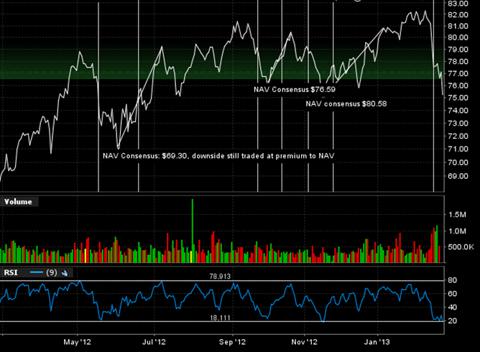 Source: Interactive Brokers
Portfolio operations
Taubman Centers portfolio is concentrated in attractive markets located in affluent metropolitan areas, such as Charlotte, Dallas, Denver, Los Angeles, Miami, Nashville, New York City, Orlando, Phoenix, Salt Lake City, San Francisco, Tampa, and Washington, D.C. These markets, in tandem with specialized leasing, accounted for 4th-quarter average sales per square foot of $688, a record for the company.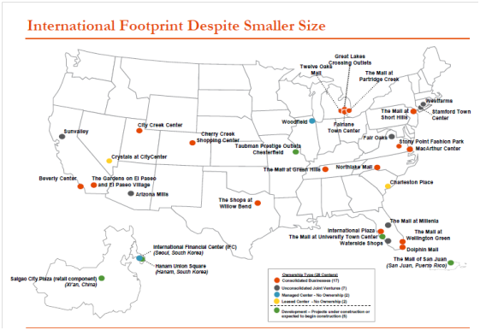 Source: Investor Presentation
As of December 31st, 2012, Taubman Centers owned 24 centers, 22 had annual rent rolls over $10 million. The company's shopping centers range in size between 236,000 and 1.6 million square feet of GLA and between 186,000 and 646,000 square feet of Mall GLA with an average of 1,100,000 and 500,000 square feet, respectively. The smallest center has approximately 60 stores, and the largest has over 200 stores with an average of 150 stores per center.
Source: Company Documents
Large shopping centers (including regional and especially super-regional shopping centers) offer a relative margin of safety due to anchored tenants aversion to doubling down on their own market share. To preserve market share, and maintain healthy sales, large anchor tenants tend to allocate their geographical positions away from existing stores. Taubman Centers' strong relationships with retailers such as Bloomingdales (NYSE:M), Nordstrum (NYSE:JWN), Saks Fifth Avenue (NYSE:SKS), Macy's, JC Penny(NYSE:JCP) and Neiman Marcus offer a completive advantage over smaller operators, and provide an embedded margin of safety against competition.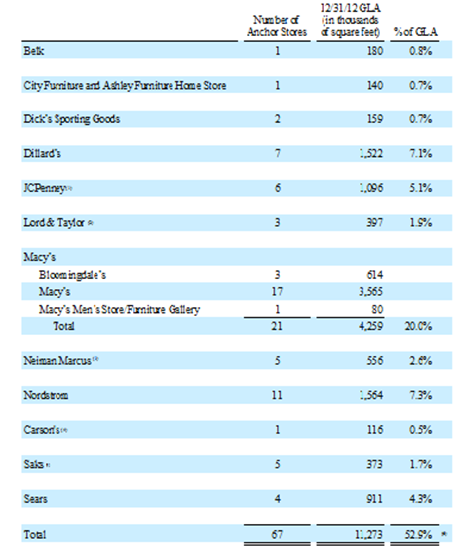 Source: Company Documents
A solid pace in sales growth since 2009 has allowed Taubman to lower its occupancy costs to 12.7% annually, a level that is 3.10% below the 2009 occupancy costs.
The following chart illustrates the companies quarter-over-quarter leasing results:

The company has been able to consistently increase its revenues as older leases roll over, or are terminated early. When leases roll over, or are terminated, high occupancy provides Taubman Centers with the pricing power to negotiated new leases at current rental, or above market rental rates.
Additionally, the company's operational strategy helps its tenants achieve better cost control, which provides Taubman and its retailers with the ability to project operating expenses with far more ease than net lease agreements. Currently, over 60% of Taubman's tenants pay a fixed common area maintenance charge [CAM], rather than a net lease agreement. Fixed CAM charges allow tenants to enhance cost control, which, in turn, is a driver of higher sales per square foot compared to peers such as Macerich (NYSE:MAC), Pennsylvania REIT (NYSE:PEI) and CBL and Associates (NYSE:CBL).
Leasing spreads were 19% in 2012, leading the sector. Moving forward, low occupancy costs, driven by high occupancy should provide the necessary means to drive high rents. I expect Taubman to continue to post strong leasing spreads in 2013.
Margin of safety: consistent dividends
My friend and fellow SA author, Brad Thomas would love me for saying this; the company has never reduced its dividend since its IPO in 2001. Brad elaborated on Taubman Centers in an article titled: REITs To Hold Forever, Most Likely. I also have to give Brad credit for bringing this REIT to my attention. In 2012, the company increased its dividend to $.4625 per share, per quarter and $1.85 annually. At the company's current price of $75.22, the company has a yield of 2.44%.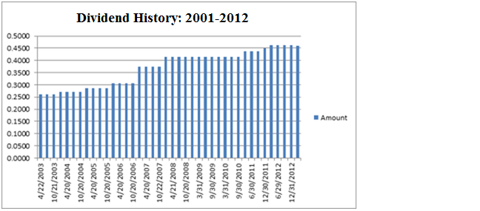 On the horizon
In the near term, the company's development pipeline is very active in 2013-2014. On the horizon in 2014 and 2015, the company has over 400 million GLA of development scheduled for delivery in China and South Korea.
Taubman is currently in the development stage of The Mall at University Town Center; an 880,000 square foot (GLA) project in Sarasota Florida. The company projects it will incur $350 million dollars in development cost, and generate an 8% return in the first year of the projects operation. The market in Sarasota is currently underserved by high end retail; over 50% of the 100 stores that comprise the development will be the first to market. The company has agreements with Dillards, Macy's and Saks Fifth Avenue to anchor the development.
Additionally, the company is developing a project in Puerto Rico; the Mall of San Juan Puerto Rico. The company projects it will incur development costs of $405 million on the project, which slated for delivery in 2014. Taubman has agreements with Nordstrum and Saks Fifth Avenue to anchor the development. The company projects that 60%, of the 100 stores, that comprise the development, will be the first to market on the Island. Additionally, Taubman projects an 8% return in the first or second year of operations.
Growing in Asia: The case for diversification and higher sales growth
Over the course of the past year, Taubman has slowly grown its presence in Asia. The company entered the market by providing leasing and management services for IFC Mall in Yeouido, Seoul, South Korea. The experiment was an overall success, in August 2012, the 0.4 million square foot mall opened 100% leased with over 100 stores.
In August 2012, Taubman announced its first full ground up joint-venture with Beijing Wangfujing Department Store (Group) Co., Ltd (Wangfujing); one of China's largest department store chains. The joint venture will own a 60% controlling interest in the development and manage a shopping center that will be located at the Xi'an Saigao City Plaza; a large-scale mixed-use development in Xi'an, China. The center is part of a 5.9 million square foot mixed-use project, which includes two hotels, a residential tower, two serviced apartment towers and an office building.
Taubman is investing in the retail portion only, which will be over 1 million square feet with over half of that in mall specialty stores. The project is scheduled to open in 2015.
In August 2012, Taubman invested in a 1.7 million square foot shopping mall in Hanam Gyeonggi Province, South Korea with Shinsegae Group, South Korea's largest retailer The project is scheduled to open in 2016.
In February 2013, Taubman announced a second joint venture with Wangfujing. The joint venture will manage and own a 65% majority interest in Zhengzhou Vancouver Times Square; a 1 million square foot shopping center in Zhengzhou, China. Taubman will remain a minority partner in the development, with a 32% interest.
While most of the company's developments in Asia are slated for delivery in 2015, the nearest term development is in China, with delivery slated for 2014. The project is a six level, 1 million square foot project, with over 200 stores, anchored by Wangfujing. The company expects a 6%-6.5% unlevered CFAT. The CFAT earned on the project will come from an estimated $100 million dollar investment for 32% equity interest in the project.
Why I like the Taubman Centers expansion in Asia
While the projects have two- and three-year lead times, and will not deliver returns in the mid term, I believe the intrinsic value of future investments in China and South Korea represents excellent foresight by management. I believe management recognizes a significant advantage in South Korea and China; higher projected sales growth.
The image below represents sales growth forecasts for the United States (2013-2015). The projection illustrates relatively flat sales growth during the same period Taubman expects delivery of its China and South Korea developments.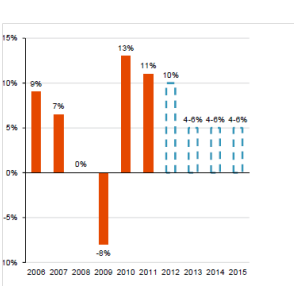 Source: Investor Presentation
While domestic sales growth is expected to moderate, South Korean and Chinese markets have 10% and 8% projected sales growth over the course of the next three years. I believe the companies projects in Asia offer intrinsic value through diversification, and more importantly, access to markets with stronger demand.
The downside to Taubman Centers Asian developments, in particular; China, is the existence of higher lease rollover rates, which should provide straight line rents 100 bps below comparable projects in the U.S. However, I believe percentage leases will be the compelling attribute to projects abroad, and should supplement the risk, and lower return of leases that average two-three years.
In regards to South Korea, the market has slightly longer lease rollover rates; five-seven years. While initially stabilized properties in china deliver unlevered tax returns of 6-7%, South Korean markets (projected) deliver returns approximately 100 bps higher; 7%-8%.

Source: Investor Presentation
Liquidity and access to new capital should push growth
The company did an excellent job of driving shareholder value by decreasing its overall debt in 2012, leading to the lowest debt/EBITDA in the sector.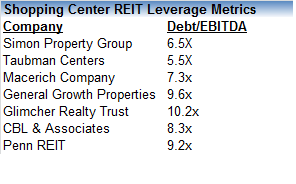 In August of 2012, the company completed a common equity offering of $219 million. Additionally, during the same month, Taubman reduced its average weighted interest by redeeming $187 million of its 7.83% preferred shares, and simultaneously issued $197 million of 6.5% preferred cumulative units. The company has done a reasonable job of avoiding cross collateralizing with mortgage debt, and loans that are non-recourse to the company.
Additionally, Taubman has a very healthy debt maturity schedule for its mortgage level encumbrances, and should not experience significant principal payments until 2015.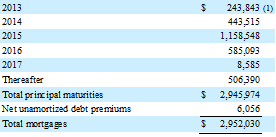 Taubman currently has $279 million available as of December 31, 2012 under its revolving debt facilities. However, the company has agreements with several institutional lenders to increase its line of credit to $1.1 billion, with an accordion feature that will allow borrowing capacity to exceed $1.5 billion.
Conclusion
As you may have guessed, I am very bullish on this REIT. The company has always been on my list, but I have never had a great entry point (considering shares usually trade at a premium).
I believe access to new capital is a game changer for Taubman; since 2001 the company has renovated 80% of its shopping centers. While I believe ground up development should provide excellent growth in the midterm, redevelopment of existing assets should Taubman to continuously drive internal growth through tenant upgrades, which should lead to higher rents.
Additionally, with access to such a larger percentage of new capital, I am on the lookout for Taubman to make an acquisition in 2013; a catalyst which should drive external growth at a faster pace than ground up development. The company hinted at the idea in its fall 2012 investor presentation, and I believe it is very possible the company could be ready by the end of the first quarter of 2013.
Supplements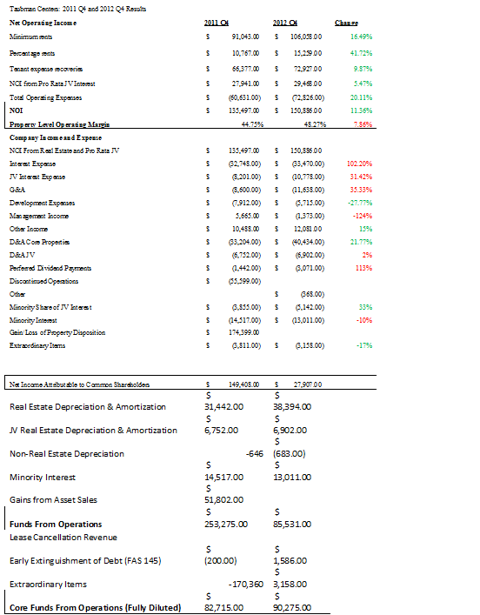 An in depth analysis of the tenant competing developments can be seen in Brad Thomas's article: Taubman Centers Defends Shootout In Chesterfield: I'm Your Huckleberry.
Sources: SNL Securities, Morgan Stanley Research, Citi Research, REIS, Edgar Pro, Standard and Poor Research, Interactive Brokers
Disclosure: I am long TCO. I wrote this article myself, and it expresses my own opinions. I am not receiving compensation for it (other than from Seeking Alpha). I have no business relationship with any company whose stock is mentioned in this article.
Additional disclosure: Please see the details of my entry, and trade in my seeking alpha instablog.