Oiltanking Partners LP (NYSE:OILT) is a drop-down Master Limited Partnership focused on providing bulk liquid storage services to the oil industry in Houston and Beaumont, Texas. The parent company and general partner is Oiltanking Group headquartered Europe and is part of privately held German conglomerate Marguard and Bahls AG. From their website:
Oiltanking Partners, L.P. is a growth-oriented publicly traded master limited partnership (NYSE:MLP) engaged in the terminaling, storage and transportation of crude oil, refined petroleum products and liquefied petroleum gas. We completed our initial public offering in July 2011 and began trading under the symbol (NYSE : OILT). As an MLP, we intend to make quarterly distributions of our available cash to our unit-holders. It is our goal to increase our distribution to unit-holders over time by growing our business through the acquisition, ownership and operation of terminaling, storage, pipeline and other midstream assets that generate stable cash flows.

Within the midstream energy industry, transportation, storage and terminaling services are the critical logistical link between the exploration and production sector and the refining sector. Our core assets are strategically located along the Gulf Coast of the United States on the Houston Ship Channel and in Beaumont, Texas. We provide our customers with deep-water access and significant interconnectivity to refineries, chemical and petrochemical companies, common carrier and dedicated pipelines and production facilities.

Oiltanking Group is the world's second largest independent tank storage provider for petroleum products, chemicals and gases. With 72 terminals, 121 million barrels of storage capacity and locations throughout 22 countries in North America, Europe, Asia, the Middle East and Central and South America, the Oiltanking Group leverages its international marketing networks and a brand that is widely recognized in the energy industry.

The Oiltanking Group has been active in the United States since the mid-1970s and also owns and operates tank storage assets in Texas City and Port Neches, Texas and Joliet, Illinois that are not owned by Oiltanking Partners. Furthermore, it is active in two petroleum coke handling facilities.

In addition, one of Oiltanking Group's sister companies, Skytanking Group, has terminaling and storage assets through which it provides into-plane services to airlines, airports and oil companies in thirteen countries, including the United States.
The website of the parent, Oiltanking Group is here and the website of Oiltanking Partners, LP is here.
A pictorial of the corporate structure is below: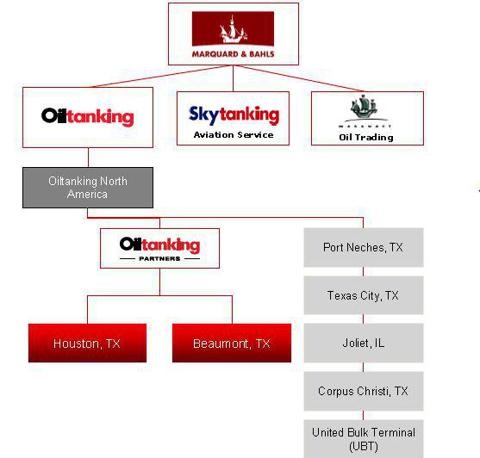 OILT is in the process of expanding its capacity and by early 2014 will have 25.2 million barrel storage capacity. 80% of its contracts are "take or pay" and the average contract life remaining is almost 6 years.
As one would expect, there are limited number of customers in need of bulk storage facilities. From their 2011 Annual Report, the following is a list of major clients that represented a minimum of 10% of the business:
Our Houston terminal had 17 customers with terminal services agreements and our Beaumont terminal had 16 customers with terminal services agreements. The following table presents percentage of revenues associated with our significant customers for the periods indicated:

15% BP plc.

13% LyondellBasell Industries

12% Enterprise Products Partners

12% Exxon Mobil Corporation

11% Royal Dutch Shell plc

63% Total of Customers of 10% and More
OILT had its US IPO in June of 2011 at $21.75 per share and paid an initial quarterly dividend of $0.3375 ($1.35 annualized). The dividend was recently increased to $0.39 ($1.56 annualized) and share prices have sprinted ahead since the IPO to trade at a current share price of $43. There are 19 million shares outstanding and an additional 19 million shares that are subordinated until 2014 and are held by the parent.
Based on the current valuation, below is a table comparing OILT and the "average" MLP. While there are many niches within the MLP business making comparison difficult, it is useful for potential investors to appreciate where the current valuation for OILT lies.
| | | |
| --- | --- | --- |
| Including Subordinated Shares | OILT | MLP Avg |
| Market Cap Mil $ | $ 1,709 | $ 7,158 |
| Net Income Mil $ | $ 59 | $ 304 |
| Price/Sales | 13 | 1.5 |
| Price/book | 5.9 | 2.7 |
| PE | 28 | 30.5 |
| Dividend Yield | 3.40% | 4.70% |
| Operating Margin | 44.50% | 16.40% |
| Interest Coverage | 8.5 | 28.3 |
| Debt/Equity | 0.2 | 1.4 |
The best comparable competitor could be Macquarie Infrastructure (NYSE:MIC) and their 50% ownership of privately-held International Matex Tank Terminal IMTT, one of the largest independent bulk liquid storage and terminal business in the US. IMTT owns 12 marine terminals in the US and Canada with capacity of 42 million barrels. IMMT operations include the lower Mississippi River and New York Harbor. IMTT's end of year results can be found here and are broken out from MICs other operational segments. IMTT's website ishere. Investors interested in OILT should review IMMT's operational results as the market forces will affect both.
In 2012, MIC's 50% interest in IMTT generated 25% of MIC's gross profit ($130 million), 38% of MIC's EBIDTA ($115 million) and 38% of MIC's free cash flow ($60 million). With a market capitalization of $2.44 billion and with IMTT representing about 38% of EBITDA, MIC's 50% interest could be worth around $920 million and IMTT as a whole at $1.8 billion. IMTT has 68% greater storage capacity, generates about 40% greater EBITDA, but has about the same approximate market capitalization.
As the pictorial above outlines, OILT's parent has five other terminals in the US that could be added to OILT's assets. Like many other drop-down MLPs, OILT's growth can come from both organic expansion and from additional assets from the parent. OILT has sufficient land at its two terminals to increase capacity from 25.2 million barrels after the current expansion to about 45 million barrels. In addition, there is the possibility that its sister company Skytanking could follow suit with either its own MLP or as part of OILT.
Barron's has listed OILT as one of their favorite MLPs due to the potential for 15% earnings growth and corresponding increases in distributions over the next few years. However, it is important for shareholders to also evaluate the Incentive Distribution Agreement Oiltanking Partners LP has with its General Partner, Oiltanking Group. From their 2011 Annual report, OILT pays annually $15 million in management fees for operating expenses. In addition, the GP has the rights to 13% of quarterly distributions between $0.38 and $0.42 a share, to 23% of quarterly distributions between $0.42 and $0.51 a share, and to 48% of quarterly distributions over $0.51 a share. This seems a bit steep as almost half of all distributions over an annual rate of $2.04 goes to the GP. Below is a table that outlines the Incentive Distribution Agreement:
| | | |
| --- | --- | --- |
| Qtr Distribution | MLP | GP |
| $0.33 to $0.38 | 98% | 2% |
| $0.38 to $0.42 | 85% | 15% |
| $0.42 to $0.51 | 75% | 25% |
| Over $0.51 | 50% | 50% |
Below is a chart of share prices since going public mid-2011.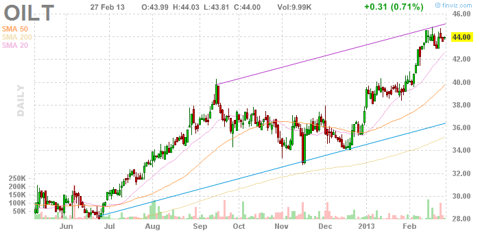 For those investors who got in early, more power to them. However, the current valuation seems a bit rich and a drop back to the mid-$30s would seem like a great longer-term opportunity. I am afraid, though, share prices will not make it that low unless the market as a whole collapses. OILT is very much worthy of a place on your MLP radar screen.
More information can be found in their latest investor's presentation.
Author's note: See important disclaimer in Mr. Parepoynt's profile
Disclosure: I have no positions in any stocks mentioned, and no plans to initiate any positions within the next 72 hours. I wrote this article myself, and it expresses my own opinions. I am not receiving compensation for it (other than from Seeking Alpha). I have no business relationship with any company whose stock is mentioned in this article.