Gold prices have been trading in a range for the past 18 months after hitting a multi-year high in the summer of 2011; however, that quiet period may be coming to a close following Federal Reserve Chairman Ben Bernanke's Congress testimony on Tuesday that pushed gold prices up to its biggest one-day gain of the year. It is often said that a picture is worth a 1,000 words so a five-year gold chart follows.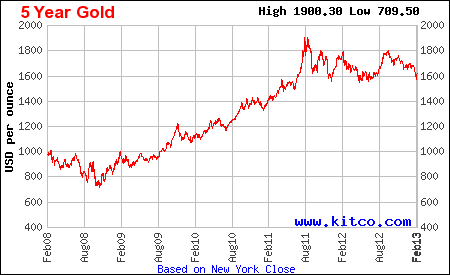 Looking at the graphic, it clearly demonstrates the $1600-$1800 per oz gold prices range that gold prices have seen over the past 18 months. A further peak into the chart, one can see that the $1600 has proved to be a strong support/resistance level, showing that it was successfully violated only once out of about 5 attempts. A BofA analyst says even more and notes that gold has remained above the pivotal $1522/1533 17-month range lows. He also says that sentiment for gold has now reached its lowest levels since 2008 and suggests that technically, a bottom and bullish turn in gold is close at hand.
Back to Bernanke his Congressional testimony, he strongly defended the U.S. central bank's monetary stimulus before Congress, easing financial market worries over a possible early retreat from bond buys. He staunchly supported the Fed's purchase of assets saying that "the benefits of asset purchases… are clear." Keep in mind, gold tends to benefit from such easy-money policies, as investors seek the metal as a hedge against the inflation that may follow the increased liquidity in the financial system. Thus, explaining gold's move up over close to 2%. Suffice to say, gold investors were worried that the Fed would end quantitative easing but were reassured that it would continue, putting pressure on the dollar and in return, boosting gold prices.
Bernanke's testimony hasn't been the only news of note for gold investors this week. Global macroeconomic worries hit home on Monday as the S&P 500 dropped nearly 2% after conflicting early forecasts of Italy's election raised fears a divided parliament in the debt-laden country could hamper the eurozone's stability. Although less of a factor than the U.S. Federal Reserve's asset buying strategy, the news still lifted gold prices up nearly 1%, reminding investors that we are economically not out of the woods yet and any deterioration in global macroeconomic conditions could send investors scurrying back to the idea of gold as a safe-haven play.
With that said, the catalysts are firmly in place for gold following Bernanke's reassurance that the asset buying program will continue and news out of Italy suggesting that we still have a far way to go, climbing out of the economic mess. In addition to the BofA analyst noted above, other analysts are on board the gold train. In fact, a UBS analyst is calling for a "major gold rally" this year.
Here are three ways to play gold using equities:
Royal Gold's (NASDAQ:RGLD) principal activity is the acquisition and management of precious metal royalties and similar interests, including precious metal streams. By partnering with capable operators, Royal Gold focuses on building and managing a diversified, cash-flowing portfolio of precious metal assets. The company owns interests on 205 properties on six continents, including interests on 39 producing mines and 28 development stage projects.
There are a few key data points suggesting that the stock is a buy. First, the consensus analyst price target is $93. The current price of the stock is about $68 with $25 to go to reach the analyst price target or a gain of nearly 40% for investors. Wall Street analysts aren't the only ones who think that the stock is cheap, RGLD's Director Craig M. Haase thinks so as well. He purchased shares at an average price of $66.51 last week. Notably, some investors follow smart money and insider purchases represent smart money as they typically have the best idea of the prospects of the company.
Kinross Gold (NYSE:KGC) is a Canadian-based gold mining company with mines and projects in Brazil, Canada, Chile, Ecuador, Ghana, Mauritania, Russia and the United States, employing approximately 8,000 people worldwide.
Kinross two weeks ago announced strong FY12 results that exceeded its full-year production guidance and met its full-year cost of sales guidance. Q4 EPS rose to $0.24 compared to $0.16 a year ago. The company provided an update on two upcoming catalysts in the release that could help unlock some of the value in the shares. Kinross said that the Tasiast pre-feasibility study remains on schedule for expected completion in Q1 2013 and that Dvoinoye remains on schedule for expected delivery of first ore to the Kupol mill in the second half of the year. Tasiast is the project that has investors salivating. It was recently noted that the potential value that Tasiast can add to the company's earnings is not priced in the stock and provides a good buying opportunity for investors. Analysts seem to agree and have a $12 price target on the stock or about 50% higher than where the stock is today.
Agnico-Eagle Mines (NYSE:AEM) is a long established, Canadian-based gold producer with operations located in Canada, Finland and Mexico, and exploration and development activities in Canada, Finland, Mexico and the United States. The company has full exposure to higher gold prices consistent with its policy of no forward gold sales.
AEM stands out in a big way as it has significantly outperformed its rivals over the past 52 weeks. As it has recorded a gain of 15%, the other gold miners listed here such as RGLD and KGC has been in the red as have many of the other gold miners. This outperformance is indicative of the company's strength as a gold miner. Analysts have placed a target of $55 on the stock, which would provide investors gains of 30% from current prices.
Although money has flown out of gold, the investment appetite for the yellow metal is still great. In fact, just on February 5, gold miner Uranium Hunter (OTCPK:URHN) announced an update on its progress of raising capital. The company said that it issued a letter announcing the signing of an agreement with First Swiss International Group to act as lead funder on a $20 million private placement and as its investment consultant and adviser in connection with Uranium Hunter's mining business. In addition to the capital raised, this is also a vote of confidence from the Swiss group. First Swiss is a premier, full-service venture capital, mergers and acquisitions and consulting firm with recognized foreign direct investment, M&A, and finance departments.
The company is expected to use that capital for its project in Sierra Leone, where the company just reached a joint venture deal on their concessions in the country. The concessions are located in the Sewafe area in the District of Kono. The Kono District is a resource-rich district in the Eastern Province of Sierra Leone. The concessions currently have all permits, fees, environmental approvals and exploitation license required by the government in place. It is estimated that the concession will produce in excess of 20,000 ounces per year of gold.
Uranium Hunter is a micro-cap stock and many micro-cap stocks tend to be new and have no proven track record. Some of these companies have no assets or operations. Others have products and services that are still in development or have yet to be tested in the market.
Disclosure: I have no positions in any stocks mentioned, and no plans to initiate any positions within the next 72 hours. I wrote this article myself, and it expresses my own opinions. I am not receiving compensation for it (other than from Seeking Alpha). I have no business relationship with any company whose stock is mentioned in this article.