For a stock to be considered in an uptrend shares must be simultaneously trading above its 20-day, 50-day and 200-day simple moving averages. In this article I wanted to focus on two property & casualty insurance companies which are both currently in an uptrend, have risen at least 10% since January 1st and offer investors a slight side of income by yielding at least 1.50%.
XL Group PLC (NYSE:XL): Based in Dublin, Ireland and through its subsidiaries, "provides insurance and reinsurance coverage to industrial, commercial, and professional firms, as well as insurance companies and other enterprises worldwide. The company operates in three segments: Insurance, Reinsurance, and Life Operations". Shares of XL Group, which yield a conservative 1.55% ($0.44), are trading 1.06% higher than their 20-DSMA, 6.27% higher than their 50-DSMA and 20.75% higher than their 200-DSMA, and have also risen 12.24% since January 1st.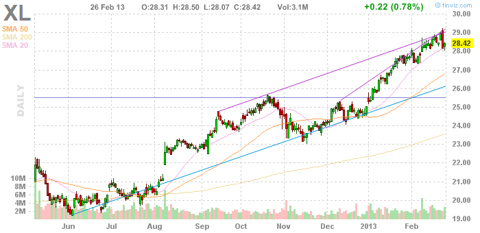 Catastrophe Impact: When it comes to Property & Casualty Insurance one of the first catalysts potential investors should consider is impact potential Natural Disasters may have on a company's balance sheet. According to the company's Chief Executive Officer, Mike McGavick, "Despite the meaningful impact of Hurricane Sandy, the broad and painful effects of which we are all aware, XL produced both net and operating income in the quarter and once again demonstrated our dedication to disciplined underwriting and enterprise risk management". It should be noted that the company's Q4 EPS of $0.13 surpassed consensus estimates of -$0.32 by a pretty impressive $0.45. Revenue of $1.91B also surpassed street estimates of $1.45B by an equally impressive $0.46B.
Recent Actionable News
On February 22nd XL Group PLC announced an $850 million dollar share buyback plan as well as a 27% increase in its quarterly dividend. According to Zack's Equity Research, "With the new buyback approval, the company is now authorized to repurchase shares worth $850 million. The new buyback approval automatically replaces the $250 million worth of shares still available for repurchase. This remaining amount was a part of the $750 million share buyback program approved in Feb 2012". If the company can continue to show strength when it comes to increasing share buyback initiatives as well as its quarterly dividend, shareholders should continue to be quite bullish on the stock.
AXIS Capital Holdings Limited (NYSE:AXS): Based in Bermuda, and through its subsidiaries, "AXIS Capital provides various insurance and reinsurance products to insured and re-insured clients and customers worldwide. The company operates in two segments, Insurance and Reinsurance". Shares of AXIS Capital, which yield a moderate 2.50% ($1.00), are trading 1.81% higher than their 20-DSMA, 7.77% higher than their 50-DSMA and 15.95% higher than their 200-DSMA, and have also risen 13.54% since January 1st.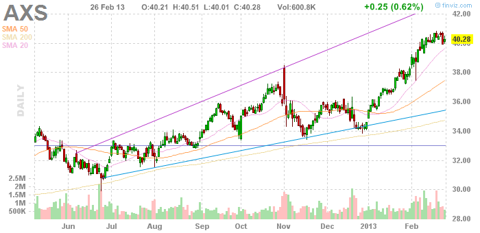 Catastrophe Impact: As previously mentioned, catastrophic events such as Hurricane Sandy have the potential to significantly impact the balance sheet of Property & Casualty insurance companies. According to Albert Benchimol, President and CEO of AXIS Capital, "We experienced strong results across most parts of our Company in the fourth quarter, but our performance was clearly offset by the impact of Hurricane Sandy, which led to a small loss for the period. Given 2012 included one of the largest U.S. storm events in history, we believe our operating income of $422 million for the year, representing an operating ROE of 8.2%, was an acceptable result. We returned nearly all of our earnings to shareholders, increased our dividend for the 9th year in a row, and ended 2012 with diluted book value per share of $42.97, which represents a 13% increase over the prior year". Although AXIS Capital posted a per share loss of -$0.23 for the fourth quarter, the company still managed to surpass street estimates by $0.93/share as analysts were expecting a per share loss of -$1.16.
Recent Actionable News
On February 22nd AXIS Capital Holdings announced that the Company's Board of Directors has declared a quarterly dividend of $0.25 per common share. It's not so much the announcement of the dividend that attracts me, but the company's dividend behavior over the last three-and-a-half years that grabs my interest. Although it is clear that AXS is a considerable growth play, the company has increased its dividend four times since September 2009. This increase from $0.20/share per quarter to $0.25/share per quarter represents a 25% increase in just 42 months, which is certainly something both growth and income investors may want to consider in the long-term.
Disclosure: I have no positions in any stocks mentioned, and no plans to initiate any positions within the next 72 hours. I wrote this article myself, and it expresses my own opinions. I am not receiving compensation for it (other than from Seeking Alpha). I have no business relationship with any company whose stock is mentioned in this article.