According to the Energy Information Administration, between now and 2030 global energy consumption is due to increase by 44% with oil and gas, along with coal, continuing to meet the largest part of that demand. And as demand for energy grows rapidly worldwide, natural gas, which is one of the cleanest burning fossil fuels, should play a critical role in supplying this demand. Most significantly, the International Energy Agency predicts demand for natural gas will grow by more than 67% by 2030.
According to the website, Asian countries like China and Japan, are significantly falling short of meeting their local demand for natural gas relative to what they produce:
Country:
China
Japan
Year
2010
2011
Change
2010
2011
Change
Natural Gas Production (NYSE:BCF)
3,334
3,629
+8.84%
171
176
+2.9%
Natural Gas Consumption
3,768
4,624
+22.71%
3,848
4,361
+13.3%
Net Export/Import
-434
-995
+129%
-3,677
-4,185
+13.8%
China experienced 22.71% growth in NG demand, while production only grew 8.84%. Although China is much more dependent on coal and oil energy, the Chinese government has made the expansion of natural gas fired power plants a priority as it intends to wean itself off of dirtier fuels, perhaps since it is the world's #1 producer of CO2 emissions. As long as its intentions continue, demand for natural gas will continue to increase. Net imports grew 129% from 2010 to 2011.
Japan is the largest importer of LNG, and the world's fourth-largest consumer of natural gas. Japan relies heavily on LNG imports to meet its growing demand, especially this past year, perhaps due to the closure of nuclear plants since the meltdown in 2011. LNG replaced nuclear power as Japan's primary power fuel after an earthquake and tsunami hit reactors at Fukushima in March 2011. Japan paid 5.48 trillion yen for imported LNG in 2012, according to reports from Japan customs. However, the % jump in natural gas demand may soften, since Japan intends on restarting some of the reactors over the next several years if they pass critical safety tests. Regardless, demand is still likely to increase over the next year or two due to nuclear power supplements, as well as into the future due to industrial demand increases. Japan imported 4,185 BCF of natural gas for the year.
Demand Summary
As Japan continues to supplement some lost nuclear power with natural gas plants, demand for natural gas mostly supplied through natural gas imports will increase going forward. In addition, Chinese planned reductions in Coal power plants should support natural gas fuel sources going forward. Given China grew CO2 emissions by 15.5% in 2010 alone to 8,320 Million Metric Tons, which accounted for 28% of the word's emissions, something has to give.
LNG Giant is Well Positioned:
Chevron Corp (NYSE:CVX), a 223 B integrated oil and gas company, is pushing to become one of the world's largest producers of liquefied natural gas (NYSEMKT:LNG). With 3 LNG projects based in Australia and over $96 B net partnerships already invested, CVX is a leading natural gas supplier and liquefied natural gas operator in the Asia-Pacific region. Projects in the region are destined to supply some of the hungriest natural gas consuming continents on the globe, since Australia is just a stone's throw away from the demands of Japan and the rest of Asia.
Project Portfolio:
Representing an investment of $27 billion, the North West Shelf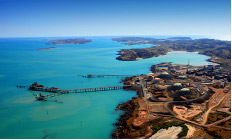 Project facilities are Australia's largest oil and gas resource development. This project currently accounts for over 40% Australia's oil and gas production, and supplies many companies with long-term contracts. Customers in Japan include Chubu Electric Power Company, Chugoku Electric Power Company, Kansai Electric Power Company, Kyushu Electric Power Company, Osaka Gas Co., Toho Gas Co., Tohoku Electric Power Company, Tokyo Electric Power Company, Tokyo Gas Co. , the Korea Gas Corporation, and Shizuoka Gas Co.
For China, the North West Shelf LNG Sellers signed a sale and purchase agreement with Guangdong Dapeng LNG in 2002, which was China's first LNG project in the Guangdong Province. At that time, the 25-year contract was the single biggest export contract in the history of Australia. I feel there is plenty more where this came from given demand forecast by the EIA.
Representing $29 B of investments, Wheatstone has approval to 25 million tonnes per annum, with first LNG expected in 2013. Eighty % of the project's capacity will be fed with by gas fields operated by Chevron (80.17%), partnered with partners Shell (RDS-A) (8%) and Kyushu Electric Power Company (1.83%), together with PE Wheatstone Pty Ltd (part owned by TEPCO, 10%). The remaining 20% will be supplied from Apache (NYSE:APA) and other partners. Major LNG include TEPCO, Kyushu, Chubu Electric Power Company and Tohoku Electric Power Company.
The Wheatstone Project will include an onshore port facility located at Ashburton North Strategic Industrial Area [ANSIA] and will include two LNG trains with a combined capacity of 8.9 million tonnes per annum [MTPA], as well as a domestic gas plant.
One of the world's largest natural gas projects and the largest single resource project in Australia's history. The project is currently under way and includes the construction of the 15 million tonne per annum Barrow Island liquefied natural gas plant and a domestic gas plant with the capacity to provide 300 terajoules per day.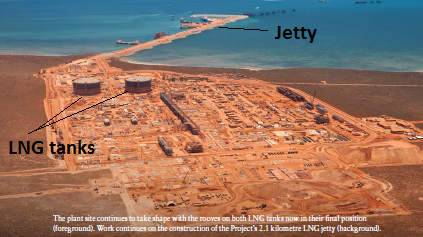 Once LNG is created, a four-kilometer-long loading jetty for transportation to international markets will be used. Other domestic gas will be piped to the Western Australian mainland. The mammoth size of Gorgon will employ nearly 10,000 workers during the peak construction phase, and it is so large it is currently owned and funded by CVX (47%), Exxon Mobil (NYSE:XOM) (25%), Shell, (25%), and others. Completion is planned for late 2014, with the first LNG cargo scheduled for Q1 of 2015.
Disclosure: I have no positions in any stocks mentioned, and no plans to initiate any positions within the next 72 hours. I wrote this article myself, and it expresses my own opinions. I am not receiving compensation for it (other than from Seeking Alpha). I have no business relationship with any company whose stock is mentioned in this article.