A couple of days ago I wrote about how you should consider buying Boyd Gaming (NYSE:BYD) ahead of the impending passage of online gambling in New Jersey. Well, last night Governor Chris Christie passed into law online gambling. As a result, I believe Boyd is the best play on this out there.
Let's Look at the Rules:
From the recently passed ruling:
Internet gaming as authorized and limited under this act... requires that all hardware, software, and other equipment that is involved with Internet gaming will be located in casino facilities in Atlantic City. All that is needed by a customer is a computing or similar device of general application and a communications connection through a common carriage or similar medium. For example, in an online poker or other card game, the 'table' is the server hosted by the operator in the casino premises in Atlantic City. The 'cards' are played on that table in Atlantic City, and the wager is placed on and accepted at that table. No activity other than the transmission of information to and from the players along common carriage lines takes place outside of the casino premises
'Internet gaming' means the placing of wagers with a casino licensee at a casino located in Atlantic City using a computer network of both federal and non-federal interoperable packet switched data networks through which the casino licensee may offer authorized games to individuals who have established a wagering account with the casino licensee and who are physically present in this State.
In reading these rules, it is pretty clear that anyone with a casino license should benefit from this passage. While this rule is currently only open to residents of New Jersey, there is some talk of possibly pooling residents of New Jersey with residents of other states that have passed online gambling like Nevada and Delaware. The benefit of this is that, like an interstate lottery, there will be added liquidity, which is what poker players seek. The larger the pool of players the more likely it is that people will play. If you have ever played poker at a casino you will know that it is far more enjoyable to play on a table with 7 other players than 1 other player.
Having said this, New Jersey does offer a larger potential population of players with its 9 million residents.
On CalvinAyre.com, a leading destination for online gambling news, Calvin Ayre said the following:
Meanwhile, without even one state-approved operator up and running, Gov. Brian Sandoval has asked the Nevada legislature to approve interstate online poker. It seems like this might dovetail with one of the changes Gov. Christie made in his conditional veto in New Jersey. Christie altered the language allowing New Jersey to work with other states on online gambling from 'an interstate compact' to 'a reciprocal agreement.' Where an 'interstate compact' implies a relationship between an unspecified number of states, a 'reciprocal agreement' implies a relationship between just two parties. Two parties like, say, the gaming industry's two leading states.
The key right now when trying to take advantage of the growing momentum with online gambling is to look to those companies that hold licenses in multiple states since a national solution appears to be less likely in the near future. Instead, several states are pushing for legalization. And most states are looking to protect their in-state casinos because they generate a good deal of tax revenue from them. That is why, as is the case in New Jersey, online gambling will only be offered to those users with an establish account with companies that have a casino license and who are physically present in their state. So the key is looking to companies with already existing licenses while keeping in mind valuation of the company, of course.
Below are a list of states that BYD operates in and what each states' stance is with regards to online gambling: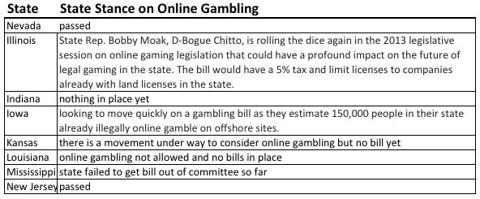 As you can see BYD already has exposure to two states that have passed online gambling and they have licenses in both states. Iowa and Illinois look like two promising opportunities as well for them. According to factmonster.com, the combined population of Illinois, Iowa, New Jersey, and Nevada is 27.5 million or nearly 10% of the U.S. population. This is a sizeable opportunity for Boyd if all 4 states pass.
Estimates for the market size of New Jersey has been as high as $1.5 billion by Dennis Farrell at Wells Fargo. The Borgata generates roughly 20% of the states casino revenue and EBITDA at the Borgata is roughly $140 million per year. If the $1.5 billion estimate is correct it could generate $300 million in additional revenues for the Borgata, which is owned 50% by Boyd. That means a potential 7% or so boost to revenues just from the passage of online gambling in New Jersey. Keep in mind that Illinois has a population 33% greater than New Jersey. With 2 states having approved online gambling in just the past week, there is no reason to believe that other states won't join in the act soon, especially with many states starving for revenue opportunities.
While on the surface a 7% or so bump in revenues over time doesn't seem like much, you have to take into context how the market is currently valuing BYD. For 2011, BYD had free cash flow of $166 million, valuing the company at 3.5 times free cash flow. The company trades at 0.49 times book value of $1.2 billion. Clearly the company is concerned about high debt levels and lack of growth. By comparison, here is what the market values its competitors at (I purposely excluded Las Vegas Sands (NYSE:LVS) and Wynn (NASDAQ:WYNN) because they have significant exposure to growing overseas markets):

On a P/FCF and P/NAV basis, BYD is significantly cheaper than its peers, especially Caesar's (NASDAQ:CZR), which has gotten a boost from its exposure to the World Series of Poker brand. By comparison, Pinnacle Entertainment (NYSE:PNK) recently purchased Ameristar Casinos (NASDAQ:ASCA) at 5 times free cash flow. ASCA shows positive net income; however, they had a negative net asset value at the time of the deal because of a large amount of long-term debt.
With the gathering momentum toward legalization of online gambling, it is quite possible that the domestic land based gambling market could become rejuvenated as it increases overall awareness. Throw in what I believe will be continued growth from the housing market, which in turn should fuel consumer spending and I believe any company with exposure to domestic casinos and online gambling could be in the sweet spot.
In surveying domestic casinos and resorts, Boyd Gaming looks like the best option for exposure to this theme. Long term debt levels are high but they will most likely continue to be refinanced and extended, especially now that online gambling has been passed in Nevada and New Jersey, which its lenders will view as a potential additional revenue stream. And while debt levels are high, the same could be said for every other casino operator. The better measure to look at is free cash flow as it adjust for huge depreciation expenses that hit the income statement. Trading at just 3.5 times free cash flow and less than 0.50 times book value and having gone through a roughly 15% pullback over the past few weeks, now looks like a really good time to go long the stock.
In addition to this, companies that operate outside of the U.S. that are looking to get exposure to the potential boom in online gambling can only get exposure through applying for licenses, which can take up to 24 months or longer, or by buying companies with licenses already in place. For this reason, BYD could be a potential takeover candidate.
Disclosure: I am long BYD. I wrote this article myself, and it expresses my own opinions. I am not receiving compensation for it (other than from Seeking Alpha). I have no business relationship with any company whose stock is mentioned in this article.