By David Urani
New-home sales for January clocked in at 437,000 annually according to the Census Bureau, which was a 15.6% gain (the largest since 1993), and the highest level of sales since August 2008. Certainly it was a pleasant surprise for the market, which had been expecting just a modest increase to 383,000. Gains were seen in all four regions.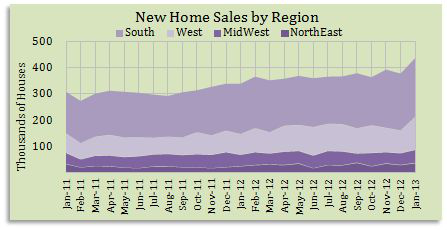 I would note that winter readings like this one tend to be a little less reliable considering the big seasonal adjustments involved, so I'm inclined to downplay the magnitude of today's figures. That said, I don't want to detract from what does in fact appear to be a strong number heading into the new year. In a sense, I do wonder how much Fiscal Cliff fears had played in consumers' minds late last year. It would have made sense for potential homebuyers to be reluctant to purchase before having a chance to budget for any potential changes in the tax code which had been unknown at the time. And of course, January may have seen those buyers come back knowing the coast was (relatively) clear.
Home prices as measured by the Case-Shiller index rose by a seasonally adjusted 0.9% month to month in December, and were up 6.8% for the year. The annual increase was actually the best since 2006, although prices are still a whole 29% down from the 2006 peak. As usual, I would note that the Case Shiller index is quite a lagging indicator but I feel it's the most accurate, and it's encouraging to see that home prices continued to steadily march higher in December. Even on a non-seasonally adjusted basis, prices were up 0.2% month to month during a slow winter month.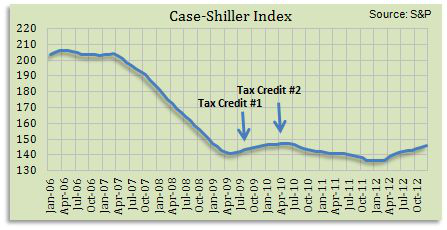 Following up on the multiyear high for January new-home sales, we got the National Association of Realtors' Pending Home Sales Index, which clocked in with a 4.5% increase month to month to an index reading of 105.9, the highest since April 2010 when the market was boosted by Federal tax incentives. If you exclude those months in 2009 and 2010 when the market was being artificially boosted, it was the best result since January 2007. All four major regions increased for the month.
Overall, it's a fairly straightforward result that seems to complement the new-home sales result. And in what has been a strong driver for new-home construction the NAR notes continued draw down of inventory, which consequentially they say led to the strongest price increases they have seen in more than seven years.