"He is no fool who gives what he cannot keep to gain what he cannot lose." - Jim Elliot
It has thus far been a volatile week, with a big down day on Monday countered with two days of gains erasing losses. The media is screaming about new all time Dow highs, using the price action of Transports as a way of "confirming" the trend. I think people forget that Dow Theory is largely just that - a theory. In practice, Transports are much more of a coincident indicator than a leading one. That means they actually don't have as much predictive power as those who use it as an excuse to be bullish would have you believe.
The argument of course is that those areas of the economy which ship things should provide a tell on economic activity. Makes logical sense, but the U.S. has been much more of a services country than a manufacturing one since the time Charles Dow came up with the idea. More so than that, what matters is not the level of an index, but rather the relative momentum behind it. This is effectively what my focus has been on as a technique for market analysis for the past two years. It is also the way our inflation rotation models used for managing our mutual fund and separate accounts are built.
Having said that, take a look below at the price ratio of the iShares Dow Jones Transportation Average (BATS:IYT) relative to the Dow Jones Industrial Average (NYSEARCA:DIA). As a reminder, a rising price ratio means the numerator/IYT is outperforming (up more/down less) the denominator/DIA.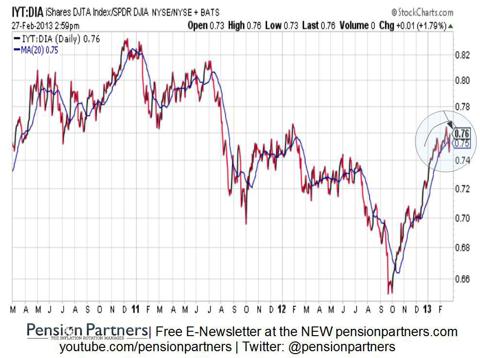 Transports have strongly outperformed since October of last year, but note that the ratio appears to be rolling over. If this is indeed what is taking place, that would mean Transports begin UNDERperforming. So my question to Nouveaux Bulls is simple - if you are using the strength of Transports as a way to justify a bull market, should you then not be concerned with a potential reversal in leadership?
Caution, I maintain stubbornly, remains warranted...
Disclosure: I have no positions in any stocks mentioned, and no plans to initiate any positions within the next 72 hours. I wrote this article myself, and it expresses my own opinions. I am not receiving compensation for it (other than from Seeking Alpha). I have no business relationship with any company whose stock is mentioned in this article.
Additional disclosure: This writing is for informational purposes only and does not constitute an offer to sell, a solicitation to buy, or a recommendation regarding any securities transaction, or as an offer to provide advisory or other services by Pension Partners, LLC in any jurisdiction in which such offer, solicitation, purchase or sale would be unlawful under the securities laws of such jurisdiction. The information contained in this writing should not be construed as financial or investment advice on any subject matter. Pension Partners, LLC expressly disclaims all liability in respect to actions taken based on any or all of the information on this writing.