Another two weeks, another release of the Nasdaq short data. The tally this time for Sirius XM (NASDAQ:SIRI)? 406 million shares sold short.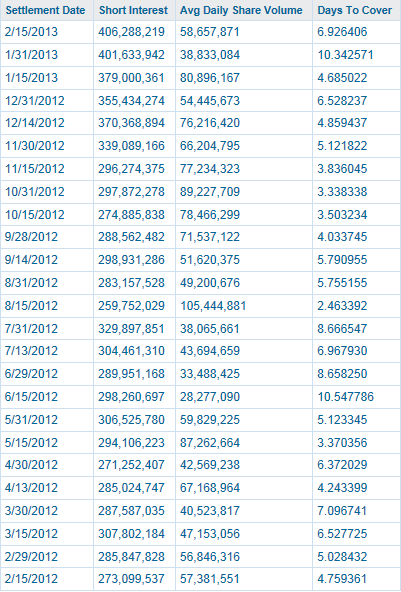 That's right, it increased. Even though the increase was just about 1%, there was no net covering of positions.
If you've followed what I have written for some time now on this number, I've been a bit puzzled why these short sellers have effectively been selling right into the hands of Liberty Media (LMCA). Through the latter half of 2012 and into 2013, Liberty Media went on a buying spree, grabbing up hundreds of millions of shares which it needed in order to go to a controlling stake in Sirius XM. It would seem to me that, in the short term, it would have made more sense to steer clear of short positions in an equity which was obviously under demand and being actively purchased.
Consider that the share price was $1.80 just before entering July, with an outstanding short interest of nearly 290 million shares. Since that point, and since Liberty closed on its first forward purchase contract for 302 million shares, the stock has gone on a run and not looked back.

Now consider that if you held a short at the red X in the chart here, and you have not covered, and you are not hedged, you are in trouble. If you examine the data points above in the table, you'll see that some have covered along the way, as the short interest has decreased here and there. But it seems that those betting against Sirius XM absolutely love punishment, and pile on again and again in greater numbers.
In my opinion, this really isn't the best decision here. Let me rephrase that. Being short Sirius XM is an absolutely horrible decision. While it seems Liberty Media is done with share purchases, the attention now should turn to Sirius XM itself, which has authorized a $2 billion share buyback. That's $2 billion that should be flowing into the stock throughout the year, and that's $2 billion worth of buying pressure pushing against the short bet.
Not only should the buyback add pressure to these shorts, but the simple fact that Sirius XM is performing well by adding self pay subscribers and increasing the bottom line should provide additional support for the share price. The company can be micro analyzed down to a few hundredths of a percent on churn or a penny or two of ARPU from quarter to quarter, but until or unless the company shows significant changes for the worse, the share price is likely to appreciate.
And as more and more shorts pile into the cart, the risk of the cart tipping over becomes much greater. That's 406 million shares, or $1.25 billion worth, which need to be purchased at some point. If there is a rush to cover, it could send Sirius XM up rapidly.
While it may be frustrating for some investors to see the recent decline in share price from where it had orbited $3.15 to a sudden drop of 6% to just below $3 per share, I continue to stress that buying near the 50-day moving average presents some of the best value for longer-term investors who buy regularly throughout the year. Use overall market weakness to buy quality stocks like Sirius XM, not sell them. I continue to be shocked by how many comments I see when the share price drops and hits that 50-day moving average saying "that's it, I'm out!" Selling wasn't a good idea at $2.35, wasn't a good idea at $2.70, and I think the future share prices will prove that it wasn't a good idea at $3.05.
I remain firm that $4.25 will be seen this year for Sirius XM, and I believe that near term, the equity could reach around $3.40 in the month of March. This, of course, is only if March 1st comes and goes at the end of this week without the overall market turning extremely bearish. Unless you feel that we are due for a large market correction, then I continue to maintain that if you are short Sirius XM you should cover immediately.
Disclosure: I am long SIRI. I wrote this article myself, and it expresses my own opinions. I am not receiving compensation for it (other than from Seeking Alpha). I have no business relationship with any company whose stock is mentioned in this article.
Additional disclosure: I am long SIRI Jan 2014 $2 calls.