Safe Bulkers (NYSE:SB), a small-cap dry cargo shipping company, is a rare gem for an investor looking to add exposure in this sector. I like the company a lot for its modern fleet, smart hands-on management team, and above all because its CEO has skin in the game. I also believe that the current valuation level (SB closed Wednesday at $3.93 per share) is an excellent point for a new entry or to add to an existing position.
In my previous article, I had the opportunity to analyze SB at length and compare it to the other industry stalwart Diana Shipping (NYSE:DSX). I have also discussed several critical issues that might affect the valuation of Safe Bulkers, including the credit exposure from its long-term charters, the prospect of cancelling one of its new-building orders for a full refund, and also the possibility of a management buy-out.
The company reported earnings for the quarter last Wednesday and held its earnings conference call with analysts the following day. During the call, the CEO had the opportunity to shed extra light on some of the above issues.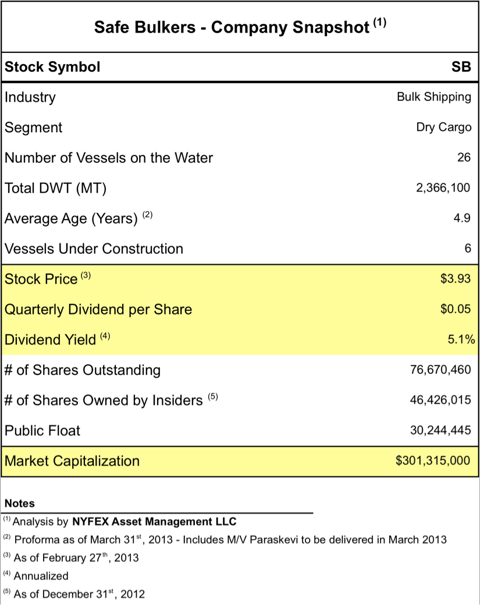 Regarding the credit exposure from its long-term charters, I had estimated last September that the premium of the company's fixed-rate contracts above fair market value was $178 million. Since then, management has taken proactive steps to manage its fixed-rate book and accepted early redelivery for three of its vessels for total cash compensation of $25.1 million (I had estimated the premium of these contracts at $20.1 million).
The CEO disclosed in the conference call that all its charterers were current with charter-hire payments, including troubled Japanese company Daiichi. Based on all these developments, I now estimate that the premium of above-market fixed-rate contracts is $129.5 million as of March 31st, 2013. The company's two cape size vessels are responsible for two-thirds of this premium.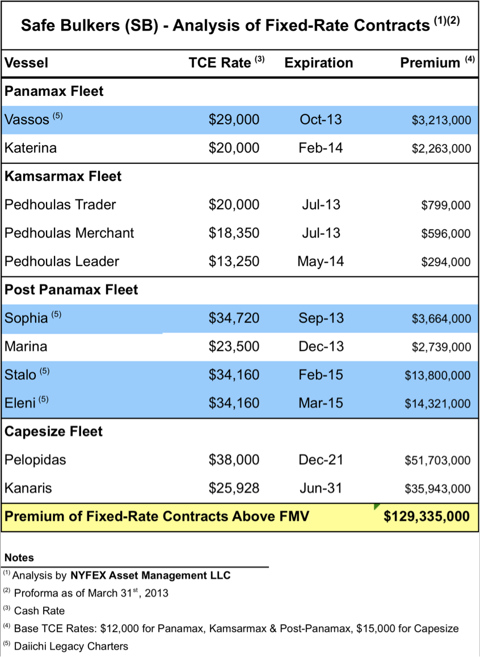 Regarding the cancellation of one of its new-building orders, SB is on the verge of bringing home the bacon. The company rightfully cancelled an order for its new-building cape size vessel that was experiencing heavy delays at a Chinese yard. SB has claimed a full refund (plus interest) of $31.8 million in pre-construction payments, guaranteed by a first class bank. Even though the refund claim is currently in arbitration proceedings, the CEO expressed his confidence that the company will win the arbitration and collect all monies due.
A positive result from the arbitration proceedings will boost its cash reserves by about $32 million. SB will also avoid taking delivery of a cape-size vessel with no fixed employment.
SB is in excellent financial position to navigate year 2013. As shown in the table below, its cash position (assuming full award of pending arbitration) is sufficient to meet its remaining capital requirements for the year (including dividend payment), without taking into account its expected operating cash surplus. In addition to its operating cash surplus, SB has a long-term time deposit of $50 million, $68.9 million in undrawn credit facilities, and the capacity to borrow against three unencumbered vessels that are currently on the water.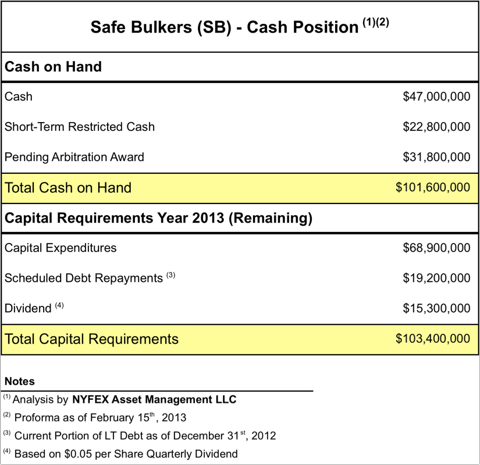 There is always a risk that SB may hit the capital markets for an equity offering (it has made three such offerings over the last three years during March or April). I hope that this year will prove to be an exception.
With regards to a potential management buy-out, given that the stock has bounced back from its 52-week low of $3.12 per share, I believe that this scenario is less likely.
But the company's CEO did not miss the opportunity to put more money where his mouth is. Based on the latest SEC filing by Vorini Holdings, a company controlled by the family of Polys Hajioannou (CEO of SB), Vorini purchased a total of 600,000 shares in open market transactions during year 2012. This compares with just 11,200 shares purchased the year before.
The additional purchases bring the CEO's shareholdings to 60.55% of total shares outstanding. Clearly, the interests of management are perfectly aligned with those of the shareholders.
In summary, Safe Bulkers is perfectly positioned to navigate through another challenging year for the dry cargo shipping industry. It is a low-cost provider of first-class transportation services, it has the capacity to generate operating surpluses from a balanced mix of fixed-rate and spot market charters, and is well positioned to meet its capital requirements for year 2013 while maintaining a quarterly dividend of $0.05 per share. At a current dividend yield of over 5%, it represents a safe bet on a market recovery, and I am a buyer at this price level.
Disclosure: I am long SB. I wrote this article myself, and it expresses my own opinions. I am not receiving compensation for it (other than from Seeking Alpha). I have no business relationship with any company whose stock is mentioned in this article.