Market analysts have blown the recent market pause way out of proportion. It's become quite tiresome to read the same "Pullback Is Imminent" stories as we've approached the record highs, especially the ones that point to the recent Fed minutes as indication that the "punch bowl" is being taken away and stocks now have tremendous downside.
First of all, the Fed isn't directly responsible for rising asset prices; failure to recognize that actual earnings growth has taken place since the market bottomed in March '09 reflects a critical causal fallacy. Sure: we remain in the midst of a classic post-credit crisis recovery, and global growth has arguably slowed a bit in the past few months. Don't make the mistake of ignoring the big picture though; equity assets are attractive in relative terms, M&A activity is picking up, inflation is under 2%, personal income growth is on the rise, and interest rates are at historical lows.
Secondly, Fed policy is easier now than ever. At most, I think we'll see the $85 billion in monthly purchases curtailed slightly by the end of the year.
I know - government statistics are lies, hyperinflation is on the way, the Fed needs an exit plan, and America is owned by China.
But for those who actually want to take part in long-term equity gains, I recommend making a list of a few stocks you'd like to purchase if they pull back enough. Some major trend lines have been broken in the past few days, and correlations are picking up, so indeed I think we're entering a correction. Here's my list:
Chesapeake (NYSE:CHK): I first recommended shares of Chesapeake right before the start of 2013 at about $16.50. I was unable to gain my desired amount of exposure to the stock as it took off soon thereafter; Monday's 7% pullback broke support at $20 and broader market weakness could send the stock back to support at $17.50.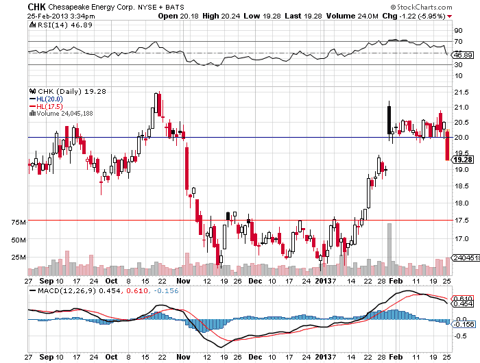 The key intermediate term catalyst for CHK is investor recognition of a strengthening balance sheet and essentially no chance of an impending bankruptcy. Last year's double-trouble of Aubrey McClendon's personal loans scandal and the company's large funding gap caused the shares to plunge under $14 per share at about 60% of book value.
The company knocked its long-term debt down to about $12.5 billion in Q4, but still has a projected funding gap of about $4 billion for 2013. With $4 billion in available credit and $4-7 billion in expected asset sales, CHK will have no trouble paying the bills anytime soon.
Monday's news that CHK is selling 425,000 acres in the Mississippi Lime to Sinopec for only $1.02 billion (or about $2,350 per acre) shook investors as it became clear that Chesapeake's previous estimates calling for at least $7,000 per acre are likely significantly overstated.
This is yet another setback for investors, but I believe the ultimate earnings power of the company is still undervalued. By FYE14, CHK will be free cash flow positive and should be earning more than $1.50 a share. Though McClendon's remarks that the assets could be worth $100 per share are obviously nonsense, CHK will benefit immensely from a rebound in natural gas prices and the new boardroom.
Wells Fargo (NYSE:WFC): Financials (NYSEARCA:XLF) have had quite a run since last June, significantly outperforming the S&P. WFC is up about 17% since then, though it remains extremely attractive.
Book value per share has nearly doubled since 2007 (though this is somewhat a result of the Wachovia purchase), and the 10-year average for book value per share growth is about 11%. The company pays a near 3% dividend at a payout ratio of only 26%.
WFC trades at only 6.8 times pre-tax net income; the stock could trade at 10x pre-tax net income and be fairly valued given its double digit annual book value growth.
I think WFC is worth about $50 a share currently (10x pre-tax), but I'd be willing to gain levered exposure through some calls if it gets down to support around $33.
National Oilwell (NYSE:NOV): National Oilwell has garnered some attention recently as filings have indicated that Warren Buffett's Berkshire Hathaway has been accumulating shares. While the size of the position suggests that the purchase almost certainly came from one of Buffett's two investment managers, investors are fortunate to be hearing about the stock at such attractive prices.
I actually hadn't even heard of NOV until last summer, and I've watched the stock head to $90 and back to $65 since then. At today's prices, I'm definitely considering initiating a position.
Thomas Lott's recent article on NOV is a great starting point. NOV's two largest segments are rig technology and petroleum services and supplies. With Brent crude trading at about $115 per barrel, the economics of offshore drilling are particularly attractive, and an international production boom appears to be underway.
EPS is expected to come in at about $6.20 this year, leaving NOV at a multiple of 10.65. In the context of its 56% EPS growth since 2010, or CAGR of almost 16%, this substantial discount to the broader market multiple appears to offer a highly asymmetric return profile.
Support lies at $65 and $60; I'd be surprised if NOV got a 10% pullback, but the energy sector as a whole has outperformed substantially in 2013 and a broader market correction may push some of the higher beta names to their lowest support levels. I'll be accumulating NOV heavily at $60.
Disclosure: I have no positions in any stocks mentioned, but may initiate a long position in NOV over the next 72 hours. I wrote this article myself, and it expresses my own opinions. I am not receiving compensation for it (other than from Seeking Alpha). I have no business relationship with any company whose stock is mentioned in this article.