PennyMac Mortgage Investment Trust (NYSE:PMT) is a REIT. It is a specialty finance company that invests primarily in residential mortgage loans, mortgage servicing rights, and MBS. PMT invests in both newly originated prime quality mortgage loans and mortgage loans which may be distressed (and acquired at substantial discounts to their unpaid principal balances). The company seeks to maximize the value of the distressed loans through loan modification programs, special servicing, and other initiatives focused on keeping borrowers in their homes. It is divided into two main segments: Correspondent Lending and Investment Activities. It is managed by PNMAC Capital Management LLC.
For the FY2012 PMT grew net income 115% to $138 million. It grew EPS 30% year over year to $3.14 per diluted share from $2.41 in FY2011. PMT raised over $600 million in new equity capital in FY2012, which it successfully deployed into accretive investments. All in all PMT had an excellent year in 2012. It is just this kind of performance that has allowed PMT to consistently raise its dividend. Admittedly it has a limited history since its IPO in 2009. However, short term strength is still strength. The chart below shows PMT's dividend raises and earnings growth.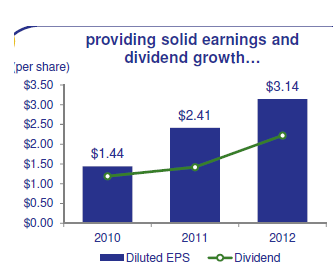 The most recent year (2013) only includes the dividend declared for February of $0.57. FY2013 will be another up year if the dividend rises in future quarters. Even if it remains the same, FY2013 will be a slightly up year. Given PMT's record so far, the dividend seems likely to rise further in 2013.
PMT was established by former executives of Countrywide Financial Corp. They probably know a lot about distressed mortgages, since their former company created a lot of them. This intimate knowledge should help PMT ferret out those distressed mortgages that can be most easily rehabilitated (most easily profited from).
However, PMT's distressed whole loan purchase activity steadily decreased in FY2012. It is possible that PMT's management is correctly worried about a US recession. Such an event could adversely affect the ability of PMT to rehabilitate troubled loans. This seems a sound strategy by the management (see the chart below).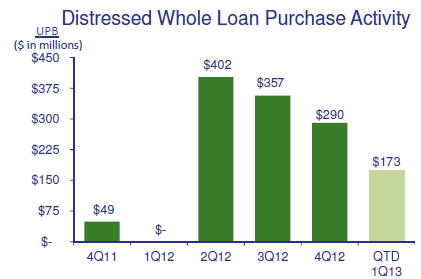 PMT keeps the leverage on these loans low (0.4x at the end of Q4 2012). Plus the acquisition price averaged 45% of the UPB (unpaid principal balance) in Q4 2012. With the Fed backing the housing industry strongly with QE3, QE4, and low rates, the housing market seems likely to keep improving. Alternately it may tread water for a time if there is a shallow US recession in 2013. Either of these scenarios should see PMT do well. Only in a very severe US recession would PMT be severely affected. For now home prices are going up. CoreLogic's national home price index rose 8.3% in December 2012 from year earlier levels. This is huge. It makes all of PMT's loans safer and more valuable.
In all categories PMT's mortgage assets, pretax earnings, and net income are all growing quickly (see the charts below).

With such great looking charts (and the Fed backing the housing industry) it is hard to imagine these strong charts reversing. They might flatten out a bit in a troubled 2013, but that would probably be the worst case scenario. An investor would still be able to collect a great dividend.
All told PMT looks like a very strong grower with a great dividend (about 9%). It appears to be just hitting its stride as an expanding new company. In contrast, Annaly Capital Management Inc. (NYSE:NLY) has seen its net interest rate spread fall to 0.95% in Q4 2012 (less profits). Plus it has seen its dividend fall from $0.57 for Q4 2011 to $0.45 in Q4 2012 (in three steps). The trend is negative. This may have bottomed; but would you rather own a company with strongly upward trending earnings and dividends? Or would you rather own one with strongly downward trending statistics? NLY is overall still paying a higher dividend at 11.76%. However, its earnings picture looks much weaker, especially with agency RMBS at such a high premium (and the Fed driving that premium up even farther with its MBS buying).
Instead, in PMT's case the Fed is more clearly working to favor PMT's business. It is still trying to help clean up the mess CountryWide had a big part in creating. It seems unfair that CountryWide's former management should be the ones to profit greatly from the Fed's attempts to help. However, it also seems only sensible that a smart investor should want to profit along with them.
Two other companies Newcastle Holdings (NCT) and Nationstar Mortgage Holdings (NYSE:NSM) have businesses more closely aligned with PMT. NCT has seen its quarterly dividend rise from $0.10 on June 17, 2011 (when it started paying it again) to $0.22 for Q4 2012. NSM appears to have great growth statistics with an 84% CAGR for revenue growth over the last 5 years and a 162% CAGR on pre-tax income growth (much of this in 2012) over the last 5 years. However, it pays no dividend that I could find on Yahoo Finance or on the company's web site. If you want an income stock it is probably not for you. NCT pays an 8% dividend, which is substantially less than PMT's 9%. Still NCT does appear to be worth considering too. All told, PMT presents a good income opportunity, with the possibility of great stock price appreciation. It compares well to its industry. Plus similar companies are also doing well. It's a buy.
The two year chart of PMT provides some technical direction for this trade.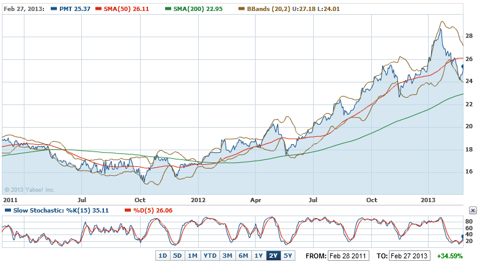 The slow stochastic sub chart shows that PMT is near oversold levels. The main chart shows that PMT is in a strong uptrend. The price line appears to have just bounced upward back toward its 50-day SMA. If it passes the 50-day SMA, that will be a buy signal. Overall PMT seems a buy now. It trades at a PE of 8.46. It has an average analysts' next 5 years EPS growth estimate per annum of 25.00%. It has a mean analysts' recommendation of 1.7 (a strongish buy).
After all that good news, one might want to rush out and buy PMT and that could turn out to be a good decision. Technically it is at or near a buy point. An investor could start to average in here. However, an investor should keep in mind that the overall market is still overbought. Many are predicting a nearly immediate retracement of 7% to 10%. The problems in Italy and Spain are bad. The sequester seems ever more likely to go into effect on Friday March 1, 2013. The US GDP growth rate for Q4 2012 was negative at -0.1%, although this may be revised upward slightly. The negative effects from the tax hikes at the beginning of 2013 and the spending cuts at the beginning of March 2013 could easily push the US into a recession. This means that it is probably appropriate to average into almost any stock over the course of 2013. In this way you should get an average good price. For now 2014 promises to be a better year.
NOTE: Some of the fundamental financial data above is from Yahoo Finance.
Good Luck Trading.
Disclosure: I have no positions in any stocks mentioned, but may initiate a long position in PMT over the next 72 hours. I wrote this article myself, and it expresses my own opinions. I am not receiving compensation for it (other than from Seeking Alpha). I have no business relationship with any company whose stock is mentioned in this article.