J.C. Penney (JCP) results came out yesterday and they paint a depressing picture, to say the least.
Cratering Sales
J.C. Penney has come under my radar since Ron Johnson signed on to the CEO position back in 2Q 2011. Needless to say, the situation has got much worse than it was two years ago: -25% in sales worse. By comparison, the contraction related to the 2008 crisis disappears.
The earnings release was just dreadful:
Sales of $3.88 billion came well below the expected $4.08 billion
EPS of $(1.95) just made the expectation for a loss of 24 cents
But the most worrisome data point was that same-store sales actually went down 32% for the fourth quarter. In fact, even though the sector has seen better times, peers like Macy's (M) are, on the contrary, clearly enjoying a nice momentum.
Macy's, by comparison, easily beat expectations of $1.99 for EPS and $9.3 billion in revenues by posting earnings per share of $2.05 and sales of $9.4 billion. Same-store sales were actually up 3.7%, and data for January points to a growth of 11%.
If we look at the last 6 years, while between 2007 and 2010 the company was already burning its assets, and sales and EPS were already contracting, 2011 dramatically increased this decline.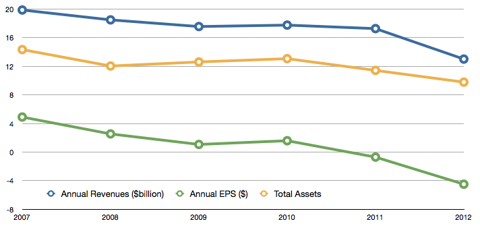 (Click to enlarge)
Wrong strategies
J.C. Penney is literally being eaten alive by its turnaround story, with assets contracting almost 30% in just two years. While the company is betting all its chips on its "shop-in-shops", and spending cash like there's no tomorrow to build them, this strategy doesn't seem to be paying off. The same Bill Ackman, who has been a well known bull on the stock, acknowledged the problem last month on CNBC.
"The problem with the vision is it's a small percentage of the store, which is the so-called 'shop' strategy" said Ackman. "It's 10-11 percent of the square footage". Such a small percentage of the store cannot be sustainable: "The negative is 90 percent of the store" said Ackman. "Very very difficult year. Sales results reported so far - mid 20s down comps. Those are numbers that no retailer likes to see".
Even more so, other strategies are being taken on shakily: for example, trying to lure customers with low-pricing didn't pay off, as the company has since quickly back-pedaled.
Yesterday, Business Insider ran an interesting story after the results were out, with consumer service expert and bestselling author Grant Cardone telling them: "What good do these shops do the customer if no one is there to greet you?" Cardone asked. "Their strategy uses gimmicks which have been used over and over." Because customers don't feel welcome in J.C. Penney stores, they aren't compelled to come back, Cardone said.
Apparently, Ron Johnson is nowhere near recreating "the best customer experience" the Apple (AAPL) stores introduced more than ten years ago. This reminds me of an insightful article written here on SA, "Apple Retail's Ron Johnson And John Browett Have Proved The Peter Principle Is Alive And Well", which analyzed how Ron Johnson clearly confirmed the principle articulated by Dr. Lawrence J. Peter, who said: "employees tend to rise to their level of incompetence". The writer of the article therefore suggested that the new CEO of J.C. Penney wasn't ready for such a position. JCP's Q4 results prove him right.
Closing thoughts
Sales are dramatically slowing. EPS is negative. Shorts, who have already been shorting some 30% of the float since July, seem to be there to stay. The turn-around story doesn't seem to be working.
Even technicals are not offering any support, in fact they're even offering a more dreadful picture - if possible (see chart for reference): the stock had been in a descending canal since September, but found strong support coming back since its November low. More recently, the stock bounced back from the upper-end of this descending canal and from the 200-days SMA. However, it did find support on its 50-days and 20-days SMAs.
The problem is, at the time of this writing, JCP is around $18 pre-market: what this means, with all these supports gone, is that only the descending canal remains.
Given the conjunction of a worrisome technical situation, a dreadful situation on the fundamentals side, high short-interest and the inevitable bad momentum the stock is going after, I don't see the shares going anywhere else than to new lows.
Disclosure: I have no positions in any stocks mentioned, and no plans to initiate any positions within the next 72 hours. I wrote this article myself, and it expresses my own opinions. I am not receiving compensation for it (other than from Seeking Alpha). I have no business relationship with any company whose stock is mentioned in this article.