Although yesterday was a very good day for commodities we missed out on part of the ride due to our 1/5th cash allocation within the retirement account. That was previously allocated to a stock which rose about 10% and hit a new all-time high so that was painful to watch, however we do feel that our cautiousness is justified.
We do want readers to pay more attention to the Utica these days as the E&Ps begin to ramp up drilling efforts and the Midstream players do the infrastructure build-out. Both activities will be key, and the midstream shall dictate exactly how high these names can go this year.
Commodity prices this morning are as follows:
Gold: $1588.40/ounce, down by $7.30/ounce
Silver: $28.87/ounce, down by $0.073/ounce
Oil: $92.63/barrel, down by $0.13/barrel
RBOB Gas: $2.855/gallon, down by $0.0015/gallon
Natural Gas: $3.414/MMbtu, down by $0.02/MMbtu
The Utica Shale
Two of yesterday's top performers from the commodity space were companies which we were early to lead readers into due to their exposure to the Utica, and which for the most part had kept you in until recently when we thought one had gotten ahead of itself on valuation. Bad call there, but good call to still have been bullish on the Utica play as a whole.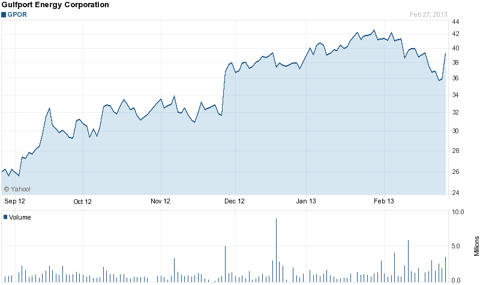 Chart courtesy of Yahoo Finance.
Possible downtrend being broken here, it will be interesting to see if the stock can consolidate around $40/share.
Our favorite company in the Utica is Gulfport Energy (NASDAQ:GPOR), a holding in our personal portfolios and one which we have been unabashedly bullish on for quite some time now. Shares rose $3.37 (9.37%) to close at $39.33/share yesterday on volume of 3.5 million - well above the average for the company. The share price is not at a new high, but the news did push us back into the $40/share area which itself is bullish. The company said they expect to have 4 rigs operating in the Utica by April 2013 and this will lead to 2013 being the year that the Utica really cranks up. The press release from the earnings announcement really did not have anything new in it, thus we waited for today to discuss the company but the release can be found here for those who may be new to the company. Our belief is that the meat is always found in the conference call and although we have been through it already we are still formulating the big picture, so until tomorrow we will simply give you a link to the transcript (located here). We would not chase the stock at this point but buy on dips as we have always found chasing tends to lead one to pay a far higher price than had they been unemotional about the purchase.
PDC Energy (NASDAQ:PDCE) was a stock which we made decent money on considering it was in our retirement portfolio and we did not use leverage. It may go down as one of our greatest regrets of 2013,however, because it was a situation where we were correct on the potential of their acreage in the Utica but wrong about the stock having gotten ahead of itself (there was a pullback into the $39/share area but that was for but a brief period intraday). We locked in profits and led readers out however we still maintain that their acreage in the liquids plays they have is top notch. This will most certainly be a play we re-enter, but now we will have to wait for the dust to settle because the company announced a 2,000+ boe/d well in only their second horizontal completed to-date (see press release here). It is located in Guernsey County so it does not prove up their southern acreage but it does demonstrate that they are in the sweet spot and the "core of the core". The Detweiler well was officially a 2,197 boe/d on a 24 hr test which was after having rested for 60 days (which we found impressive). The well had a lateral length of 3,868 feet with 13 frac stages. Shares rose $4.01 (9.61%) on the news to close at $45.72/share after hitting new highs yesterday. The conference call can be found here.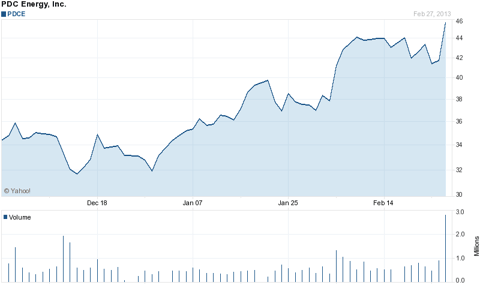 Chart courtesy of Yahoo Finance.
Solar
It is a tale of two solar companies today as we noticed SunPower (NASDAQ:SPWR) fought back yesterday to essentially finish the session flat and close at $11.68/share as the rest of the solar names were lower on the disappointing results and commentary surrounding First Solar (NASDAQ:FSLR), which saw its shares fall $4.32 (13.78%) to finish the session at $27.04/share. It seems inevitable that some names will have to perish for others to succeed but it does make one wonder exactly how long this process will take. It took decades and numerous bankruptcies in the airline industry to make that happen and with China and Europe backing solar along with the current US administration one has to wonder whether the well will even run dry for some of the less competitive players. The bottom line this morning is this: If readers feel the need to be involved in solar, then they should seek out the strength which is SunPower and steer clear of the weak players which appears to be First Solar and just about everyone else in the industry. We are not bullish of this theme, but recognize its "tradability" and wanted to provide some guidance on what we would be doing if it were our money.
Coal
After the moves in the general market, and the commodities space, over the past two days we are left to wonder what is going on in coal land. Alpha Natural Resources (ANR) has been stuck right around the $8/share level and the close yesterday at $8.17/share is hardly comforting. With the volatility on this name and speculators liking to play it as a liquid commodity trade we are left scratching our heads. Either the bears have broken the bulls or something is amiss, but right now we are on the sidelines and trigger shy as we cannot explain why this has happened. We spent the past two days looking for our entry point and saw none, and when one cannot explain something it is usually best to sit it out. We are watching, but until we have something to work with even these attractive prices in Alpha will have to be passed on.
Disclosure: I am long GPOR. I wrote this article myself, and it expresses my own opinions. I am not receiving compensation for it (other than from Seeking Alpha). I have no business relationship with any company whose stock is mentioned in this article.
Additional disclosure: Looking to re-enter PDCE at some point in the future when an entry point is attractive.