'Big Ben' delivered again for the markets yesterday and his efforts along with a batch of good news for some key market participants led to some nice rallies within individual sectors yesterday. We were caught on the sidelines, and also having exited one of the big winners of yesterday's session but at the end of the day cautiousness maintains capital in order for one to trade another day. We do not want to get too caught up in what we figured would be a rally off of Bernanke's visit to Capitol Hill, because we still doubt whether Washington can reach any type of deal by their self-imposed deadline. That is a reality the market is going to have to live with but the real question is: How much of that has already been priced in?
Chart of the Day:
The Chicago PMI is in an area which we like, above a reading of 50 which indicates growth but not so high that we have to worry about inflation. Numbers such as these make the Fed's job much more tenable and conjure up memories of the proverbial 'Goldilocks Economy' where things do not get too hot but at the same time never get too cold.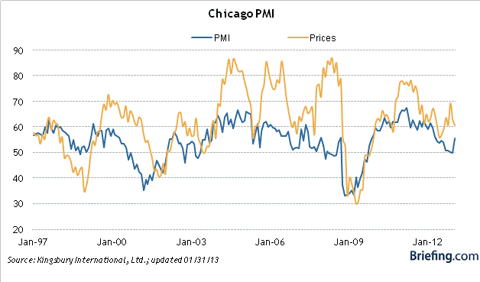 Chart courtesy of Briefing.com
We have economic news due out today, and it is as follows:
Initial Claims (8:30 AM EST): 360k
Continuing Claims (8:30 AM EST): 3150k
GDP - Second Estimate (8:30 AM EST): 0.5%
GDP - Deflator - Second Estimate (8:30 AM EST): 0.6%
Chicago PMI (9:45 AM EST): 54.0
Natural Gas Inventories (10:30 AM EST): N/A
Asian markets finished higher today:
All Ordinaries - up 1.33%
Shanghai Composite - up 2.26%
Nikkei 225 - down 2.71%
NZSE 50 - up 1.02%
Seoul Composite - up 1.12%
In Europe markets are trading up this morning:
CAC 40 - up 0.36%
DAX - up 0.79%
FTSE 100 - up 0.33%
OSE - up 0.28%
Technology
This morning we want to fix your attention to two tech names which have been in the news over the past year or so for all of the wrong reasons. They started off as hot IPOs in the Tech 2.0 Revolution but quickly saw investor sentiment taper off as their results left much to be desired.
First up is Groupon (NASDAQ:GRPN) which will undoubtedly go down in history as the company which told Google to take their billions and shove it. I am sure this was done in a much more eloquently way, but the truth of the matter is that they could easily have cashed out at higher prices and been able to participate in this amazing run that Google shares have been on. Instead retail investors have been left holding this stinker of a bag and wondering where they go from here. Shares closed the session at $5.98/share yesterday but after the company disappointed after the bell on their results shares quickly fell 25% in after hours trading. It is all about the revenues here and with Groupon Goods having eclipsed the $2 billion level in sales analysts are now talking about seasonality. There is a plan here for a transformation, however it takes years and a lot of financial and human capital to pull moves such as these off so we are not buyers here on pullbacks and remain skeptical of the company moving forward.
The other company we discussed earlier is Zynga (NASDAQ:ZNGA) which has seen renewed investor interest after news that New Jersey is looking to increase gaming revenue by allowing online gaming. Zynga has made no secret of their desire to get into the business, but we are left wondering why so many are buying into this story. Look, Zynga is a gaming company and a gaming company which wants to get into the online gambling business - all facts we get. However video game makers were not able to grab large market shares in the online and mobile gaming business simply because they wanted to, rather it took years and tons of money because other more focused companies that specialized in the field were putting a better product out there. Yes the company may see a boost from the venture, but with everyone else already established and having created relationships in the field it is hard to see Zynga becoming the 800 pound gorilla unless we see very few licenses auctioned off (then again that would somewhat defeat the purpose of New Jersey wanting to do this, to raise tax revenues, but until a bill is passed it is all speculation).
Retail
The deep discount retailers, or more appropriately the dollar store sector has seen shares get discounted over the past few months after the names seemed to have hit their pinnacle last year and comps became harder to reach and growth was slowing. We have noticed many new outlets popping up on the outskirts of big cities and within the small towns we travel through for business and they all seem to do a good business. The headwinds the group faced in the latter half of 2012 was the result of the economy picking up and consumers trading back up to the big box discounters but yesterday Dollar Tree (NASDAQ:DLTR) said that they expect to benefit from what is going on in Washington as consumers are feeling a bit of a pinch now with payroll taxes having increased and the potential for spending cuts in the federal budget. That bit of news trumped the not so great Q1 guidance the company gave and sent shares higher by $4.31 (10.49%) to close at $45.39/share on volume of 10.6 million. If the economy does perform poorly, which would be contrary to our prediction, then investors could once again rotate into the retailing sub-sector that is the dollar stores but right now we like other names much better.
Manufacturing
The news surrounding Boeing (NYSE:BA) recently has been pretty bad in regards to the battery issue surrounding their new state-of-the-art plane and the fact that the entire fleet had to be grounded. It is not the type of news investors care to hear about when debuting new products, especially those with such a large price tag, stringent safety requirements and the revenue generator for your clients. Your product not delivering for your clients is not only their problem, but even more so yours. With that said the shares have held in extremely well and with yesterday's close at $77.36/share the stock is back near its 52-week high set just before the news regarding the battery issues broke. This is not a stock we personally own, it is a stock we have recommended in the past to readers, friends and family for their retirement accounts and long-term we think it will do just fine, regardless of the defense cuts that may or may not arise from the latest deadline Washington has put upon itself.
Telecommunications
Long-term investors have seen better days...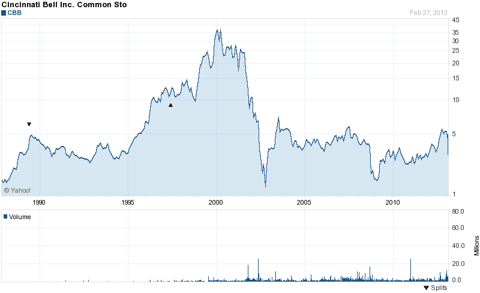 Chart courtesy of Yahoo Finance.
Yesterday Cincinnati Bell (NYSE:CBB) held their conference call and it was about as bad as one would expect. The fact that the company had 60.4 million shares traded and the stock fell $0.92 (22.17%) to close at $3.23/share pretty much says it all. Although the company has made many moves over the years in order to stay afloat and maximize shareholder value while also deleveraging the balance sheet as they faced the reality of the new world of telecom about a decade ago. We remember watching as the deleveraging story played out in the telecom sector and this was one of the names we remember quite well. The narrative surrounding yesterday's call however, not good. Revenues are shrinking much quicker than analysts had anticipated (the company gave disappointing 2013 full year guidance) and for the results they announced yesterday they were unable to meet on the bottom line. As we have stated before, if you are going to buy a telecom stock these days, they need to have considerable exposure to wireless and/or fiber because the rest of the industry is going the way of the horse and buggy. The link to the conference call is located here.
Disclosure: I have no positions in any stocks mentioned, and no plans to initiate any positions within the next 72 hours. I wrote this article myself, and it expresses my own opinions. I am not receiving compensation for it (other than from Seeking Alpha). I have no business relationship with any company whose stock is mentioned in this article.