Emerging market equities get the most attention; yet emerging market debt has been the place to be for investors.
On a two-year basis, USD denominated global emerging market (GEM) debt ETFs have been the best-performing segment of the emerging market ETF universe and have outperformed nearly all other debt classes except long-dated U.S. treasuries.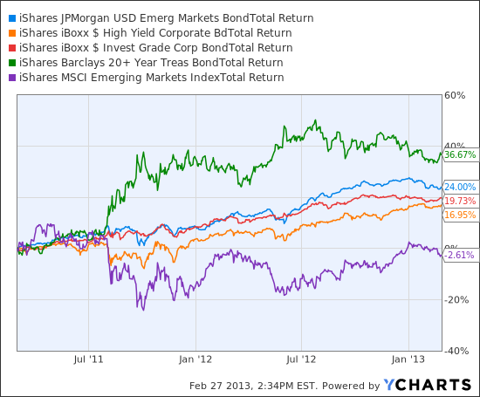 But, do emerging market debt ETFs make sense right now? Let's take a look.
There are two areas of emerging debt ETFs investors can consider; USD denominated debt ETFs and local currency denominated debt ETFs. This article focuses on the USD debt funds.
GEM USD Debt ETFs

It's a relative game
The attraction of emerging market debt is its relative yield, which currently stands around 4-5% annualized. Debt/GDP ratios are also relatively low in many emerging countries; populations are young and growth is generally stronger. In the developed world sovereign debt continues to grow and economic growth is slow. Interest rates are only held down by aggressive central bank support.
This is unlikely to change anytime soon. Nor will the need to attach a risk premium to emerging markets. Although fundamentals are good, small counties don't have the 'printing press option' and they face complex political outlooks.
There are four major ETFs to consider in this segment.
iShares JPMorgan USD Emerging Markets Bond (NYSEARCA:EMB) tracks the major JP Morgan bond benchmark index. The fund is broad and holds mostly sovereign debt with its largest country exposures in Brazil and Russia. The fund also includes a small percentage of quasi-sovereign corporate debt in its portfolio and is the deepest fund of the category with over 150 holdings.
Powershares Emerging Markets Sovereign US Debt Portfolio (NYSE:PCY) offers a slightly higher yield than EMB and is also a diversified fund with no country having more than a 5% allocation. Relative to EMB the fund seeks slightly higher yield, and as a result, holds more risky country exposures. PCY has around 60 holdings.
Wisdom Tree Emerging Markets Corporate Bond (NASDAQ:EMCB) is an actively managed corporate debt portfolio giving investors unique exposure to the steadily growing corporate debt universe in emerging markets. The fund is more concentrated than the sovereign debt funds with around 30 holdings. Brazil, Mexico, and Russia, represent over 60% of the country exposure. Energy, materials and telecoms represent the largest sector exposures. EMCB was launched in March 2012.
Finally iShares Emerging Markets High Yield (BATS:EMHY) is a new high-yield option for investors, having launched in April 2012. The fund holds both government and corporate debt with its largest exposures in Venezuela and Turkey.
EMB is the most liquid fund of the group trading over $100m/day, followed by PCY, which trades closer to $30m/day. EMCB and EMHY are less liquid trading closer to $1m/day.
PCY has been the top performer
A look at the two-year performance of EMB and PCY shows PCY delivering stronger returns as investors have gone out on the risk curve in pursuit of higher yield. The USD funds have also outperformed local currency denominated emerging market debt funds like WisdomTree's Emerging Markets Local Debt (NYSEARCA:ELD) and equities.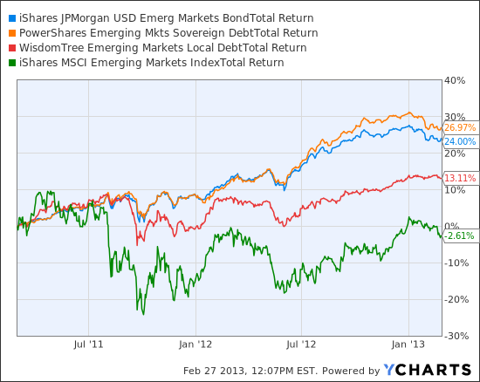 Can we squeeze more juice out of this fruit?
In comparison with other fixed income ETFs, emerging markets now offer marginally higher yields. The funds also cost more to own. Although fundamentals are relatively good it is hard to see spreads narrowing further.
US Debt ETFs

PCY and EMHY offer more yield and risk
In comparing funds it depends on your risk appetite. EMB is a conservative choice given its broader exposure and lower risk portfolio. For more aggressive investors PCY and EMHY offer higher yield but riskier exposures. EMCB, in comparison with its U.S. peer iShares Investment Grade Corporate Bond (NYSEARCA:LQD), hardly stands out after factoring its 0.45% higher fee.
Disclosure: I am long ELD. I wrote this article myself, and it expresses my own opinions. I am not receiving compensation for it (other than from Seeking Alpha). I have no business relationship with any company whose stock is mentioned in this article.