There are over a dozen ways to add gold to your portfolio: gold-miner stocks, physical-holding ETFs, gold-miner ETFs, actual physical gold, physical gold in a 401(k), mutual funds, buying up abandoned mineral properties in Alaska, etc. One of the lesser known avenues is through Closed-End Funds. Like Mutual and Exchange-Trade Funds, CEFs provide investors with market shares relating to a "basket" of holdings. Unlike ETFs, CEFs cannot raise any new capital after their incarnation; thus limiting the number of available shares. While this supply and demand generates somewhat unwarranted volatility, CEFs can leverage their assets to eek-out higher yields than their ETF counterparts.
In this article I'll introduce the five most popular CEFs with gold exposure, open up their holdings, examine their performance, and for fun, correlate their movements to that of actual gold.
The funds are:
The Central Fund of Canada (NYSEMKT:CEF)
The Central GoldTrust (NYSEMKT:GTU)
GAMCO Global Gold, Natural Resources & Income Trust (NYSEMKT:GGN)
GAMCO Global Natural Resources, Gold & Income Trust (NYSE:GNT)
ASA Gold and Precious Metals Limited (NYSE:ASA)
Central Fund of Canada, CEF...pun not intended.
The Central Fund of Canada is essentially a physical gold and silver bullion exchange traded fund based out of Ontario, Canada. The fund has been around since 1961. CEF invests primarily in long-term holdings of gold and silver bullion, which are kept in allocated and segregated vaults of the Canadian Imperial Bank of Commerce throughout Canada. For U.S. income tax purposes, CEF believes it is treated as a Passive Foreign Investment Company (PFIC).
CEF is unique amongst other bullion funds however in that it uses its cash-equivalent holdings to fund a dismal $0.01/share dividend paid annually. Since this dividend equates to about 15% of the fund's annual expenses why it doesn't just use this income to reduce expenses is beyond me. See my article for information of dividend taxes from foreign funds.
CEF Holdings: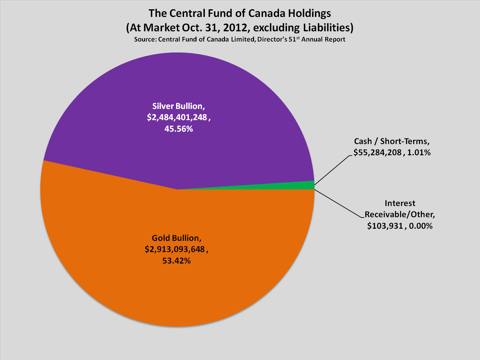 Central GoldTrust, GTU
GoldTrust, one word. Like CEF, GTU is a Canadian bullion fund invested primarily in gold. GTU was established on April 28, 2003, and holds approximately $1.2B in gold bullion, notably less than CEF's gold fraction.
GTU's negotiated administrative fee is supposedly regressive, amounting to no more than 0.3% of total assets; however investors shouldn't get excited, for CY12 administrative fees were exactly...you guessed it..0.3%. This is however lower than SPDR's largest physical gold ETF GLD at 0.4%, but higher than iShare's IAU at 0.25%.
GTU Holdings: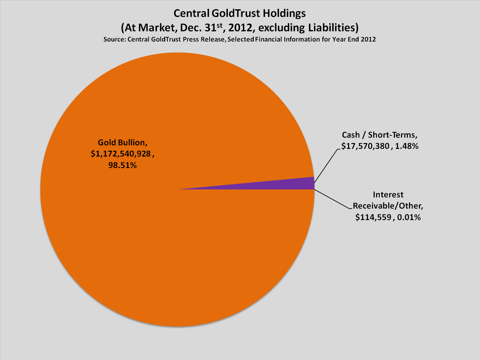 GAMCO Global Gold, Natural Resources & Income Trust, GGN
The two GAMCO funds in this list (GGN and GNT) might be a little hard to tell apart by their names; it's better to think of these two funds in terms of objective. GGN's objective is to provide a high current level of income from writing and selling primarily covered call options on equity securities. As Davis notes this strategy allows GAMCO to hedge losses at the cost of limiting its upside. GGN holds ~29.9% of its portfolio outside of North America. Note neither GGN nor GNT hold any physical gold.
GGN Holdings*: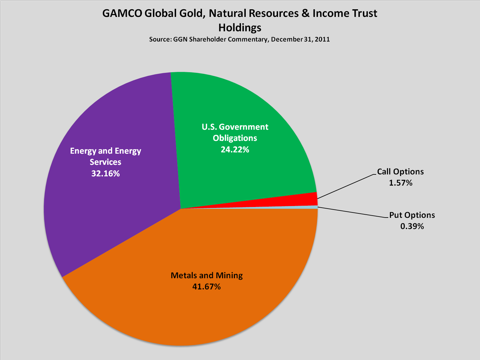 *CY2012 Annual Reports were unavailable at the time of this article.
GAMCO Natural Resources, Gold & Income Trust, GNT
GNT's primary objective is to provide a high level of current income from interest, dividends and option premiums. It utilizes the same options strategy as its sister fund GGN but is more diversified to achieve its interest and dividend goals. While GNT does have a higher portion of its investments in Metals and Mining there is less of a gold focus. GNT also holds ~29.9% of its portfolio outside of North America.
GNT Holdings*: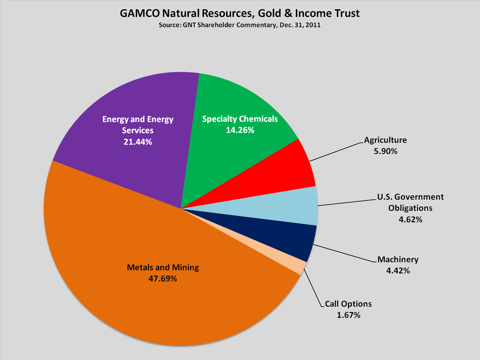 *CY2012 Annual Reports were unavailable at the time of this article.
ASA Gold and Precious Metals Limited, ASA
ASA invests primarily in global precious metals and mineral miners but may also hold gold, silver, and platinum bullion. The company has a unique history, forming in South Africa in 1958 as exclusively domestic before going through multiple phases of globalization. ASA has been progressively repurchasing its outstanding shares since 2008. Like the previous Canadian funds, ASA currently has its headquarters out of the U.S. (Bermuda) making it a PFIC.
ASA Holdings: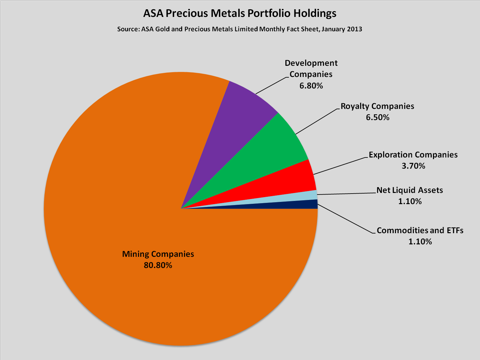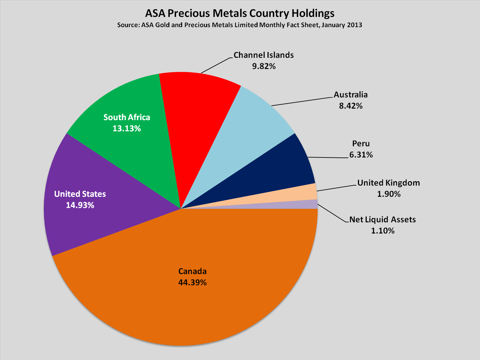 Dollar Volume
Despite its underlying diversity GNT is the laggard of our five, trading at lower dollar volume than its fellow CEFs. ASA has had it rough since the 2008 crash, losing half an order of trading magnitude. CEF, GTU and GGN have all enjoyed increasing interest in the last decade: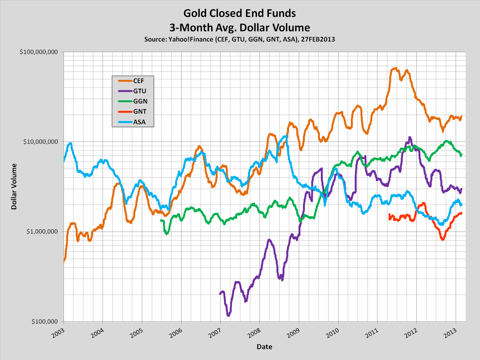 Dividend Yield
CEF's dividend hardly appears on our chart. Note GTU does not pay a dividend and thus yields 0%. Of importance is GNT overtaking its sister fund GGN last year; this was an exciting move given its primary objective of dividend income. Even with recent pull-backs GAMCO's funds yield monster dividends (8%+):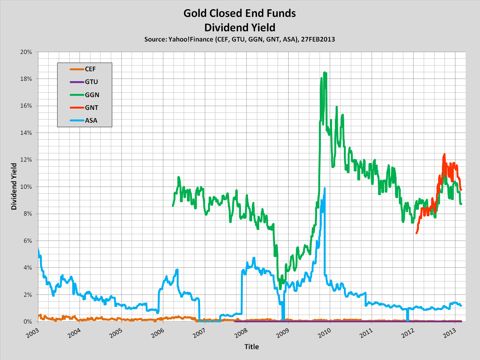 Annual To-Date Yield
The to-date annualized yield method is my preferred analysis tool. It shows what an investor's APY would be had he or she invested in a security at any date in the past (reinvested dividends included). Before the crash of 2008 we can see only CEF and GTU with the heavy gold holdings weathered well. The last three years were very volatile for these funds: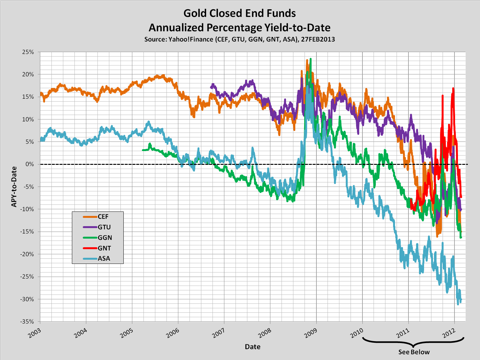 Sadly all five of our funds are pulling negative returns this year. Even post-2008 crash there was only a brief period where non-bullion funds yielded in the black. While GGN, GNT and ASA offer equity exposure they are still tied predominantly to the miners sector, which has historically under-performed commodities themselves. GAMCO's dividends have helped its funds even out losses but with high beta: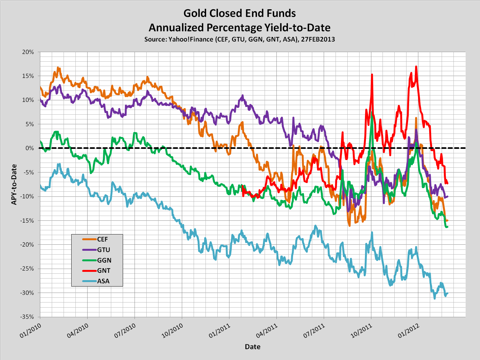 Correlation to Gold
As mentioned in the introduction this analysis is just for fun. As many of the funds hold diversified portfolios we would expect their correlations to be low (except for GTU); however this take does show us how sensitive the funds are to gold's price movements. The silver portion of CEF at times allows it to diverge from strictly gold prices but the two metals are highly correlated themselves. Suprisingly both GAMCO funds and ASA have been able to produce negative correlations, moving inversely to gold: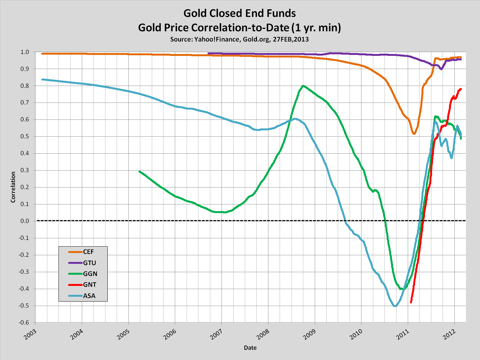 Conclusion
Closed-End Funds are a unique investment tool that offer important differences from other basket securities like mutual funds and ETFs. While gold is not a new notion to CEFs the relative lack of prevalence of gold in the CEF universe would suggest this avenue is often overlooked. Amongst our five funds we are given the choice of bullion, equities, combinations-of and more; as-such picking the "best" gold CEF isn't possible given they all share different objectives. CEF, GTU and ASA are all treated as PFICs, which might be a hassle for intro-investors. GNT's diversification and dividend objective makes me the most optimistic for the long term, however its short performance history and complex options strategy necessitates caution.
Disclosure: I have no positions in any stocks mentioned, and no plans to initiate any positions within the next 72 hours. I wrote this article myself, and it expresses my own opinions. I am not receiving compensation for it (other than from Seeking Alpha). I have no business relationship with any company whose stock is mentioned in this article.