Warren Buffett's recent $23 billion acquisition of H.J. Heinz with buyout firm G3 Capital has investors pondering the basic principles of Buffett's investment strategy - buying undervalued companies with strong fundamentals - and put those criteria back on their wish lists. Screening for several quantifiable financial characteristics that Buffett historically has found to be attractive generated a list of 28 companies that might appeal to those seeking to replicate his value investing style, including The Hershey Company, Parker Hannifin and Rockwell Automation.
There is nothing like a takeover offer from Warren Buffett and his Berkshire Hathaway (NYSE:BRK.B) holding company to send a stock's price soaring 20% and cause average daily trading to explode from just below four million shares one day to more than 64 million on the following day. That's exactly what happened to H.J. Heinz Co. (HNZ) when Berkshire Hathaway announced that it would pay more than $23 billion to acquire the company, in conjunction with the lesser-known Brazilian private equity group 3G Capital.
Given the seemingly endless fascination with Buffett's investment style and the curiosity about what companies might end up on his target list next, we decided to apply some of the same guidelines that the Sage of Omaha has used in the past to the universe of U.S. stocks. The goal isn't necessarily to identify companies we believe that Buffett will bid for, of course: even if he didn't have his hands full with Heinz for the time being, that kind of insight would require an ability to read Buffett's mind. But even without that, or a crystal ball at our disposal, it is possible to use StarMine models to identify some stocks that share the characteristics of those that Buffett has acquired in the past. Hence the title: to 'Bend it Like Buffett', we're suggesting that it is possible to replicate Buffett's investment approach rather than simply mimicking his actual stock picks, using readily-available tools to pick out companies with strong historic fundamentals and growth forecasts.
The Buffett Approach
Over the years, many of Warren Buffett's investment objectives have become clear, and he has discussed the kinds of parameters he favors. These days, he displays a clear preference for target companies with large market capitalizations of $10 billion to $30 billion, in order to put to work the tens of billions of dollars of cash thrown off by Berkshire's diverse stable of companies. Anyone able to access StarMine data (including StarMine SmartGrowth forecasts, which provide analyst-based estimates for revenues and earnings adjusted for analyst biases) can follow our methodology.
In our quest to 'bend it like Buffett', we sought out companies with:
A ratio of net debt to market capitalization of less than 40%
Enterprise Value/EBITDA (current) of less than 12X
SmartGrowth earnings per share growth estimates of 2% or more (no Dells here!)
SmartGrowth revenue growth forecasts of 2% or more
The only criterion that Buffett uses that we didn't seek to replicate is his preference for investing in companies whose executive teams have a particularly long tenure, which is harder to quantify and track.
Buffett-Like Investments
The results of this attempt to think like Warren Buffett produced, when we conducted it in mid-February, is a list of 28 publicly traded U.S. companies.
| | | | |
| --- | --- | --- | --- |
| TRBC Economic Sector | Ticker | Company Name | Market Cap (MM $US) |
| Basic Materials | | Mosaic Co | 26,163 |
| Basic Materials | | Newmont Mining Corp | 21,087 |
| Basic Materials | | PPG Inds Inc | 19,342 |
| Basic Materials | | Air Products & Chemicals | 18,416 |
| Basic Materials | | Nucor Corporation | 15,158 |
| Basic Materials | | Eastman Chemical Company | 11,262 |
| Consumer Cyclicals | | Johnson Ctls Inc | 22,203 |
| Consumer Non-Cyclicals | | General Mills Inc | 29,375 |
| Consumer Non-Cyclicals | | Archer Daniels Midland Co | 21,785 |
| Consumer Non-Cyclicals | | Sysco Corporation | 18,922 |
| Consumer Non-Cyclicals | | Hershey Co/The | 13,287 |
| Consumer Non-Cyclicals | | Campbell Soup Company | 12,577 |
| Consumer Non-Cyclicals | | Coca-Cola Enterprises Inc | 10,190 |
| Energy | BHI | Baker Hughes Incorporated | 20,610 |
| Energy | | Transocean Ltd | 20,221 |
| Industrials | | Illinois Tool Wks Inc | 29,749 |
| Industrials | | CSX Corporation | 23,804 |
| Industrials | | Norfolk Southern Corp | 23,023 |
| Industrials | | Cummins Incorporated | 22,593 |
| Industrials | | Paccar Inc | 17,108 |
| Industrials | | Ingersoll Rand Plc | 15,894 |
| Industrials | TYC | Tyco International Limited | 15,071 |
| Industrials | | Parker Hannifin Corp | 14,537 |
| Industrials | | Stanley Black & Decker Inc | 13,363 |
| Industrials | | Dover Corporation | 12,727 |
| Industrials | | Rockwell Automation Inc | 12,701 |
| Industrials | | Republic Services Inc-Cl A | 11,302 |
| Industrials | | Fluor Corp | 11,036 |
In addition to the three highlighted below, they include a number of basic materials stocks, like Mosaic Co. (NYSE:MOS), several consumer non-cyclical companies such as Campbell Soup Co. (NYSE:CPB), which Heinz is said to have been eyeing as a possible acquisition itself prior to the Buffett buyout, and a large number of Industrials stocks, such as Cummins Inc. (NYSE:CMI).
We'll focus on three names from this list: Hershey (NYSE:HSY), Parker Hannifin (NYSE:PH) and Rockwell Automation (NYSE:ROK). Each of these possesses not only all the characteristics that make it potentially of interest to Warren Buffett, but also some other characteristics that might make them of interest to investors. Clearly, Warren Buffett chooses stocks that he believes will outperform the market in the future, but it is worth noting that each of these three has outpaced the S&P 500 (in terms of total return) over the last decade, a performance that may well be linked to the characteristics we have identified.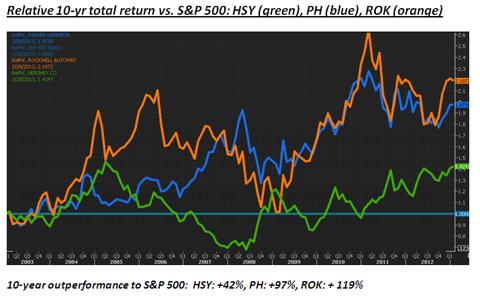 Hershey: Chocolate Kisses
Of course, simply making the "Buffett-like" list doesn't guarantee that a stock is going to be a winner. But Hershey seems to have located all the ingredients it needed in order to whip up a sweet dish for its investors. It may be a truism, and even a cliché, that "past performance is no guarantee of future results," but in the case of Hershey and some of its peers, it can be evidence of management's ability to execute the company's business strategy successfully and profitably. Over the last ten years, Hershey has generated 42 percentage points more in total return for its shareholders than the S&P 500 has done for its investors; theoretically, then, had it been part of Berkshire Hathaway's stable, it would have helped Buffett achieve his stated objective of outperforming that benchmark. As with many other names that made our list, Hershey distinguishes itself from the crowd thanks to the strength of its cash flow and operating margins.
Hershey scores 94 out of a possible 100 on the cash flow component of the StarMine Earnings Quality Model, beating all but 6% of North American companies on this metric thanks to fact that its ratio of operating cash flow to average assets stood at 39.7% as of September 2012. That is well above both the sector median ratio of 17.1% and the North American median of 13.9%.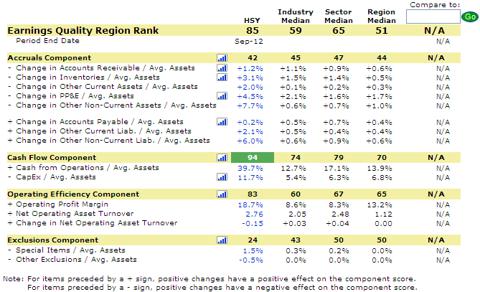 Another signal that Hershey has been well run by its managers comes from the company's Operating Efficiency Component score of 83 out of a possible 100. (See the table above for all score details.) Operating profit margins over the trailing four quarters are high; at 18.7% they compare very favorably indeed to the industry median of 8.6% and the sector median 8.3%. They also beat the North American median value of 13.2%.
Parker Hannifin: Value in Motion
Industrial machinery maker Parker Hannifin manufactures equipment that powers everything from air conditioners to airplanes. It also has revved up returns for its shareholders, with its total return beating that of the S&P 500 by 97 percentage points over the last decade. Its fundamentals place it firmly in the list of the companies that boast the kind of characteristics that Warren Buffett favors, and it would certainly have contributed to Berkshire Hathaway's performance had the Sage added it to his own portfolio.
Parker Hannifin scores well on many of the same StarMine models that Hershey does. It boasts a score of 87 out of 100 on the Cash Flow Component category of the StarMine Earnings Quality Model, with the ratio of operating cash flow to operating assets standing at 20.4% as of the end of December 2012. That performance beat the sector median of 15.3% as well as the North American median of 13.9%.
The company demonstrates impressive operating efficiency levels, scoring 92 out of a possible 100 on this metric, as its operating profit margins (calculated by dividing its operating cash flow by its operating assets) now stand at 20.4%. That is double the sector median (which today stands at 10.1%), and 50% higher than the median for North America, which today is 13.2%. Both cash flow and operating efficiency have remained consistently robust over the last eight quarters; this is illustrated in the table below, which breaks down the StarMine Earnings Quality Model (EQ) into each of its four components over the most recent eight quarters. The EQ model measures the extent to which the company's past earnings appear sustainable into the coming year.

Rockwell Automation: Making Automation Work
Industrial automation and electric equipment industry company Rockwell Automation, has generated a total return that is 119 percentage points better than that of the S&P 500 over the course of the past ten years. True, it has been a bumpy ride for many of its investors, as the volatility in those returns has meant that Rockwell Automation's investors have lagged the broad market index by 30 percentage points over the course of the last two years. Still, shareholders who have held on have recouped more than half of that underperformance since last September, which has culminated in the stock significantly outperforming the broader market so far in 2013.
Rockwell Automation's current score on the Cash Flow Component of the StarMine EQ model is an extremely strong 98 out of possible 100, ranking the company above all but 2% of North American companies. Its ratio of operating cash flow to average assets of 57.0%, calculated by dividing operating cash flow by operating assets over the trailing four quarters ended December 2012, is more than three times the industry median, which currently stands at 15.9%. Meanwhile, the company's Operating Efficiency Component rank of 94 on the StarMine EQ model marks the sixth time in the last eight quarters that Rockwell Automation has earned a score in the top 10% of all such scores. (In the other two quarters, it has fallen only slightly short of that mark, with scores of 88 and 90.) That is reflected in the company's operating margins, which stand at 15.9% as of the end of December 2012, beating both the industry and the North American regional medians.
The Takeaway
History has demonstrated - sometimes very painfully - that no single company has been a safe investment in all market conditions. But Warren Buffett has a lengthy track record, and, as a disciple of legendary value investor Benjamin Graham, his successes far outweigh the failures and mistakes. His investments and the performance of Berkshire Hathaway's own stock serve as testimony to that fact. In that role, his writings and comments are scrutinized by other value investors as well as by the media, and his discipline and investment approach are subjected to much second-guessing. With this analysis, we are joining the fray, but we have chosen to do so in a slightly different manner, by scouring the investment landscape for the kind of companies that offer the kinds of qualities that Buffett has publicly declared he seeks out whenever possible.
Disclosure: I have no positions in any stocks mentioned, and no plans to initiate any positions within the next 72 hours. I wrote this article myself, and it expresses my own opinions. I am not receiving compensation for it. I have no business relationship with any company whose stock is mentioned in this article.