By: Brendan Gilmartin
Salesforce.com (NYSE:CRM) is scheduled to report 4Q 2013 earnings after the close of trading on Thursday, February 28, with a conference call to follow at 5:00 p.m. The actual results are typically released at 4:05 p.m. EST.

Outliers & Strategy
Key measures:
Non-GAAP EPS. For the fourth quarter 2013 period, Salesforce previously indicated it expects to report Non-GAAP EPS of approximately $0.38 to $0.40. The current Street estimate is $0.40 (Source: Yahoo! Finance)
Revenues. Revenue is projected to be in the range of approximately $825 million to $830 million. The consensus on the Street is $830.85 mln with estimates as high as $840 mln, implying the Street is factoring in a strong quarter.
EPS Guidance (1Q 2014). In most cases, Salesforce provides earnings guidance for the upcoming quarter that tends to have a direct impact on the direction of the share price. The current estimate is $0.42.
EPS Guidance (FY 2014). Look for Salesforce to give an updated outlook for FY2014. The current estimate is $1.95.
Revenues Guidance (FY 2014). Look for a possible update for FY2014. The Street is targeting revenue $3.85 bln.
Keep an eye on recent IPO Workday (NYSE:WDAY) as a sympathy play off the Salesforce results, as they operate in the same industry.
Recent News
02/27: A report on StreetInsider.com highlights the fact that about 13.6 mln shares of Salesforce.com are now sold short - down 7.3% from the end of January. Despite the decline, however, overall short interest is still relatively high at 9.51% of float.
02/25: Wedbush Securities is looking for Salesforce to deliver solid 4Q results on Thursday, according to a report on StreetInsider.com. The firm cited increased enterprise momentum, market share gains, and an enhanced partner program designed to lure larger contracts. The firm has an Outperform rating with a price target of $195.
02/20: William Blair reportedly believes that recent channel checks show Salesforce continues to operate in a strong demand environment with solid deals in the pipeline, according to a post on Barron's Online. Billings are expected to be robust as new products gain traction and middle-markets show increased signs of growth.
02/05: UBS raised its price target on Salesforce from $180 to $200 and guided 4Q2013 and FY2014 revenue expectations above the current consensus, according to StreetInsider.com. The firm cited opportunities for more enterprise deals.
Technical Review
Salesforce.com shares are off about 6.7% from the recent high near $179, dropping to key support near $162.50 - a key level going back to the end of last year. With sentiment on the high side, Salesforce remains vulnerable, with risk down to $160.00 in the event of a negative surprise, followed by $155.00, and the 200-Day SMA near $150.00. Conversely, resistance is at the 20-Day/50-Day SMA cross-over near $170.00, followed by $175.00, and the aforementioned high near $179.00. (Chart courtesy of StockCharts.com)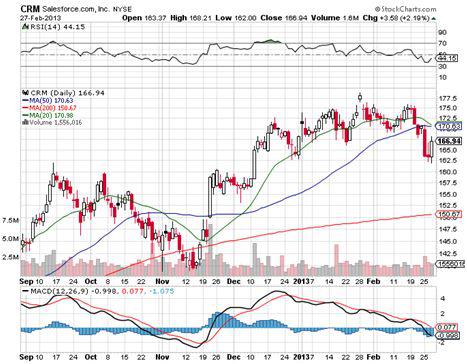 Summary
Salesforce.com is widely expected to deliver solid top and bottom-line results for the 4Q 2013 period, thanks to increasing market share, wider adoption of software-as-a-service (NASDAQ:SAAS) applications at U.S. corporations, opportunities for larger enterprise deals, solid billings, and reports of a rich deal pipeline. The company is also plowing forward in spite of lingering macroeconomic uncertainty in the U.S. and abroad. While Salesforce.com is widely seen topping its previous guidance for the 4Q period, much of the focus will center on the guidance for 1Q 2014 and the full fiscal year. Any missteps could prove costly, given the high valuation and short interest levels.
DISCLAIMER: By using this report, you acknowledge that Selerity, Inc. is in no way liable for losses or gains arising out of commentary, analysis, and or data in this report. Your investment decisions and recommendations are made entirely at your discretion. Selerity does not own securities in companies that they write about, is not an investment adviser, and the content contained herein is not an endorsement to buy or sell any securities. No content published as part of this report constitutes a recommendation that any particular investment, security, portfolio of securities, transaction or investment strategy is suitable for any specific person.
Disclosure: I have no positions in any stocks mentioned, and no plans to initiate any positions within the next 72 hours. I wrote this article myself, and it expresses my own opinions. I am not receiving compensation for it (other than from Seeking Alpha). I have no business relationship with any company whose stock is mentioned in this article.