Bakken oil and gas producers Continental Resources (NYSE:CLR) and Whiting Petroleum (NYSE:WLL) announced Q4 and full-year 2012 earnings after the close on Wednesday, Feb. 27, 2012. Both companies breezed past Street estimates. Highlighting WLL's results was its assertion that it is the No.1 oil producer in North Dakota.
CLR's Q4 earnings were $1.19 per diluted share compared to a net loss of $0.62 share for the prior-year quarter. This handily beat the average Thomson Reuters estimate of $0.87/share. Q4 revenue came in at $688.9 million and also beat expectations of $656.8 million.
Click to enlarge images.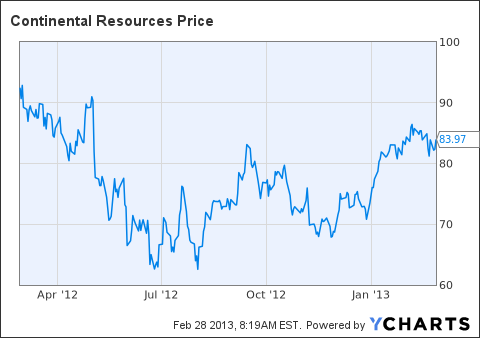 Robust Production Growth
Continental continued its run of outstanding production growth with Q4 production coming in at 106,831 boe/d -- a 42% increase from fourth-quarter 2011 production. Even better, CLR announced total production in February 2013 is on track to exceed 120,000 Boepd.
Significant new well results included:
Latest Bakken/Three Forks Second Bench well flows at 1,556 boe/d
New SCOOP well flows at 1,761 boe/d
Rail Having a Significant Impact on Realized Prices
Chairman and CEO Harold Hamm commented on the results:
We completed 2012 with an excellent fourth quarter, and growth momentum continues in 2013. Production has increased, and realized oil prices have been strong as we market an increased share of our Bakken production to U.S. coastal markets. We've seen a fundamental change in oil markets with the significant increase in rail transportation capacity out of the Bakken. Improved differentials and lower operated well costs as we continue to drill and complete projects more efficiently point to continued strong cash flow in 2013.
Improved Oil Differentials: A Positive Catalyst Going Forward
CLR's oil differential was $3.21 per barrel for the fourth quarter 2012, a decrease of $6.24 from the third quarter of 2012. As a result of improved realized prices, Continental has reduced its 2013 NYMEX oil differential guidance range to $5 to $7 per barrel, compared with previous guidance of $8 to $11.
The narrowing of the differential makes a huge difference for CLR going forward. For example: If February production comes in at 120,000 boe/d, and the differential between Q4 was $3/barrel less than Q3, that is an extra $360,000/day of increased revenue, or $32.4 million on a quarterly basis. I would assume most of that would go straight to the bottom line.
These results capped of an excellent 2012 for CLR. For the full year, net diluted earnings per share were $4.07 -- up 69% over the $2.41 for FY 2011.
Whiting Petroleum Also Beats Estimates
Whiting Petroleum also beat Street estimates in its Q4 earnings release. Q4 2012 earnings came in at $0.83 per diluted share, easily topping the average Street estimate of $0.73/share. For the full year, net diluted earnings were $3.31/share vs. $3.85 in the prior year.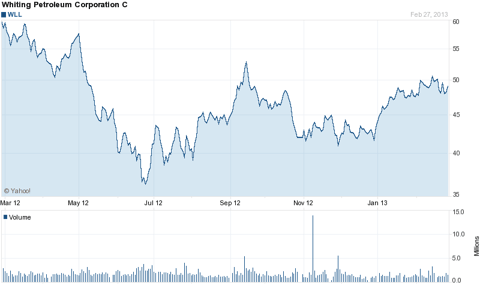 Production Up 22% in 2012
Q4 production was 86% liquids and averaged 86,055 boe/d, representing a 22% increase over the fourth-quarter 2011 average daily rate of 70,685 BOE per day and a 4% increase over the third-quarter 2012 average daily rate of 82,615 BOE per day.
Whiting: The No. 1 Oil Producer in North Dakota
James J. Volker, Whiting's chairman and CEO, commented on the results:
2012 was a record year for Whiting Petroleum, and we are off to a great start in 2013. The development of the fields we discovered in 2011 such as Pronghorn, Hidden Bench, Tarpon and Redtail generated excellent results in 2012. In the wake of this development, we posted records in production, proved reserves and discretionary cash flow. According to the December 2012 Oil and Gas Production Report published by the North Dakota State Industrial Commission, Department of Minerals, Oil and Gas Division, Whiting was the number one oil producer in North Dakota at 66,155.7 barrels per day.
Tarpon Prospect: A Positive Catalyst Going Forward
WLL drilled another prolific well at the Tarpon prospect in McKenzie County, North Dakota. The Tarpon Federal 21-4-3H was tested on Dec. 28, 2012, flowing 4,971 barrels of oil and 11,450 Mcf of gas (6,879 BOE) per day from the Middle Bakken formation. This is the third-best well drilled to date in the Williston Basin, the first being Whiting's Tarpon Federal 21-4H with an initial production rate of 7,009 BOE per day. WLL holds a 56% working interest and a 45% net revenue interest in the Tarpon Federal 21-4-3H. The company has implemented pad drilling at Tarpon and has plans to drill three wells off of each pad.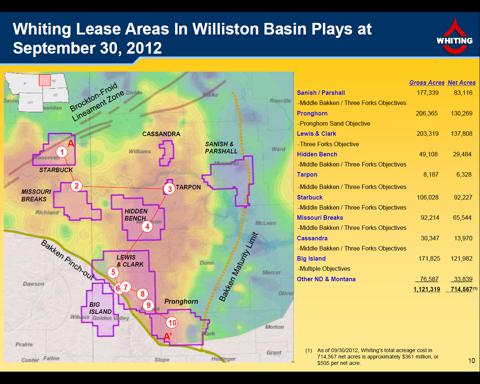 CLR and WLL are two of the fastest-growing oil companies in the business. Each should be considered as an investment vehicle for those seeking exposure to the Bakken shale oil revolution.
Disclosure: I am long WLL. I wrote this article myself, and it expresses my own opinions. I am not receiving compensation for it (other than from Seeking Alpha). I have no business relationship with any company whose stock is mentioned in this article.
Disclaimer: I am an engineer, not a CFA. Please do your own research and contact your investment adviser. I am not responsible for investment decisions you make.