Having had a tremendous drop in 2012, Hewlett-Packard (NYSE:HPQ) is on the rise again. Hewlett-Packard exceeded Q1 expectations, and was up more than 5 percent last Friday. Overall, it's up over 26% since the start of the year. Along with its re-growth, the company has reentered a booming technology race, hoping to show that it's still just as capable a competitor as any other company.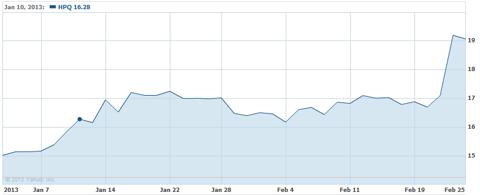 Introducing: The Slate 7
The recent advent of mobile computing has led to a new rise of consumers to want computers on the go without the hassle of having to carry something as large as a laptop. Tablets and smart phones have begun paving the way to that future. With companies such as Apple (NASDAQ:AAPL), Microsoft (NASDAQ:MSFT), and Samsung (OTC:SSNLF) coming out with powerful new products like the Galaxy Tab and the iPad, it becomes apparent that this is certainly what consumers are looking for. That being said, it seems to be a difficult task to jump right into the deep end of the pool, so to speak, with others who have established themselves as big names in the industry.
HP, in a brilliant maneuver, has decided to introduce the Slate 7, a tablet targeted to the consumer market at a price tag of around $170. With iPads priced at $300+ and the Samsung Galaxy Tab starting at $200 (8GB internal memory, WiFi connection), the price of the Slate 7 is going to be more welcoming than its counterparts. The price tag easily surpasses the iPad, which is commonly seen as one of the most expensive tablets on the market. Only time will tell how this business decision affects the mobile computing industry.
Integrating with Android
Having been in the PC market for a number of years, HP has been reliant on Microsoft's Windows operating systems for their computers. As a result, it would almost seem expected that HP would continue to be so, even in the mobile world. With Windows mobile OS programs becoming more advanced, it certainly seems like a viable option. HP took a bit of a different route with the Slate 7 by choosing to integrate with the Android operating system. The newness of the Windows 8 system can be both fascinating and frightening to the average person, as the focus on touch screen products could lead to leaving those situated with external interface behind the times. Furthermore, the popularity of Android among smart phone and tablet users is fairly obvious, when considering that many people think of the two major mobile OS constituents as Android or iOS, all but forgetting about Blackberry and Windows Mobile.
Further growth
So far this year, Apple's stock has fallen about 22%, from $549 to $448. Google (NASDAQ:GOOG) has fared better, having a gain of about 10% since January. These figures both trail Hewlett-Packards results so far, by a significant margin. Only time will tell if Hewlett-Packard will continue to outperform against these industry leaders. With HP reentering the tablet market, this can potentially give Hewlett-Packard the extra boost it needs to maintain its upward momentum.
Disclosure: I have no positions in any stocks mentioned, and no plans to initiate any positions within the next 72 hours. I wrote this article myself, and it expresses my own opinions. I am not receiving compensation for it (other than from Seeking Alpha). I have no business relationship with any company whose stock is mentioned in this article.