I sat down to do my evening research yesterday and slapped my armchair, amazed at the ingenuity of today's young traders. "I can't believe it! They just beat me to it. How could I have been so slow?"
They found the next Vringo (VRNG). It's Spherix (NASDAQ:SPEX).
Well, the cat's out of the bag, and I am three days late. Everyone wanted to find the "next Vringo," and plenty submitted their guesses, but now it's official. To keep myself disciplined, I am forcing myself to write this article. Punishing myself by missing sleep tonight will teach me a good lesson.
As if the missed profits in the following chart haven't already taught me enough …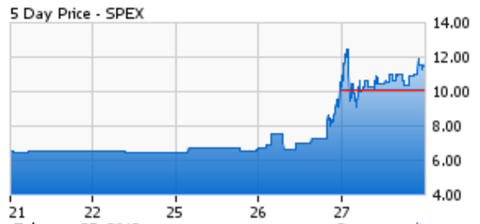 (Click to enlarge)
Monday: $6.74
Wednesday: $11.67
= missed +73% in profits
How They Found the Next Vringo
Most people associate Vringo with financial celebrities like James Altucher or Mark Cuban. A lot of people are waiting on the sidelines for these hot shots to announce their next "pick" in an eloquent Wall Street Journal or New York Times op-ed. Unfortunately, there haven't been any op-eds from the Vringo crowd.
In fact, everyone involved with Vringo has been pretty quiet since the Google (NASDAQ:GOOG) ruling. Understandably so. Vringo didn't quite make it to James Altucher's $18 per share. (We're hovering around $3 at the moment.) Also, investors who got excited before the ruling and bought in the $4s or $5s are deep underwater on their investments, as the trial itself was anti-climactic in terms of share price movement. It's been a slow downward drift with a lot of quiet, disgruntled investors.
Vringo investors have been patiently waiting for the next stock pick ... but they already missed it. It was announced on Monday. I missed it. Did you?
The Original Vringo Investors
What most Vringo investors do not know is that the people who made the most money in Vringo were not celebrities but investment funds. Specifically, the early institutional early investors in Vringo were Iroquois Capital and Hudson Bay.
James Altucher didn't announce his investment until March 2012. Mark Cuban didn't invest until April 2012. Iroquois Capital and Hudson Bay started long before either of them.
Specifically, Iroquois Capital was acquiring a stake that grew large enough to require a filing by July 2011. Indeed, months before anyone had read James Altucher's glamorous articles or J.P. Moreno's 55-page whitepaper, Iroqouis Capital had already invested heavily in the company. In April 2012, Iroquois Capital owned 6.4% of Vringo. The day before Mark Cuban invested, Vringo's largest shareholder by far was Iroquois Capital.
The other major institutional investor in Vringo was Hudson Bay. Hudson Bay was Innovate/Protect's largest shareholder, which merged with Vringo, bringing its patent portfolio with it. Because of this, I would consider Hudson Bay to be the original institutional investor in the Vringo v. Google lawsuit.
Both Hudson Bay and Iroquois Capital announced on February 13 and 14, respectively, that they had taken a stake in Spherix. Hudson Bay took 7.47% and Iroquois Capital took 6.8%.
I saw these filings, but I then looked at Spherix and determined that it was inconsequential as a business. It had a few things going on, like Vringo, but overall it was a "shell" for something to come later.
What I should have done right then is set an alarm for any future Spherix SEC filings. I didn't. Some other traders did and just earned themselves +73% in profits.
An Inconsequential Company Merging with IP … Just Like Vringo
Vringo investors reluctantly acknowledge that Vringo's business was mostly inconsequential relative to the enormity of Innovate/Protect's patent portfolio. Of course, both companies required one another for everything to work propertly, but we all know that Innovate/Protect is the real reason Vringo is not still languishing at $1 per share.
The formula was simple: start with an inconsequential company, institutional investors acquire large positions, merge a valuable intellectual property (NYSE:IP) portfolio into the company, and announce a high-profile lawsuit. In identical fashion on Monday...
Nuta Technologies, Inc., a wholly-owned subsidiary of Spherix Incorporated, entered into a Letter of Intent with North South Holdings, Inc., the owner of various patents covering wireless communications. Pursuant to the LOI, at closing, Nuta would acquire 100% of the issued and outstanding capital stock of North South…
-Spherix 8K filing
There it is, clear as crystal. Iroquois Capital and Hudson Bay are moving IP into the Spherix, exactly like they did with Vringo. If you're not following, here is an outline of the series of events.
| Vringo from $1.50 to $3 | Spherix from $6 to $12 |
| --- | --- |
| Hudson Bay invests in Innovate/Protect | Hudson Bay invests in Spherix |
| Iroquois Capital invests in Vringo | Iroquois Capital invests in Spherix |
| Vringo's unexciting business languishes | Spherix's unexciting business languishes |
| trading volume is minuscule | trading volume is minuscule |
| Innovate/Protect merger | North South merger |
| share price doubles | share price doubles |
... and Greg Miller cries.
Well, I missed it, but next time, I will be setting email alerts for SEC filings. It only makes it worse for me knowing that the IP space has been heating back up recently, with ParkerVision (NASDAQ:PRKR) receiving a favorable Markman ruling in its lawsuit against Qualcomm (NASDAQ:QCOM), causing its stock to almost double.
So Spherix has been a small company with minor business operations. (Half its business - Spherix Consulting - was recently spun-off for an undisclosed amount to another company, which caused no stock price movement whatsoever. It must not have been that important.) Now it becomes an idyllic shell for merging in an IP portfolio. Next step: complete the merger and announce the high-profile lawsuit.
With the broad appeal of Vringo, the recent success of ParkerVision, the track record of Iroquois Capital and Hudson Bay, and lots of IP investors looking for the next real IP play, Spherix's rally this week is unsurprising. I should have known Iroquois Capital and Hudson Bay would have done something like this with Spherix. What still excites me is not knowing exactly what the IP portfolio entails - yet - but given the double in Spherix' stock price and the track record of these two funds, it must be huge. I will be watching this play out with great interest.
Disclosure: I have no positions in any stocks mentioned, and no plans to initiate any positions within the next 72 hours. I wrote this article myself, and it expresses my own opinions. I am not receiving compensation for it. I have no business relationship with any company whose stock is mentioned in this article.