Weapons Sales
Gun and ammo sales are at historic highs. Ammo is in such short supply that various police departments are having trouble acquiring it. Civilians are even worse off.
This bodes well for gun and ammo manufacturer stocks and yesterday Ruger (NYSE:RGR) released its earnings, which were very impressive. Sales were up 52%!
Will TASER Benefit Off Gun Mania?
The real question though... will TASER International Inc. (TASR) benefit from the gun mania? Obviously some people will shift their purchase to the the company's devices because finding some weapons and most ammo is a very difficult task -- not to mention ammo is expensive.
Ammunition is very limited in supply (covered here) and when available online the prices are inflated. Ammo such as .223 is going for roughly 1 dollar per round as opposed to the normal price range of .40 cents per round. Some consumers will purchase TASER protection devices as a substitution product.
TASER Financials
TASER experienced a drop in the wake of the school tragedy in mid- December followed by a plunge when earnings were lower than expected. Yet this might create a buying opportunity for us.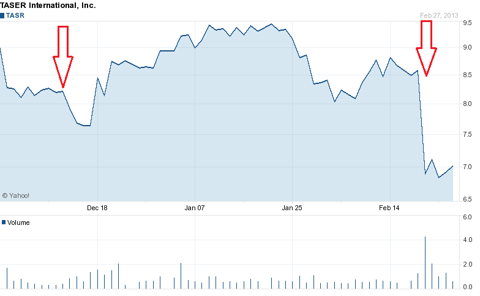 Let's look at the financials to make sure the company is healthy.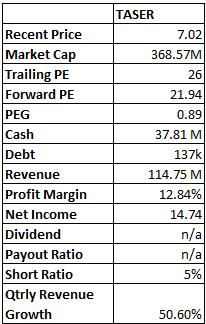 Looking at the numbers the PE ratios are respectable. The PEG ratio suggests the company is undervalued. Cash on hand is $37.81 million compared with a mere $137 thousand in debt. We love companies that have high cash to low debt as it allows them to invest more in R&D while having some buffer in cash if times get tough. Quarterly Revenue growth is very nice. Financially the company looks healthy.
Another interesting note is one director has taken quite a bullish stance on TASER by buying $355,000 dollars worth of stock.

Conclusion
We view TASER as a good stock to research in detail. The financials are healthy. The weapon and ammo shortage combined with very expensive ammo online (when available) will push some consumers to purchase TASER products due to availability. This will obviously improve revenue and profits. The rather large insider purchase of stock shows that we are not alone in thinking TASER might be a good stock to acquire.
Disclosure: I have no positions in any stocks mentioned, but may initiate a long position in TASR over the next 72 hours. I wrote this article myself, and it expresses my own opinions. I am not receiving compensation for it (other than from Seeking Alpha). I have no business relationship with any company whose stock is mentioned in this article.