Strum Ruger & Co. (NYSE:RGR) announced earnings yesterday and to little surprise: they were outstanding. This presents an opportunity to acquire rival gun manufacturer Smith & Wesson (SWHC) in the hopes that it performs likewise.
In this article we will glance at the numbers that Ruger recently posted and examine the root causes for the demand. Is the demand sustainable? If so, how long will demand will persist at elevated sales levels? Further, will Smith & Wesson crush earnings estimates as Ruger did?
(The M&P15-22, A semi-auto that shoots the .22 round)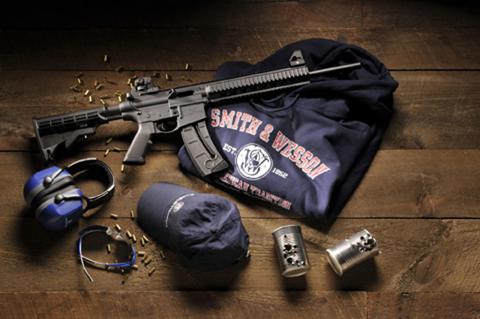 Ruger Earnings
Glancing at some of the numbers per Wallstreetcheatsheet.com:
Results: Adjusted Earnings Per Share increased 26.58% to $1.00 in the quarter versus EPS of $0.79 in the year-earlier quarter.

Revenue: Rose 52.05% to $141.77 million from the year-earlier quarter.

Actual vs. Wall St. Expectations: Sturm, Ruger & Co. Inc. reported adjusted EPS income of $1.00 per share. By that measure, the company beat the mean analyst estimate of $0.94 and beat the average revenue estimate of $124 million.

Revenue increased 19.99% from $118.15 million in the previous quarter. EPS increased 13.64% from $0.88 in the previous quarter.
Those are some pretty savvy numbers. To boot, Ruger is paying a nice .40 cent dividend this quarter as an added bonus to shareholders. So what drove a 52% growth rate in Ruger?
Politics and New Products Drive Growth
In mid-December of 2012, tragic events pushed down gun stocks. The after effect was a knee-jerk reaction by politicians attempting to ban various weapons and institute various anti-gun laws. The unintended consequence was one of the biggest gun and ammo buying sprees in recorded history.
Demand currently is still sky-high with semi-automatic sporting rifle sales going for 2-3x the retail price at gun shows. We have not seen a single AR rifle in stock at retail in months. Yet, with all this demand, the stock prices of the various gun manufactures have not risen to reflect current events or even returned to the levels they were before the mid-December drop.
Who Is Driving The Gun Buying?
Another writer at Seeking Alpha claimed that folks who making $11k a year constituted the basis for the majority of gun buying. Clearly that writer ignored that minimum wage yields far more than $11k per year.
It is clearly evident (per the graph below) that the $50,000 plus income bracket owns the most guns per household. People with money are buying guns -- who would have thunk it? -- More disposable income leaves one with the ability to buy more guns and ammo. However, it is not just the top tier of income that is buying guns. It turns out that the entire spectrum of income is buying guns due to legislative fears.
(Source: Department of Justice, Bureau of Justice Statistics)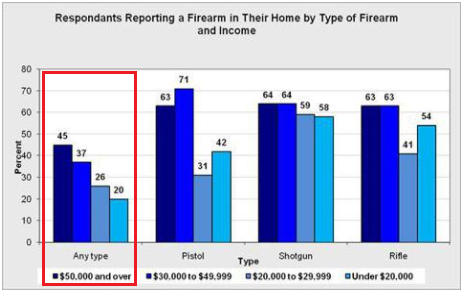 How Long Can This Go On?
The question at hand: How long can the gun mania continue? The answer is simple: as long as the federal government and state government attempt to pass anti-gun or anti-ammo legislation, fear will continue (along with record demand.) As the anti-gun bills move through federal and state legislation, the media will continue reporting on their progress. The anti-gun bill is still in the Senate with quite a few political hurdles to clear (even if it passes the Senate.) This will certainly keep the demand for guns and ammo high for quite some time to come. Only after the federal and state anti-gun issues are resolved will we see some slack in demand. Of course, this is assuming that the bills are defeated. If they pass the Senate, then the battle will continue in the House of Representatives. One would expect demand for ammo to continue for 2x more quarters at the very least.
How Can We Profit Off Of The Mania?
It is simple to profit off the surge in demand. Just buy Smith & Wesson or Ruger. If ammo is your vice, then invest in Alliant Techsystems (ATK) or Olin Corp (NYSE:OLN). OLN's PEG ratio is 1.45 which is near our cut off. The high demand for ammo should pull the PEG ratio down, but best to be careful. OLN insiders have been selling quite a bit of options as well (which we covered here). ATK is our pick for ammo.
Pension Fund Sells Gun Stocks
Great news, some pension funds are actually selling gun and ammo stocks. Talk about horrible timing on their part. The funds selling gun stocks are just a political knee-jerk reaction (like so many others lately.) Gun and ammo sales are going nuts and these jokers want to give you their shares on the cheap. In the last few weeks this has presented several opportunities to pick up shares at a discount.
Assessment
With Ruger showing its cards today, we can logically assume that Smith & Wesson will also post great numbers. This is not a huge leap in logic but that is a great thing as the masses will naturally make this leap and hopefully jump on board the gun stocks.
If you take away just one thing from this article -- know this - Smith & Wesson's sales will mimic Ruger.
Our assessment is that gun manufactures are severely undervalued given the political climate. With Smith & Wesson earnings right around the corner (March 5th) this presents an opportunity for us to buy SWHC stock. Another way to play the demand would be to look into buying stock options such as calls. Look at buying March calls as we think SWHC will beat earnings estimations. Of course if the stock has a run up in anticipation of earnings this call strategy may not be valid.
Remember, bulls and bears make money, pigs always get slaughtered. Take your profits when you have a good percentage gain.
Disclosure: I am long SWHC. I wrote this article myself, and it expresses my own opinions. I am not receiving compensation for it (other than from Seeking Alpha). I have no business relationship with any company whose stock is mentioned in this article.