TGC Industries (NASDAQ:TGE) performs geophysical surveys for clients in the oil and gas business. The company has been growing revenue and net income since the industry was pinched in 2010. The company is interesting for a number of reasons. First, the company recently completed the bulk of its capital investment program and now sits with some of the most advanced technology in the industry. As put in the most recent conference call:
"Over the past 3 years, we have invested over $100 million in new advanced equipment in order to continue providing our customers with the latest available technology, as well as maintain the optimum crew efficiency. As part of that investment during the last 18 months, we acquired approximately 70,000 wireless channels enabling us to be one of the largest fleets of Geospace wireless data acquisition units in North America. We believe we now have the latest and most technological-advanced seismic acquisition fleet in North America…We believe we are clearly ahead of the rest of the North American seismic industry in terms of the latest technology and the age of our seismic equipment."
This means that the company will only have small (maintenance) capital expenditures through at least 2013 and perhaps beyond that. It should also be noted that since much of today's new drilling is for horizontal wells, which require significantly more capital investment than vertical wells, that the industry will place a greater premium on the avoidance of poorly performing wells. This natural desire to avoid error, combined with an increasing cost of error, makes it probable that many exploration and production firms will seek out the best possible geophysical technology.
Secondly, the company appears to be in midst of favorable industry dynamics. With the mid-continent oil boom in full swing, the demand for seismic surveying has been steady and climbing. The CEO of Dawson Geophysical (NASDAQ:DWSN), a competitor of TGC Industries, noted that "demand for our services in the lower 48 remained [are] near multi-year highs in the first quarter of fiscal 2013" [1]. Or as put in Dawson's most recent 10-Q:
"Our order book is currently at its highest level since late fiscal 2008 in terms of client mix, size of projects and geographical diversity, and the majority of the projects are in oil and liquids-rich basins."
These multi-year highs look set to continue into the remainder of 2013 and the longer-term trend of drilling in the United States appears to be favorable. For instance, SandRidge Energy (NYSE:SD) will not have drilled out its Mississippian play until 2019 -- and the United States is supposed to become the world greatest producer of oil in the mid-2020s. Therefore, it seems that demand for geophysical surveying will likely remain high for some time [2].
Third, given the low capital expenditures going forward and the favorable industry dynamics, operating cash flow will be increasing while capital expenditures are decreasing. That means that next year should be cash flow season. "As a result," said TGC Industries CEO Wayne Whitener on the last conference call, "we expect to be more in a cash-building mode this year."
Fourth, the company is trading at an attractive valuation -- which is the whole point of this essay.
The Business
The equipment needed by these geophysical companies is capital intensive. TGC Industries needs to purchase vehicles which look like so: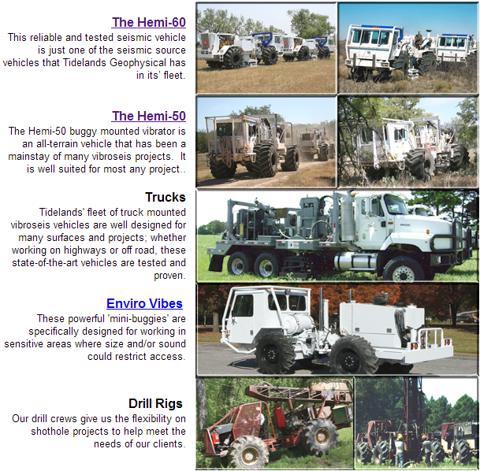 These rigs are used by TGC's seismic crews to collect data of subsurface structures. The company introduces acoustic energy into the ground with one of the rigs above or with dynamic and the reflected energy is collected by geophones.
The seismic crew count -- each crew consisting of 45 to 60 technicians -- is a good indication of the level of business the company expects and both TGC and Dawson expect demand for their services to be at least as great this coming year as this past year. TGC is highly seasonal, however, due to the Canadian thawing season (must be hard to introduce acoustic energy into mud) -- moving from 7 crews operating in Canada to 1.5 crews operating across an annual period. While Dawson has had around 14 crews operating year round in the United States as of this past year, TGC's seasonality due to its Canadian operations has an oscillating crew count from 15 to 10.5 peak to trough. Despite this variability, TGC Industries' Canadian operations are favorable and Dawson itself mobilized its first Canadian crew this past January.
Valuation
If we look at the level of capital expenditures versus depreciation, we see that since late 2010 capital expenditures have outpaced depreciation expense: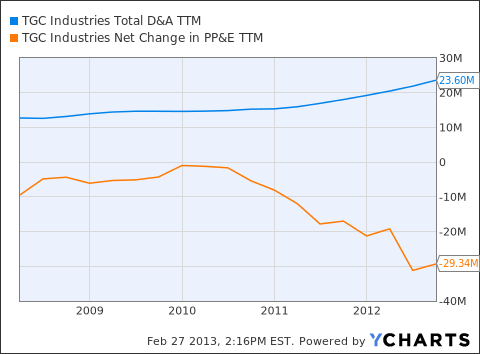 This means, effectively, that in the coming quarters, while GAAP net income will likely be satisfactory (absent a collapse of crude oil price), cash earnings will be substantially higher than GAAP earnings. By my estimate, cash earnings could be $20mm greater than GAAP net income over the next year due to TGE's forthcoming cash collection phase.
With TTM net income at around $15mm, that could put free-cash-flow next year at around $35mm, or a free-cash-flow yield of 17.8% over the current market capitalization. Therefore, if all goes well, which it looks like it probably will, the company ought to be undervalued on a cash flow basis. But the real attraction to this business is that it has its new technological equipment ready to go at the start of what may be considered a very important oil boom for the United States. That is, the industry outlook is particularly favorable, especially if you have all the best equipment.
Conclusion
Not to make the matter sound overly simple, but there are waves of investment within the US economy. To get the oil out of the ground companies will turn to the expertise of companies like TGC Industries to help them make their capital allocation decisions.
The company's capital investments are made, the industry is prosperous, and the company is in cash collection mode. Over the next year it could collect as much as 17% of its current market capitalization. That capital will most likely be held in the business, reinvested in equipment or held strategically. Shareholder friendly policies (i.e., returns of capital) are possible but will most likely be similar in size to those of last year. But the retained and reinvested earnings ought to increase the intrinsic value of the business over time. This is what a long-term holder of the shares should hope for given the current industry dynamics.
One thing is certain, that even while the industry is called capital intensive, the company's debt profile is modest and safe, at 1.5 times earnings or 0.7 next year's free-cash-flow [3]. Dawson Geophysical is similarly unleveraged. But from an investment standpoint, TGC Industries looks better prepared to take advantage of the future.
Notes:
Dawson Geophysical February 8, 2013 conference call. Dawson Geophysical also attempted to purchase TGC Industries last year at very good prices. The fact that the merger did not go through, I think, is a fortunate thing for us.
Geokinetics, another competitor of TGC Industries, explains this succinctly in their 2012 10-K: "The overall demand for seismic data and related seismic services is dependent upon spending by oil and gas companies for exploration, production, development and field management activities, which, in turn, is driven largely by present and expected future prices for oil and natural gas and the need to replenish drilling prospects and reserves." If we take the history of the crude spot price as a guide, we can estimate the crude prices will continue upward and to the right in the long run. In other words, the fundamental driver of the industry, the crude oil price, is unlikely to fall for an extended period of time in the future.
That is, Debt / TTM Net income = 1.5. Or, Debt / Next Year's FCF = 0.7. The projected free-cash-flow calculation assumes that the company has only $5mm in capex and that 2013 is similar to 2012.
Disclosure: I have no positions in any stocks mentioned, and no plans to initiate any positions within the next 72 hours. I wrote this article myself, and it expresses my own opinions. I am not receiving compensation for it (other than from Seeking Alpha). I have no business relationship with any company whose stock is mentioned in this article.