The story for the Agency mREITs in Q4 was more or less meeting expectations while hunkering down in the face of the frontal assault from the Fed known as QE3. As I stated in an earlier piece on the Mortgage REITs, despite the headwinds facing the group, yields averaging 13% combined with historically cheap valuations make the sector relatively attractive for income investors.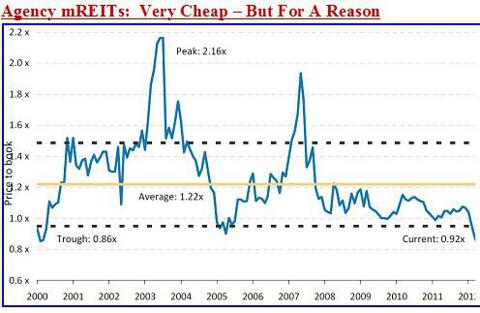 Despite having to compete with the Fed for MBS, most of the Agency mREITs reported in-line results that met consensus expectations. The bar was lowered, and the mREITs cleared it for the most part (with one notable exception) but with not much room to spare. The good news is that the rise in the 10-Year Treasury and mortgage rates since last quarter should both slow prepayments and also help improve investment yields going forward. The rise has been gradual - not a massive spike - so the benefits from lower CPRs and higher yields should dwarf any hit to book values as 2013 progresses.

The big news from Q4 was the back-and-forth between demand for prepayment protected securities (PPS) and generic TBA mortgages in the forward market. Basically, PPS were in demand during most of Q4 but as rates have risen with the stock market following resolution of the Fiscal Cliff, PPS were sold off for higher-coupon and TBA pools. Demand for agency MBS in the spot market, driven by Fed purchases, created an attractive opportunity for MBS investors in the forward market, with implied yields in excess of 3% vs. 2-2.5% in the spot market. In a low-rate investing environment, a "free" 25-50 bp. increase in yield is quite attractive.
Most earnings reports for the Agency mREITs emphasized the same themes. Earnings continued to fall short of either consensus or dividend payments due to the same factors across the sector: elevated pre-pays, lower yields on new investments, and seasonally higher year-end repo rates. The good news is that most of those headwinds should lessen as we head into Q1 2013 and later in the year: yields are up for new assets, prepayments appear to have crested (and higher rates should also knock them down), and the year-end rise of LIBOR should be reversed this quarter. Any talk of the end of QE3 or a reduced rate of MBS buying (as suggested by some FOMC members) would be an added plus.
Let's check out the scorecard for Q4 for the Agency mREITs: (click to enlarge)

American Capital Agency (NASDAQ:AGNC): American Capital Agency bounced back with a much improved Q4 2012 after a run-of-the-mill Q3 2012. Core EPS came in at $1.07, made up of $0.78 in spread income and the "drop" of $0.29 from the forward TBA market. Book value came in at $31.64, down under 3% for the quarter, one of the better performances in the pure agency mREIT sector. The net interest margin (NIM) was 1.63%, a nice bump from the 1.53% in Q3 (which reflected a big drop from Q2 2012 and had spooked the investment community).
Prepayments remained under control, and AGNC for the first time made a sizaable entry into the forward TBA market and away from PPS. With the rise in interest rates and the reduced need for prepayment protection, this should bode well for book value preservation in Q1 2013. Additionally, the hedge ratio rose to 80% and AGNC extended its swap durations to protect against rising rates. This lengthening of liabilities combined with the year-end rise in LIBOR and swap costs prevented funding relief to the NIM, but AGNC could see some lower funding costs in Q1 2013. After not impressing the market with any deft trading in Q3 2012, Gary Cain & Co. appear to have gotten back their mojo.
The market liked AGNC's Q4 after the so-so Q3 2012 results. Additionally, AGNC bought back 2.7 million shares in Q4, which was a good faith follow-up to the numerous press releases issued by the mREITs after their stocks had gotten hit by 15-20% in the weeks following the mid-September QE3 peak. Undistributed EPS is at $2.18, which provides some leeway for AGNC to maintain the $1.25 quarterly dividend while it waits for spread income to catch up. Spread income now covers 85% of the dividend. Historically AGNC has covered 75-97% of the dividend. If they are convinced they can earn 90% or more of the dividend from core spread income going forward, they will likely keep the dividend unchanged at $1.25 per quarter, equating to a super-lush 15.6% yield. But even a sizeable cut to $1 quarterly would give investors at the current price a 12.2% yield, not bad if this is the trough in Agency mREIT yields.
With the secondary announced yesterday, the dividend is probably secure going forward though current shareholders have a potentially dilutive offering to absorb the next few days.
CYS Investments (NYSE:CYS): In a little bit of role reversal, CYS suffered a disappointing Q4 after a surprisingly good Q3, the opposite of what we saw from AGNC. Give CYS management credit for honesty, if not for forecasting accuracy, as they quickly backed off their previous assertions that NIMs in the 140-150 bp. range could be sustained even in the face of QE3. Discussing Q4 results and in meetings with analysts and investors earlier this month, CYS has said NIMs in the 100-120 bp. range should be expected. This implies ROEs in the 9-10% range and with a book value of about $13, you can envision management guiding closer to a $0.35 quarterly dividend, an additional $0.05 cut from the current $0.40 run-rate. Having paid out a sizable special dividend late last year, CYS does not have much in the way of carryover to help tide the dividend over.
CYS earned $0.39 in core EPS, which is spread income plus the forward income drop from the sizeable TBAs that CYS has long utilized. The extra yield from the TBA generic pools will help yields, but there are regulatory limits that will prevent CYS from expanding it much further. The good news is that CYS's concentration in 15-year and 20-year MBS limit extension risk relative to 30-year paper. The Fed has concentrated most of its buying on 30-year paper, making for higher prices and lower yields for players in that sector.
CYS has said that once QE3 ends dividends should drift higher with ROE's in the 12-16% range. Like AGNC and unlike Annaly Capital Management (NYSE:NLY), CYS has no intention to add non-agency GSE debt to its portfolio. Good move.
Hatteras Financial (NYSE:HTS): Hatteras has flown under the radar screen among the mREITs, never blowing away results, never having the highest yield, never being a trendsetter with their business model or trading prowess. The Q4 results were a testament to their slow-but-steady approach. Core EPS came in at $0.63, a bit below consensus, with NIM falling to 1.08% from 1.22% in Q3. Asset yields were more stable, falling to 2.04% from 2.06%. Earnings missed due to the usual suspects: elevated prepays, lower yields on new investments, and seasonally higher year-end repo rates.
ARM assets increased to 94% of the investment portfolio from 83%. The hedge ratio stayed constant at 47%, with adjustable-rate mortgages, HTS has less to fear from any gradual rise in rates. In Q4 Hatteras sold a large chunk of its 15-year mortgages and shorter-duration ARMs, repositioning into longer-duration reset 5/1 and 7/1 ARMs. The sale of the 15-year MBS also reduced leverage as HTS raised liquidity and repositioned later in the quarter and early-2013 at higher yields. A good move, in retrospect.
Hatteras has cut its dividend by $0.10 per quarter in 2 consecutive quarters to the current rate of $0.70/quarter, a 10.5% yield. With the reduced sensitivity to prepayments and a willingness to harvest gains to make up minor shortfalls, the dividend looks sustainable and defensible at the current level. Book value fell just under 5% in the quarter, a bit more than the peer group. HTS will benefit nicely in 2013 with reduced funding costs via swaps, with roughly $800 million maturing over the next 12 months. This will help NIM going forward in 2013. Leverage fell from 7.4x in Q3 to just under 7x last quarter as HTS sold MBS in Q4.
Capstead Mortgage (NYSE:CMO): Capstead is heavily into short-reset ARMs, so if you want an agency mREIT that is sure to grab the inevitable end of QE3 and potential Fed rate hikes, CMO is for you. Q4 EPS came in at $0.31, down from $0.35 the previous quarter. NIM was 1.13% (down from 1.30% in Q3) and leverage was unchanged at 8x. Book value was down 2% at $13.58. CMO repurchased $35 million of stock in Q4 at an average price of $11.80, which equates to buying 10% of the shares over a fully year. The willingness of some of the agency mREITs like CMO to initiate and follow-through on their announced share buybacks was a good sign of their willingness to defend future book values.
Over 99% of the CMO portfolio is agency ARMs; 58% current resets and 42% longer-duration maturities. Prepayments continue to be well-behaved especially with the older vintage ARMs (pre-2007) in which CMO has a big chunk of the portfolio invested. Swap rollovers in Q3/Q4 2013 should lead to a reduction in funding costs, aiding NIM, EPS, and perhaps the dividend. CMO paid a $0.30 quarterly dividend in Q4, down from $0.36 in Q3. Capstead employs leverage at the higher end of the agency mREIT sector, but the short-duration of the portfolio combined with the short funding liabilities mitigate interest rate risk normally associated with higher leverage.
ARMOUR Residential (NYSE:ARR): ARR continues to maintain its cult following, owing largely to the outsized monthly dividend. Unfortunately, that monthly dividend continues to get nicked by a penny a share every few months, falling to $0.09 in Q4 and then $0.08 in Q1 2013. ARR recently did a large secondary offering of 65 million shares, but for the wrong reasons. Book value continues to get hit more than agency peers, with BV falling 13% from the Q3 high of $7.77 to $7.28 at end-Q4, to an approximate $6.70 at the time of the February secondary offering. Q4 core EPS was $0.22 per share, below consensus. Leverage came down to 8x from 8.5x, as ARR apparently prefers to navigate the volatility of the mortgage market by adjusting the leverage ratio. NIM fell 27 bp. from 1.82% to 1.55%.
ARR has swaps covering only about 35% of her portfolio. Add in a 90% fixed, 10% adjustable portfolio and throw in an average reset for the ARM portfolio just over 5 years and you have a lot of interest rate and convexity risk, which no doubt explains the poor book value performance in recent months. The mortgage and interest rate environment are no doubt difficult, but instead of hunkering down and playing defense during the Fed hurricane, ARR management has elected to go outside and play in the storm. Their aggressive stance mimics aspects of AGNC's and Western Asset Mortgage's (NYSE:WMC) long-duration approach to this sector, but without the corresponding hedges, offsets, and risk reduction measures that these other MREITs have utilized to show their dexterity in navigating the current environment.
For this reason, while I think ARR can be part of the "basket approach" that we have discussed before, in no way should investors overweight or concentrate their mREIT investments in ARR. Despite the monthly disclosures on her portfolio, ARR has not been as transparent as other mREITs in explaining the interrelationship between changes in the income statement, the balance sheet, and the continued reliance on the secondary market. If rates on the 10-year are north of 2% and preferably 2.25%, I believe the current $0.08 monthly dividend is safe. But unless ARR wants to take leverage back up above 9x where it was for most of 2011 and 2012 (it was down to 8x at the end of Q4 2012), then another cut to $0.07 monthly cannot be ruled out if asset and reinvestment yields pressure portfolio earnings.
The 5 Agency mREITs above had done very well relative to the S&P 500 up to the initiation of QE3. Since then, they have all lagged. CYS' poor Q4 results and the ARR secondary account for their recent dips in relative performance: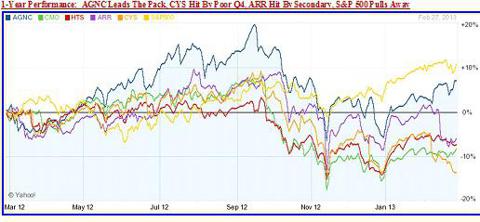 In my previous articles on the MREITs, numerous readers asked what are good sources of information to develop the "basket approach" that I strongly recommend when making purchases in this sector. Besides the articles on Seeking Alpha, I strongly advise readers to read the conference call transcripts available at SA as well as participate in the Comments section that follow all articles. The additional information, sometimes very specific, can be very useful to gauging other, less known, hidden risks. Another outstanding resource is Valueforum.com, a website with a focus on income and dividend securities. Ex-MBS traders, portfolio managers, and analysts provide a unique perspective on mREITs not usually available except to those with access to Wall Street sell-side firms or company management. It is the perfect complement to your other income, dividend, and mREIT resources and I highly recommend visiting the site.
Disclosure: I am long CYS. I wrote this article myself, and it expresses my own opinions. I am not receiving compensation for it (other than from Seeking Alpha). I have no business relationship with any company whose stock is mentioned in this article.
Additional disclosure: Individual accounts and online portfolios under my supervision may be long any and all of the names listed in this article.