Heating oil: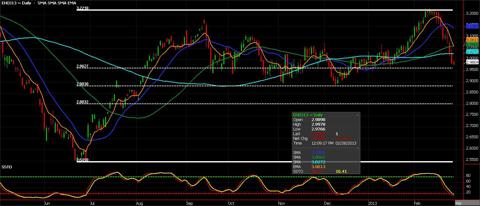 RBOB: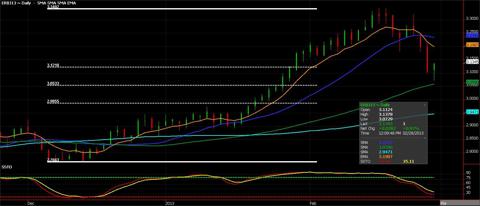 HO/RBOB spread: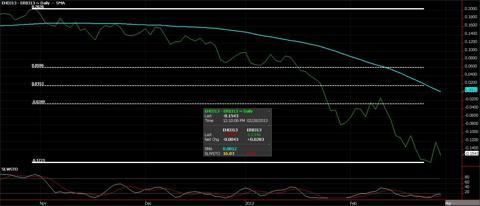 April heating oil futures have come down almost 25 cents in the last three weeks, fast approaching the 38.2% Fibonacci level ... see chart 1 above. Though we are approaching oversold levels on the stochastic we could see a little more downside in my opinion. At most I would expect to see buying re-emerge in the $2.80 on the April contract.
In the same time frame RBOB futures seen in chart 2 have lost about the same level, retracing almost 50% trading within 7 cents of the $3 level on the April contract. There appears to be buying interest today just above the 50 day MA but it remains to be seen if we've seen enough selling...which I do not think we have yet.
With the tight supply dynamic in RBOB domestically supplies will play a critical role in price direction in the coming months in RBOB but short term with lacking demand I do see a reason for RBOB to gain in the immediate future. Longer term come 3-4 months from now we may not be so lucky. With US distillates supplies sitting near their lowest level in 5 years and still experience heating demand I think there is a more compelling reason for appreciation in heating oil at least short term.
View this trade as a spread and all you want is for the spread to narrow and you really do not care the path it takes to arrive at that destination. Money can be made on this if heating oil gains more than RBOB or if RBOB loses more than heating oil. Currently we are finding some support on the April spread seen in chart 3 around the -16 cent level. As we turn around and the spread starts to narrow I think it is realistic to see a quick 6-10 cent narrowing on the spread. Every 1 cent the spread moves would reflect a profit/loss of $420 per spread.
Risk Disclaimer: The opinions contained herein are for general information only and are not intended to provide specific investment advice or recommendations and are not tailored to any specific's investor's needs or investment goals. You should fully understand the risks associated with trading futures, options and retail off-exchange foreign currency transactions ("Forex") before making any trades. Trading futures, options, and Forex involves substantial risk of loss and is not suitable for all investors. You should carefully consider whether trading is suitable for you in light of your circumstances, knowledge, and financial resources. You may lose all or more of your initial investment. Opinions, market data, and recommendations are subject to change without notice. Past performance is not necessarily indicative of future results.
Disclosure: I have no positions in any stocks mentioned, and no plans to initiate any positions within the next 72 hours. I wrote this article myself, and it expresses my own opinions. I am not receiving compensation for it. I have no business relationship with any company whose stock is mentioned in this article.