"The rules were simple: Never pay in cash, never tell the truth and never play by the rules" Barbarians at the Gate
I am not particularly interested in Pink Sheet stocks. However, after reading Perry Coleman's impressive article on "Marijuana Legalization Here and Now", I started to develop certain interest in the sector.
Then I got confused by the of naysayer camp with articles like "It is Just a Pump and Dump", "Reefer Madness" and "The Show's Over, Folks". Not to mention the authoritative Infitialis' "Chronically Criminal".
My sentiment fluctuated as widely as the prices of the stocks that they were writing about.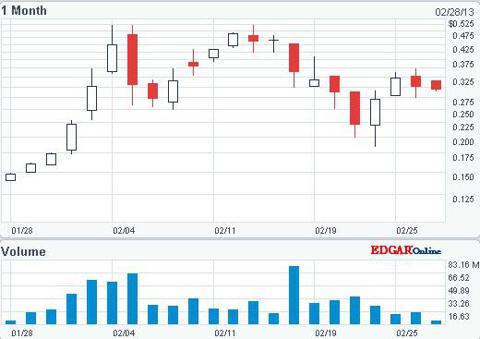 Medical Marijuana Inc. (PINK:MJNA)
So I went and invested, a small fortune, in a recent industry intelligence report covering the US Medical Marijuana Market.
It was a good investment, worth every penny. The report opened my eyes to a new way of looking at this emerging growth sector of the American economy.
It also highlighted many of the opportunities that are lying just there to be simply exploited for fun and profit.
According to the report, the US Medical Marijuana Market is currently valued at $2 billion and is growing at an average annual growth rate in the low 20% and that Marijuana is the third most popular recreational drug in America, behind only alcohol and tobacco.
With the majority of voters opting for legalization in state after state, farming, selling, dispensing, promoting or developing either prescription or over-the-counter (OTC) Marijuana based products is likely to become a $10 billion industry.
We're witnessing the beginning of a legal business ecosystem forming where start-up and acquisition opportunities abound.
Acquisitions are already taking place at a breakneck pace with few, just formed, publicly traded companies snapping up assets left and right.
The US medical marijuana market, while large, is still in its early stages of development and is extremely fragmented with the top five companies in the space controlling less than 10% of the total market.
The average medical marijuana dispensary is tiny with annual revenue around $2 million. With the legalization trend taking hold, these dispensaries are now up for grabs. And pioneers in the field are doing just that.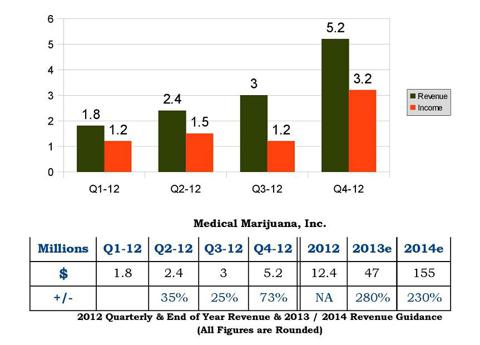 During 2012, Medical Marijuana Inc acquired CanChew Biotechnologies, Red Dice Holdings, PhytoSphere Systems, Canipa Holdings and Wellness Managed Services (NYSE:WMS) with the subsequent ownership of some of the most recognizable and trusted brands in the industry.
It's still early in the game and investors are betting on concepts, names, hopes and dreams. So I thought that instead of extensively profiling this already extensively profiled stock, I will offer a brief overview of some of the most interesting companies in this space with a short summary of what they are doing right now and what they are planning to do in the near future.
Just keeping in mind what I just mentioned regarding acquisition opportunities in the space, you will easily be able to decipher some interesting trends as you study the actions of each one of these companies.
Enjoy, and don't forget to jot your thoughts down in the comment section. I am really looking forward to hearing all of your feedback. The jury is still out on this one and the best judge will be our collective intelligence.
1. AbbVie (NYSE:ABBV)
In 1985 Abbott (NYSE:ABB) launched Marinol (dronabinol), a synthetic THC cannabinoid developed by Solvay Pharma and approved by the FDA for the treatment of loss of appetite and nausea in patients with AIDS or those receiving cancer chemotherapy. In January 2003 Abbott spun off its Pharma business into AbbVie which inherited the product. Marinol realized peak sales of $100 in 2007, its last year under US patent exclusivity protection. In June 2008, generic dronabinol products were launched by Actavis (NYSE:ACT), then Watson Pharmaceuticals, and sales took a dive.
2. Cannabis Science Inc. (OTC:CBIS)
Cannabis Science entered the field of phyto-cannabinoid research in March 2008, when it acquired Cannex Therapeutics LLC, a phyto-pharmaceutical company developing a line of whole plant cannabinoid-based pharmaceutical products.
In February 2013, Cannabis Science divested its phyto-canabinoids business assets to X-Change Corporation in order to focus its efforts on the development two lead products CS-TATI-1 and CS-S/BCC-1.
CS-TATI-1 targets newly-diagnosed patients infected with drug-resistant HIV strains that are intolerant to currently available therapies. CS-S/BCC-1 is positioned as a topical treatment of basal and squamous cell carcinomas. Both drugs are still in the pre-clinical stage.
3. GreenGro Technologies (PINK:GRNH)
GreenGro Technologies, a California-based publicly listed developer of indoor agricultural science systems, entered the medical marijuana space when it acquired Vertical Hydrogarden Inc., with its patent pending indoor vertical cultivation hydroponic system for indoor cultivation of medical marijuana, in April 2012.
4. GrowLife Inc (OTC:PHOT)
GrowLife, a California-based publicly traded holdings company with core holdings in innovative technology based products and services for home gardening specialty markets, also owns and operates specialty hydroponics stores in Los Angeles and California.
GrowLife is on an acquisition spree. The company is acquiring gardening and indoor growing brands at a breakneck pace. Some of its recent acquisitions include Stealth Grow LED brand, LED grow lights and the Phototron single plant systems and accessories.
In February 2013, GrowLife closed on its latest acquisition, Greners.com, a gardening website that sells a broad portfolio of garden growing supplies from tools for cutting and propagation to complete indoor lighting systems.
5. HEMP INC (PINK:HEMP)
Hemp Inc, incorporated in Colorado in 2008, has partnered with Hemp.com, the premier domain name in the industry with a long history as the go-to URL for information about the industry.
Hemp Inc, which is also involved in hemp-based nutritional supplement production and distribution under the brand name Herbagenix, is planning to develop Hemp.com to become the Amazon (NASDAQ:AMZN) of the Hemp industry.
6. Phytiva (PINK:XCHC)
Phytiva, a newly launched phyto-pharmaceuticals, cosmeceuticals and nutraceuticals brand of hemp-based products, is targeted at the over-the-counter (OTC) medical marijuana market. Phytiva product lines were purchased from Cannabis Science Inc by X-Change Corporation in February 2013. X-Change Corporation believes that Phytiva will capture a substantial and highly-profitable portion of that market segment and is in the process of changing the company name to match the brand.
7. Rapid Fire Marketing Inc (PINK:RFMK)
Rapid Fire Marketing, a Nevada publicly traded holding company, has as its core business a TCH Vapor Inhaler technology and for the CANNAcig. The CANNAcig, introduced to the Vaporizer market in the summer of 2012, is a small, discreet and easy to fill with a simple oil cartridge. The CANNAcig, which comes in a variety of sizes, is shaped as a Cigar.
8. Terra Tech Corp (OTC:TRTC)
Terra Tech, incorporated in 2008, specializes in controlled agricultural technologies which integrates breed hydroponic equipment with indoor horticulture. Terra Tech, which is planning a dedicated focus on Marijuana growers, paid $1.75 million to NB Plants for the purchase of 5 acres of green house space in February 2012. The land, which is located on the 116-acre farm house owned by NB Plants, will be used for the launch a new grow brand.
9. TranzByte Corporation (PINK:ERBB)
TranzByte attracts established and early growth medical marijuana related businesses that wish to take advantage of resources not generally available to private companies and provide them with mission-critical capital, legal, accounting, and public relations resources.
TranzByte acquires some of these companies and infuses them with the expertise and the resources needed to transform them into their own unique, fully-reporting, and publicly-traded bulletin board companies. In exchange for its services, TranzByte receives a portion of every company TranzByte elects to 'spin out'.
TranzByte is currently the leading driving force behind Altitude Organic Medicine, a leading medical marijuana Dispensary.
Disclosure: I have no positions in any stocks mentioned, and no plans to initiate any positions within the next 72 hours. I wrote this article myself, and it expresses my own opinions. I am not receiving compensation for it (other than from Seeking Alpha). I have no business relationship with any company whose stock is mentioned in this article.