My last article covered the amazing volumes of natural gas and shale gas discovered in recent years. Shale plays operated across the country and in Canada are more productive than ever due to horizontal drilling and hydraulic fracturing. The relatively low price of the commodity (NYSEARCA:UNG) has increased demand in the U.S. domestic market with the replacement of a much cheaper energy than coal and oil. Thus, global demand is constantly rising, considering the expensive prices outside the U.S. Infrastructures are being built in response to the shale revolution. Now is the time to look into the promising publicly traded companies that will make most profit out of this unique opportunity.
LNG exporting terminals
Cheniere Energy (NYSEMKT:LNG)
Cheniere is building a LNG export facility out of its existing Sabine Pass import facility, which is used as a gasification plant. Achieving this project should take about three years. The facility is located in Cameron Parish, Louisiana and is well-situated to capitalize on continued unconventional gas development. The Gulf Coast and Mid-continent regions contain five of the six major U.S. shale plays. The natural gas productive capacity in this region therefore represents a major part of the current and future U.S. production.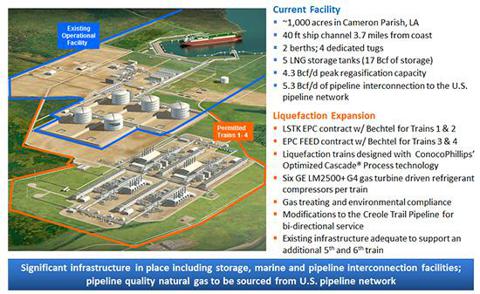 Source: Cheniere Energy
This project is possible with the partnership of its captive MLP, Cheniere Energy Partners L.P. (NYSEMKT:CQP), which also owns the service pipeline that is now used to distribute gas from the import facility. The pipeline will be used to move gas down to the liquefaction trains for its export facility.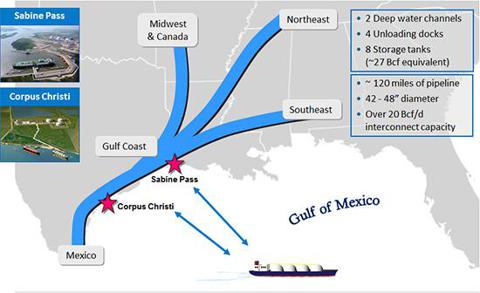 Source: Cheniere Energy
The Sabine Pass LNG Terminal started service in April 2008. With a total send-out and about 17 Bcf of storage capacity, the Sabine Pass terminal became the largest receiving terminal by re-gasification capacity in the world.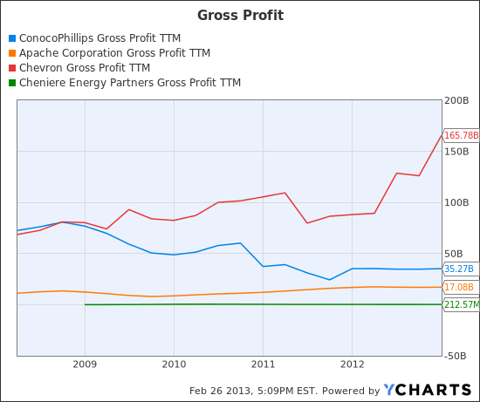 Corpus Christi Liquefaction Project is developing a LNG export terminal at one of Cheniere's existing sites that was permitted before for a re-gasification terminal. Located on the La Quinta Channel on the northeast side of Corpus Christi Bay in San Patricio County, Texas, the terminal would be supported by the significant conventional and unconventional resources available across Texas and the Gulf Coast Region. It should be in service by December 2017.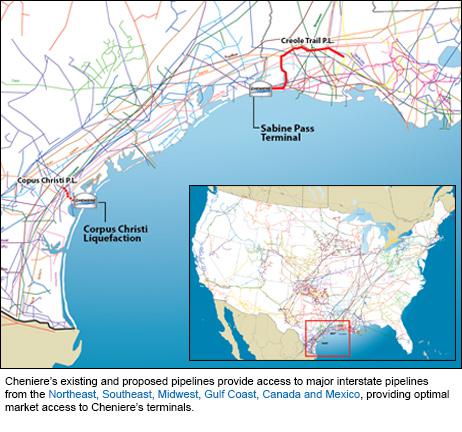 Source: Cheniere Energy
Of all companies analyzed here, Cheniere is the smallest but may be the one with the most potential for growth. The company currently generates $212.57 million in gross profit (see chart above) while it is committed to almost $2.2 billion in long-term debt. We can see that Cheniere is massively using its debt to finance its growth with a whopping debt to equity ratio of 1.59 (see chart below).
LNG Canada is proposing to build a LNG export terminal in Kitimat, British Columbia. The project includes the design, construction and operation of a natural gas liquefaction plant and facilities for the storage and export of LNG, including marine off-loading facilities and shipping.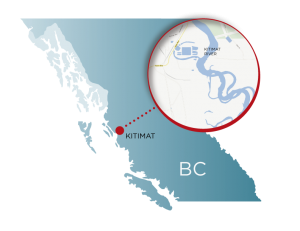 Source: LNG Canada
Four companies take part in The LNG Canada Project: Shell Canada (a private company, subsidiary of Royal Dutch Shell (OTCPK:RYDAF)), Korea Gas Corporation (KOGAS), Mitsubishi Corporation (OTCPK:MSBHY) and PetroChina Company Limited (NYSE:PTR). The first noticeable attribute when you look at the consortium is their extensive development experience. Moreover, adding technical depth, financial strength and access to the required markets represents great fundamentals to become the leading LNG developer in Canada. As a matter of fact, Shell helped pioneer the LNG sector and has seven LNG facilities in operation in seven countries with three new projects under construction. KOGAS is the sole provider of LNG imports for Korea, Mitsubishi is responsible for 57% of Japan's LNG imports and is participating in nine global LNG projects, while PetroChina is China's largest oil and gas producer and supplier.
LNG Canada has selected TransCanada Corporation (NYSE:TRP) to design, build, own and run the Coastal GasLink, a 435 miles pipeline that will connect natural gas from northern British Columbia and the Western Canadian Sedimentary Basin to the proposed export facility located near Kitimat, B.C. The company is the Keystone XL pipeline developer. For more information about the Coastal GasLink Project, see my article New Projects For TransCanada On The West Coast. The consortium's decision to move LNG Canada Project into development could be taken in the middle of the decade with start-up around the end of 2019, pending regulatory approvals and investment decisions.
Kitimat LNG Project includes natural gas liquefaction, LNG storage and marine on-loading facilities. Natural gas will be delivered via a pipeline lateral of about 8.7 miles from the Pacific Trail Pipelines Project which will connect to the existing Spectra Energy (NYSE:SE) Westcoast Pipeline system. The proximity of Kitimat LNG to the existing natural gas transmission infrastructure is one of the advantages of this project as it ensures that this supply is readily accessible to the facility.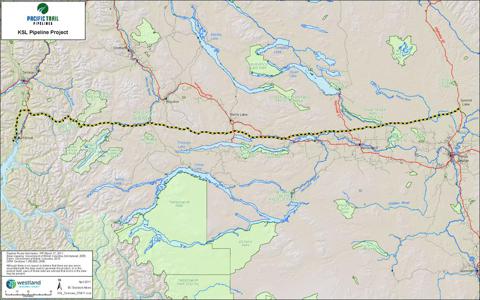 Source: Pacific Trail Pipelines
The name Kitimat comes from the Haisla word "Kitamaat", meaning "People of the Snow" in the Tsimshian language. Kitamaat Village, the primary residence of the Haisla First Nation, is located 11 km south of the town of Kitimat on the east side of the harbor.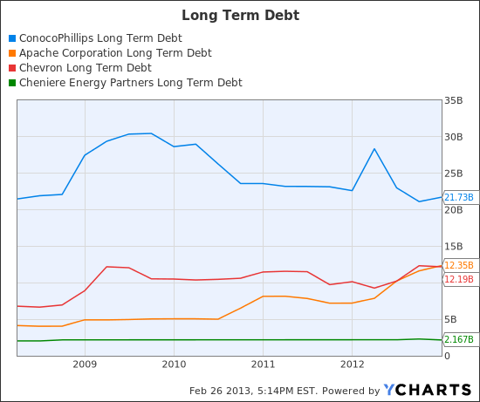 Apache Canada (NYSE:APA) and Chevron Canada (NYSE:CVX) each own 50% of the Kitimat LNG Project. Chevron will market LNG and run the plant and pipeline assets. Apache will operate upstream development of 644,000 acres in British Columbia's giant Horn River, Liard shale gas discoveries. Kitimat LNG is conducting a study to explore the feasibility and timing of constructing a second LNG train and when concluded, the group will make a last investment decision on whether to go ahead with the project. Following that decision, the company expects to start the main construction but no timeline has been determined yet.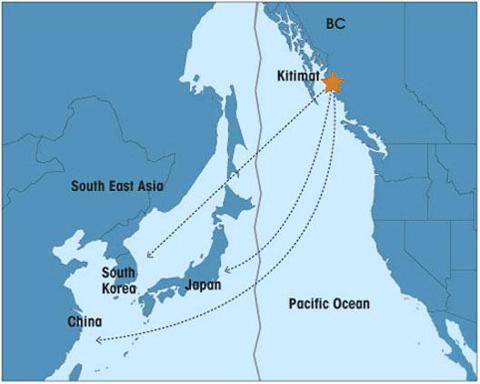 Source: Kitimat LNG
Apache carries $12.35 billion in long-term debt but the company is generating $17 billion in gross profit which is interesting (see charts above). With a debt to equity ratio of 0.39, it seems that the firm uses its debt wisely enough to finance its growth. Apache's dividend yield stands at 1.09% which is very conservative, but sustainable considering the financial health of the company.
Apache's partner in this project, Chevron, generates massive revenue. Its gross profit of $165.78 billion is largely higher than other companies analyzed in this section, taking into account that its market cap is more than $223 billion compared to $6.6 billion for Cheniere, almost $29 billion for Apache and $70.51 billion for ConocoPhillips. The company is almost equal to Apache's long-term debt with $12.19 billion (see charts above). Thus, with a debt to equity ratio of 0.09, Chevron has plenty of financial resources to invest in several projects and keep growing. Shareholders can expect to see Chevron's dividend yield to grow without any worries. At 3.17% right now, it is conservative but still is a nice dividend yield.
Located on the northeastern edge of the historic town of Quintana and southeast of the city of Freeport, Texas, the Freeport LNG Project is proposing to add about 1.9 Bcf per day of liquefaction capability to its terminal facilities.
In 2005, Freeport LNG Development L.P. designed, built and now operates since June 2008 a LNG receiving and re-gasification terminal in Freeport. Unique features of the terminal include vacuum-insulated LNG transfer lines with a peak send-out capacity of more than 2 Bcf per day, an air tower that provides heat from the air for re-gasification, a salt-dome cavern gas storage facility integrated with terminal operations and a boil-off gas re-liquefaction system.
Aerial view of the Freeport LNG Terminal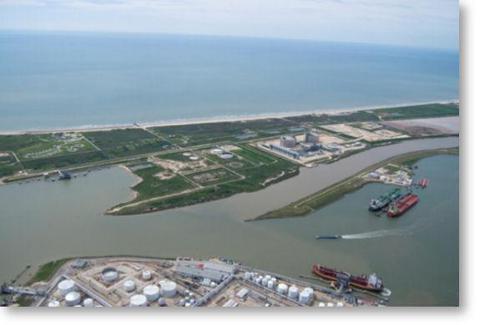 Source: Freeport LNG
Situated in one of the largest gas-producing regions in the world, Freeport LNG is very close to the abundant proved reserves of natural gas from shale gas plays, including Eagle Ford, Barnett and Haynesville-Bossier. Two of the largest gas trading hubs in the country, the Houston Ship Channel and the Katy Hub, give flexibility to natural gas shippers near the Freeport terminal. The Texas natural gas market is one of the largest in the world, and is highly liquid as it is intricately connected to other major U.S. markets by a vast network of pipelines.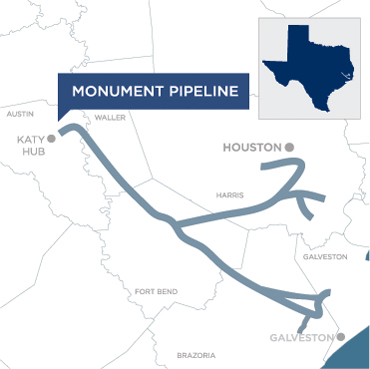 Source: NET Midstream
Freeport LNG is owned by ConocoPhillips (NYSE:COP) at 50% and by Freeport LNG Development L.P, an entity regrouped by limited partnership holdings. The Freeport LNG Project is subject to receive authorization to start construction by the third quarter of 2013. By that time, the project is also expected to have received authorization from the Department of Energy to export LNG to non-Free Trade Agreement countries. The construction schedule is estimated about four to five years before completion and start-up is scheduled for 2017.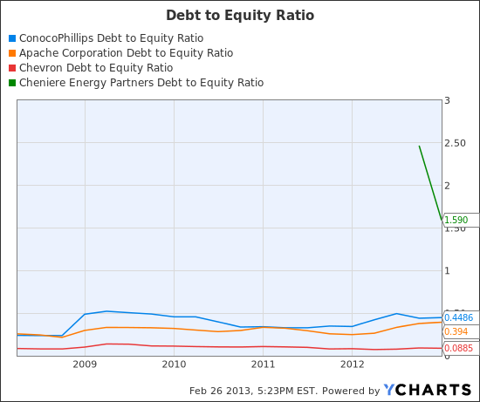 ConocoPhillips is earning $35.27 billion in gross profit. Its long-term debt is relatively high considering its peers as you can see in the long-term chart comparing the companies. With a debt to equity ratio of almost 0.45, there is not too much damage here but the company uses more debt to finance the revenue it is generating. ConocoPhillips produces twice as much gross profit than Apache while the latter has about $9 billion more on long-term debt (see charts above). ConocoPhillips offers an attractive dividend yield of 4.57% but for investors looking for more stability, Chevron represents a good mix of compromise.
LNG exports by ship carriers
Teekay LNG Partners L.P. (TGP)
Teekay is a big player on the long-term charter industry. The company has over $15 billion of consolidated forward fixed-rate revenues and manage a fleet of over 150 vessels whose 27 are LNG carriers, one of the largest fleet in the world. The firm has stable and predictable cash flows and they are fairly conservative with a good dividend yield of 7%. With the LNG increasing demand worldwide, sustaining the dividend shouldn't be a problem. In fact, revenue can only go up. Showing how strong the financial health is, Teekay repurchased since 2010, 7% of its outstanding shares for a $162 million value.
(click to enlarge)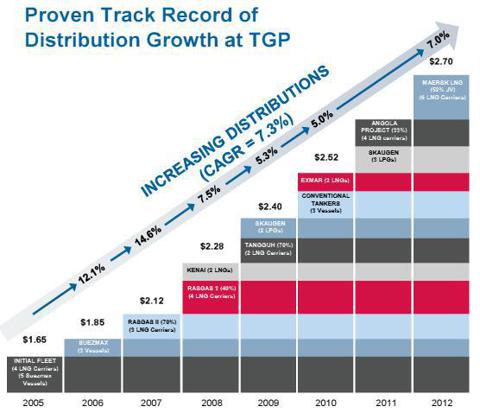 Source: Teekay Corporation
According to Teekay, the tanker market is at cyclical lows. After four years, a sustained recovery is expected to emerge during 2013. Acquired in 2011, 6 Maersk (OTCPK:AMKAF) LNG carriers are part of the fleet as a joint venture to strategically improve the place of the company for LNG transportation purposes. The stock closed at $38.54 as of February 26th on NYSE market.
Golar LNG (GLNG)
With a fleet of 13 vessels dedicated to LNG transportation and over 30 years of experience, Golar is one of the world's largest independent owners and operators of LNG carriers. The company is well positioned to compete for long-charter contracts with LNG terminals in North America. It developed the world's first Floating Storage and Re-gasification Unit projects based to convert existing LNG carriers, making Golar the leader in the industry's floating LNG re-gasification facilities development.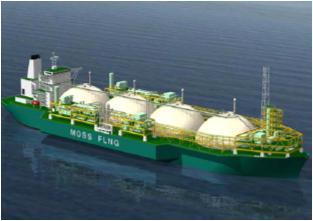 Source: Golar LNG
The company saw its revenue grow from $77.4 million in Q3 2011 to $117.8 million in Q3 2012. Cash on hand as of September 30th, 2012 was over $118 million and the long-term debt was at $799 million for the same period.
Net Revenue, EBITDA & Dividends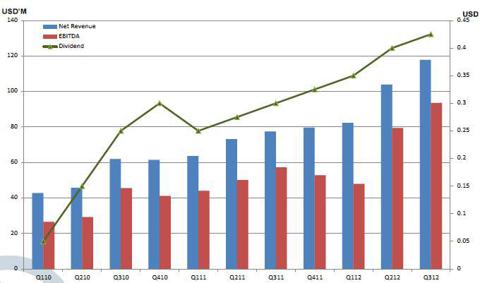 Source: Golar LNG investor presentation Q3 2012
As we see on the chart below, the debt to assets was almost at 75% in 2007 compared to 55% in 2011.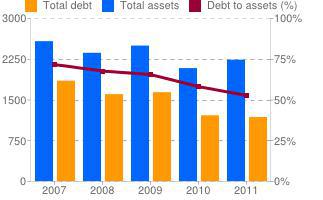 Source: Google Finance
Strategically, Golar expressed its shareholders that it is focusing on the pipelines gas markets in North America as significant unconventional production is rapidly growing on the continent, creating new opportunities for its existing portfolio. With complete LNG solutions such as liquefaction, shipping and re-gasification, the company is prepared to compete for its share of profit from the fast growing natural and shale gas market.
LNG infrastructure builders
Chart Industries (NASDAQ:GTLS)
Chart Industries is a leading global manufacturer of standard and custom engineered products and systems for a variety of cryogenic and heat transfer applications. The industrial gas equipment is used throughout the liquid gas supply chain in the production, storage and end use of natural gas and industrial gases. Specializing in three markets, energy & chemicals, industrial gas and biomedical, Chart is also one of the leading supplier of LNG equipment around the world.
LNG companies need supplies to build their LNG terminals projects and this is where Chart comes into account. Offering brazed aluminum heat exchangers for cryogenic gas processing applications worldwide, it offers, according to the company, a vastly superior heat transfer performance and only 20% in size versus its shell and tube counterparts.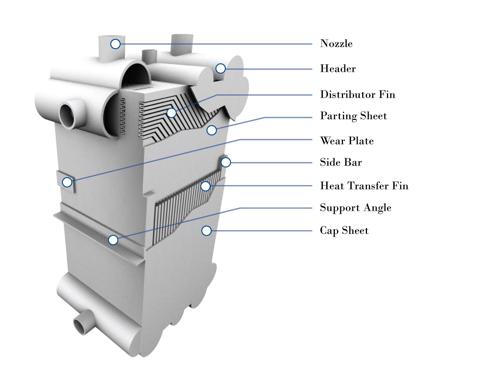 Source: Chart Industries
In addition to stand-alone brazed aluminum heat exchangers, Chart offers LNG peak shavers, LNG vacuum insulated pipes, fully assembled and tested manifolded battery assemblies and "cold boxes". Externally, a cold box is a carbon steel enclosure with flanged terminations to ease simple on-site connection to plant process pipework. Internally a cold box can extend from housing a single brazed aluminum heat exchanger to a complex system of multiple exchangers connected in series and parallel with a complete instrumentation package. Chart owns two facilities to build the cold boxes, one in Louisiana, providing direct access to the U.S. inter-coastal waterway and the Gulf of Mexico and one in Changzhou, China.
Looking at the financials, Chart benefits from worldwide earnings, as more than 50% of its sales come from outside the U.S. 46% of sales are derived from products related to energy applications. The company relies on strong base order levels with large contract orders. On the down side, the company is exposed to foreign currencies fluctuations.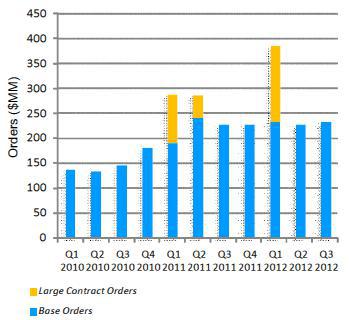 Source: Chart Industries investor presentation, January 2013
Looking at the chart below, the long-term debt is about $277.55 million, sensibly higher than 2009 and earlier. Gross profit increased to $283.70 million from under $200 million in 2010. The cash and equivalents accounted for $105.78 million during the same period, with $9.3 million in cash flow.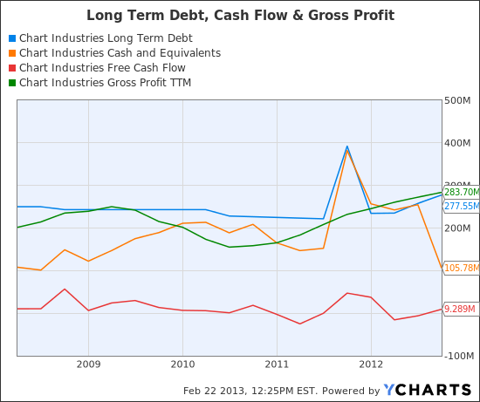 Now let's see in what proportion the company uses debt to finance its assets. A debt to equity ratio of 0.40 indicates that Chart Industries doesn't use its debt in excess to finance its growth. It has been in decline in recent years which suggests that earnings are growing.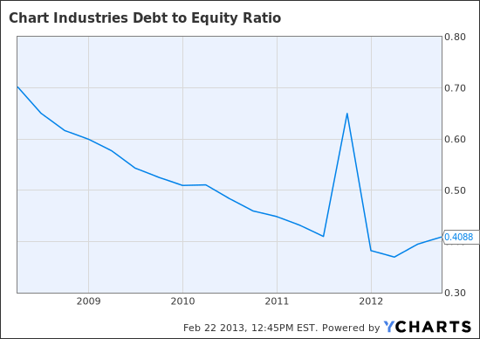 The stock closed at $66.15 as of February 26th on the NASDAQ market. With a price to book value ratio of 3.02 and a high PE ratio of 34.44, it suggests that the stock price could be overvalued at this time. Thus, I would recommend to wait for a better point of entry.
Chicago Bridge & Iron (CBI)
CBI is one of the most complete energy infrastructure company in the world, with more than a century of experience, developing the expertise to offer a range of services including design, engineering, construction, fabrication, maintenance and environmental services. Specializing in LNG among other sectors, products are manufactured for liquefaction export terminals, re-gasification import terminals, peak shaving facilities and storage tanks.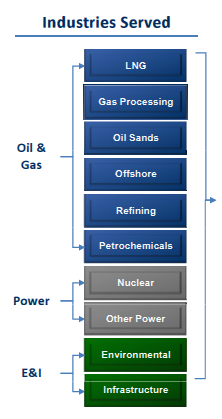 Source: CB&I investor presentation, February 2013
Other products include refinery process units, petrochemical facilities, hydrogen generating plants, sulfur processing plants and bulk liquid storage structures.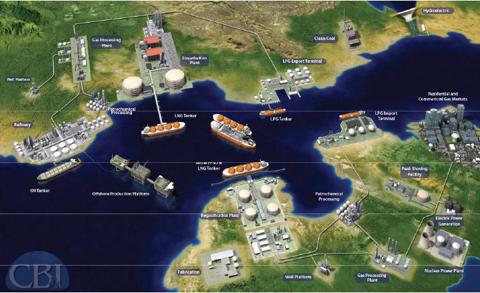 Source: CB&I investor presentation, February 2013
With a market capitalization of $5 billion, revenue sources account for 50% in the U.S. and 50% with international companies. The company is less exposed to foreign currencies fluctuations than Chart Industries. The firm relies on a strong balance sheet. Revenues are growing since 2010 with $3.6 million compared to the total twelve months of $5.2 million. Free cash flow is at $294,000 with no long-term debt. Currently, CB&I has a backlog worth of $26 billion.
The stock has closed at $52.19 on the NYSE market on February 26th. The PE ratio of the company is 18.75 at this time compared to 30.5 for the industry. The stock share price is not overvalued and seems to represent a truthful image of CB&I's financial health. Moreover, Morningstar reports a fair value of $52 a share. Return on equity is good at 22.73%. The Dividend yield is at 0.37% while the industry average is 0.4%.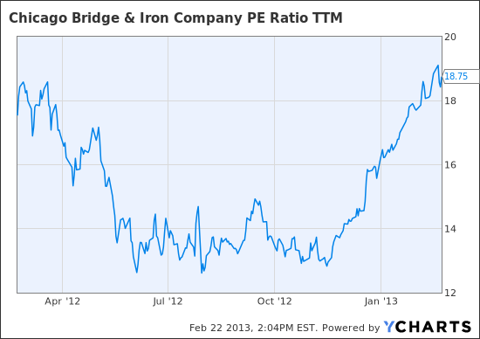 Conclusion
Natural and shale gas low prices will lead to vast new markets all over the world. As we have seen in the first article, the shale revolution is reshaping the energy industry, causing massive new investments in infrastructure such as pipelines, refineries, terminals, ship tankers and everything in between.
Several companies are competing for the best profitable place on the market, from small local players to huge international oil and gas suppliers with the purpose of rewarding their patient shareholders accordingly. The choice of each investor for a specific company depends on their tolerance to risk.
This will lead to huge capital gains for investors who will have the perspicacity to invest in that kind of industry. A new economic force is about to change everything about the way the U.S. economy works. From the 1880s steel and railroad boom, the 1900s "Spindletop" success oil boom, the 1920s automobile boom and the '80s technology boom, 2020 could be the energy boom.
Disclosure: I have no positions in any stocks mentioned, and no plans to initiate any positions within the next 72 hours. I wrote this article myself, and it expresses my own opinions. I am not receiving compensation for it (other than from Seeking Alpha). I have no business relationship with any company whose stock is mentioned in this article.