Large output gap, anemic growth and zero bound interest rates have led central banks of developed economies resort to unconventional methods to stimulate growth. While this has had some adverse impact on the exchange rates, it is not the prime focus of any central bank.
The falling yen has caused much disquiet among some countries, which have threatened to take a page out of Brazil's playbook and act to prevent their currencies from rising. Bank of Japan needs to buy foreign assets (to weaken the yen in large quantities), mainly of U.S. dollar and euro-denominated assets. According to M. Cullen Thompson of Bienville Capital Management
A materially weaker yen also complicates the necessary global rebalancing process: the US and parts of Europe-i.e. current account deficit countries-need to move towards trade balance to achieve sustainable growth (i.e. a weaker USD and euro relative to some peers). By contrast, the surplus countries, notably China, Japan and Germany-the world's 2nd, 3rd, and 4th largest economies-need to engineer more domestic demand, relying less on exports, or external demand, for growth. A policy-induced shift back towards export-led growth by the surplus countries would only rekindle the global imbalances that erupted in 2008
Having virtually exhausted its ability to grow through investment, China is unlikely to sit idle as Japan weakens the yen, stealing external demand in the process. Recently, the yen has weakened by nearly 20% versus the Korean won, one of Japan's primary competitors, threatening Korean exports, which represent 50% of its economy. In sum, aggressive actions by the BOJ could escalate into a full-fledged currency war.
I have written about the risks of looming currency war in my previous article "Is Japan Prompting A 1930s-Like Currency War?" I have also discussed as to why Japan could not be termed as a currency manipulator in "Japan's Currency War: Much Discussed, But Hard To Find."
In this article, we will look for evidence to state that Japan is not indulging in any big currency manipulation. Now let us look into reasons as to whether Japanese yen (JPY) is currently trading significantly outside of its fair value estimate, based on research work done by Ric Deverell of CS to see if this is the case:
a) Change in Annual Fx Reserve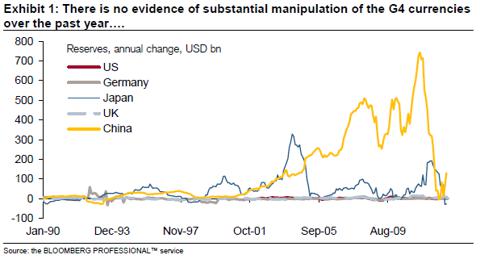 b) Real effective rate: The movement of USD, euro, GBP and the yen has been relatively contained within a fixed range since 1970s, barring some outliers witnessed during 1985 (Plaza accord).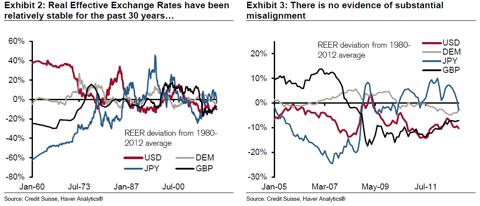 c) Foreign exchange rates at purchasing power parity (adjusting for differences in domestic price levels): The yen is overvalued with no signs of currency manipulation. Based on CS model, Chinese remimbi (NYSEARCA:FXY) is the only undervalued currency.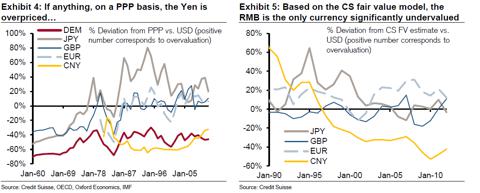 d) Trade Dynamics (current account balance): Japan's current account surplus has narrowed over the past five years. Though the U.S. has made some marginal improvements, it is still in the negative zone. Chinese surplus has also fallen, while Germany runs the largest current account surplus. The euro region has witnessed the maximum improvement. Its current account surplus has risen to the historical highs that were witnessed during the Plaza accord period during 1985.

e) Though Bank of Japan has been expanding its balance sheet, its aggressiveness pales in comparison with other central banks since the onset of the financial crisis.

Source: Bienville Capital Management
Investment Implications: The outcome of Japanese (NYSEARCA:EWJ) actions would be fourfold - a) weaker yen b) growth in domestic demand c) negative interest rates and d) higher inflation. Finally if weaker yen remains the core of Japan's plans to revive its export market, risk of currency war looms higher. With anemic global growth and sluggish demand, any revival of Japan's export market would be at the loss of market share for other countries. Japanese companies like Toyota (NYSE:TM), Honda (NYSE:HMC), Toshiba and Mazda (OTCPK:MZDAY) would be the biggest winners at the expense of U.S. (NYSEARCA:SPY) companies like Ford (NYSE:F), General Motors, Caterpillar (NYSE:CAT), General Electric (NYSE:GE) and Deere (NYSE:DE). I have written in detail about the investment options available in my previous article "Asia and Japan's Reflation game." Now let us focus on the winners and losers.
Disclosure: I have no positions in any stocks mentioned, and no plans to initiate any positions within the next 72 hours. I wrote this article myself, and it expresses my own opinions. I am not receiving compensation for it (other than from Seeking Alpha). I have no business relationship with any company whose stock is mentioned in this article.