Electronics retailer RadioShack (NYSE:RSH) reported a terrible fourth quarter Tuesday morning. Sales fell 7% year-over-year to $1.3 billion, below already tempered consensus estimates. Earnings per share were a disaster, falling from $0.12 in the fourth quarter of 2011 to a loss of $0.63 in the fourth quarter of 2012 - though this number was negatively impacted by a $67 million non-cash charge. We're steering clear of shares in the portfolio of our Best Ideas Newsletter.
Consistent with what we've seen all year, the company's core business continues to deteriorate, with same-store sales dropping 7% during the fourth quarter. The firm also announced earlier in the year that its mobile-store relationship with Target (NYSE:TGT) has been terminated (which could put downward pressure on sales in the magnitude of at least 10%). On the positive side, the Target business lost $37.5 million this year and lost $21 million in 2011, so RadioShack will be eliminating an unprofitable segment. Either way, RadioShack's postpaid wireless business, once a money-making gem, is now floundering, leading us to believe the long-term strategy is unclear. Perhaps incoming CEO Joseph Magnacca will be able to right the ship, but we aren't very optimistic about the direction of the firm's core business.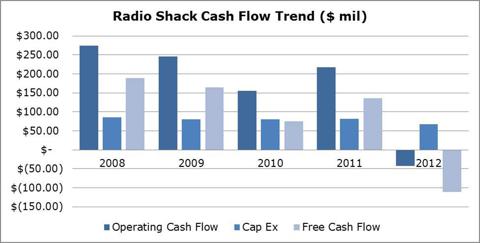 Cash flow in 2012 was atrocious, as the firm burned through $110 million of free cash flow (compared to positive free cash flow of $135 million in 2011). The five year free-cash-flow trend certainly does not look positive, in our view. Further, we noticed that accounts payable jumped 25% year-over-year, meaning cash at the end of 2012 is probably a bit overstated (as the firm took a longer time to pay vendors). To be fair though, accounts receivable increased at the same pace, but inventories jumped 22% year-over-year and now sit at $900 million. This implies to us that the company is sitting on a ton of products it can't move fast enough. We'll be watching cash flow very closely.
Gross margins were weak during the fourth quarter, down 100 basis points year-over-year to 34.5% as the firm struggles to maintain profitable sales. SG&A also jumped 50 basis points as a percentage of sales to 31.5%, even though the company cut the amount of SG&A nearly $25 million year-over-year.
Some have speculated that companies looking to establish a brick-and-mortar presence such as Amazon (NASDAQ:AMZN) and/or Google (NASDAQ:GOOG) would love to scoop up RadioShack's huge retail network, but we highly doubt either company would be interested. For one, RadioShack has a significant amount of stores located in B and C malls, as well as other poor locations. Further, it'd be difficult for any non-brick-and-mortar entity to start with over 4,000 RadioShack locations once the ink is dry. Retail is notoriously difficult, and we think Amazon (and particularly Google) would rather start small.
Overall, RadioShack maintains ample liquidity to run for the next year or two, but we aren't very optimistic about the long-term future of the business. RadioShack has a deteriorating reputation, a business under fire from online retail, and likely too many unprofitable locations to count. We're staying as far away from the shares as possible.
Disclosure: I have no positions in any stocks mentioned, and no plans to initiate any positions within the next 72 hours. I wrote this article myself, and it expresses my own opinions. I am not receiving compensation for it (other than from Seeking Alpha). I have no business relationship with any company whose stock is mentioned in this article.
Additional disclosure: GOOG is included in the portfolio of our Best Ideas Newsletter.