Last week we enjoyed unrealized gains of +3.8% in our Ultra ETF position while the balance of the portfolios remained in cash. We plan to enter new positions on Monday.
Top performing non leveraged ETFs for the week were Oil (NYSEARCA:USO) up +11.1%, while Inverse S&P 500 (NYSEARCA:SH) added +4.5% as the major indexes swooned.
Laggards were Silver (NYSEARCA:SLV), shedding -9% as its recent correction gained momentum, and Real Estate (NYSEARCA:IYR), losing -6.7% as the building and financial sectors continued their seemingly never ending struggles.

Our Yellow Flag Flying status remains in force as we continue to expect volatile, choppy prices ahead.
On Friday, we said goodbye to another brutal month and, looking ahead, things continue to look dangerous and troublesome.
January was the worst month in the history of the Dow and February was not to be outdone, logging in as the worst February ever.
For February, the bad news continued with the Dow losing -11.7%, or 938 points, the S&P -10.9%, and the NASDAQ -6.7%. The S&P is now down -18.6% YTD and -52.9% from its October, 2007, high.
Our strategy will be to maintain our Ultra position, and we are also looking for opportunities in the precious metals andcurrencies sectors.
We believe that Oil will continue to track the general market and that OPEC will continue to try curtailing supply in their mid-March meeting and that Silver will continue its short term correction.
Looking at the big picture, the primary trend remains down, and Friday's close below November's lows is an ominous development.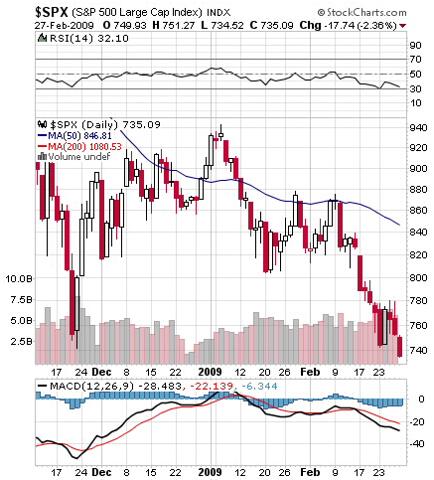 The next significant support doesn't occur until the mid 600s which would take us all the way back to mid 1996.
Volatility remains high and the environment remains treacherous.
The economic news continues to be dark and stormy with GDPcoming in at -6.2% for the 4th Quarter, the biggest drop since 1982.
GDP is now forecast to decline for the Second Quarter, as well, which would be the first back to back decline since the mid 1940s.
Legendary investor Warren Buffett reported his worst ever results for his Berkshire Hathaway (NYSE:BRK.A), whose share prices have plunged -46% in the last twelve months.
Fed Chairman, "Gentle Ben" Bernanke tried to calm markets this week by saying that the recession could end in 2009 and that 2010 could be a "year of recovery," but hedged his bet by adding that, "If we don't stabilize the financial system, we're going to flounder for some time."
Judging from market action this week, many players aren't buying into Chairman Bernanke's view of things to come.
And, finally, on Friday, I was heartened to see that we (the taxpayers) now own 36% of Citicorp (NYSE:C) with the third government attempt at saving this pathetically sick institution. Its stock dropped more than 38% on Friday to microcap status at $1.50, down from a high of approximately $55 less than two years ago.
Amazing.
The Week Ahead
Several important economic reports could move the markets this week.
Monday: January Personal Income, January Consumer Spending, February Institute of Supply Management Report
Tuesday: January Pending Home Sales, February Vehicle Sales
Wednesday: ADP Employment Index, ISM Service Sector
Thursday: Weekly Jobless Claims
Friday: January Factory Orders, February Non Farm Payrolls, February Unemployment
Sector Spotlight
Weekly Leaders: Oil, Commodities (NYSE:DBC), Short Dow 30 (NYSE:DOG)
Weekly Laggards: Silver, Real Estate, Industrials (NYSEARCA:XLI)
Disclosure: none