VIX - Market Sentiment:
Thursday S&P futures were again mostly flat heading into the open after coming down from the negative GDP release. Futures were trading in a fairly tight 6 handle patter moving only 11 handles on the day, trading again near 1520. Economic news out today disappointed analysts as GDP growth was expected to be revised higher than the 0.1% missing the 0.5% forecast. On the bright side unemployment numbers did tick lower as a reported 344K filed for unemployment against an estimated 361K. Tonight big numbers out of China are expected as manufacturing PMI is forecast to hit 50.5. These numbers can really move the markets so those long or short futures will be looking tonight for some potential big moves in the futures.
The spot CBOE Volatility Index (VIX) and futures continued to fall until just after 1PM when volatility again began to catch a bid. The US Government sequester continues to come and stocks for the most part continue to shrug these worries off believing a deal will get done. This theory of course was squashed today as the US Senate rejected a rival bill to prevent the 85B sequester. This news caused both futures and volatility ETF (NYSEARCA:VXX), 2x ETF (NASDAQ:TVIX), and alternative 2x ETF (NYSEARCA:UVXY) to move higher as some position for potential downside. The VIX bouncing off of 14.16 was also the time where some VIX call buying also came into play with some giving up on March calls and bought the June 21-25 call spread 10K times for 550K. The spot VIX and futures then climbed for the rest of the day going out on the highs near 15.60 as the market rally continued to fade. Overall calls continue to be overall sold which continues to worry me as every trading desk I know seems to be short volatility in one way or another. It is noteworthy to state VIX options were well under average today, only trading 390K against the 1.3M calls trading reported on the sonar (here).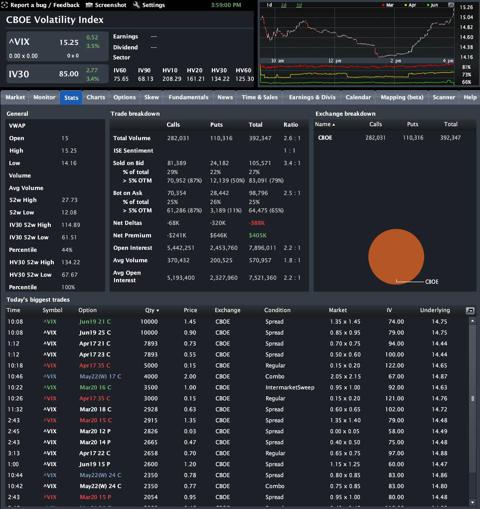 Statistics and Screenshot Provided By LiveVol
VIX futures are listed below.
Monday
· March VIX futures 17.65
· April VIX futures 17.47
· May VIX Futures 17.52
Tuesday
· March VIX futures 17.00
· April VIX futures 17.35
· May VIX Futures 17.55
Wednesday
· March VIX futures 15.25
· April VIX futures 15.95
· May VIX Futures 16.56
Today
· March VIX futures 16.10
· April VIX futures 16.70
· May VIX Futures 17.05
Options Paper:
Option paper again returned to pathetic levels trading just 12.75M contracts on the day. The main names moving in today's tape were J.C. Penny (NYSE:JCP), Gold ETF (NYSEARCA:GLD), VXX, and Groupon (NASDAQ:GRPN) all seeing higher than average option paper on the day. JCP of course last night reported a disaster of a quarter and my call calendar 1:2 was crushed. On the bright side selling 2x of the weeklies at 200% IV limited my losses much more than those who were outright long calls. GRPN also was crushed today down 24% on the day as weak earnings and forecast weighed on the stock. Interestingly enough both of these names actually saw call buying today along with put buying as bulls try to speculate on a rebound. For those who follow me and my trades on Twitter I did re-enter a long bet on Salesforce.com (NYSE:CRM) ahead of earnings. This time I played a different strategy as I sold 1x of the 160 calls to buy 3x of the 175 calls for a slight credit. This trade allows me to make money whether CRM goes up or down as long it does not pin to 175.00 for expiration. Options activity in this name has remained bullish of late but today saw a little reversal of this move as puts were bought almost to the tune of 1M and calls at 480K. IV was up 3% on the day on more than 5x average daily volume with calls and puts trading almost 1 for 1.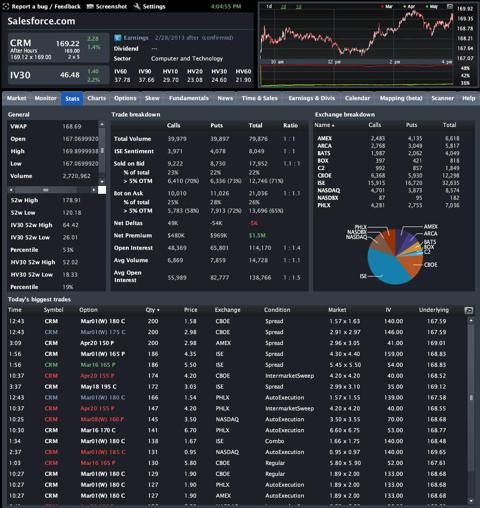 Statistics and Screenshot Provided By LiveVol
A name not normally associated with the sonar report popped on my radar - TD Ameritrade (NASDAQ:AMTD). Yes the online discount broker saw heavy call activity with the August 23 strike calls bought 37K times in a single block at 9:57. Call buying then continued in this name trading just over 42K contracts on the day in just the 23 strike. This is very unusual as this name typically only trades 2K contracts a day and low trading volumes have been typical in the market. I could not find a specific buyout rumor or catalyst provoking the call buying but it sure looks as if someone believes AMTD will rally through the summer. AMTD is trading just $1 off the 52 week high so this player is looking for a big break to the upside before August expiration. Net on the day more than 1.1M worth of calls were purchased against just 2K of puts, moving implied volatility up 11% on the day. Options activity was almost 25x average daily volume with calls outnumbering puts a staggering 142 to 1.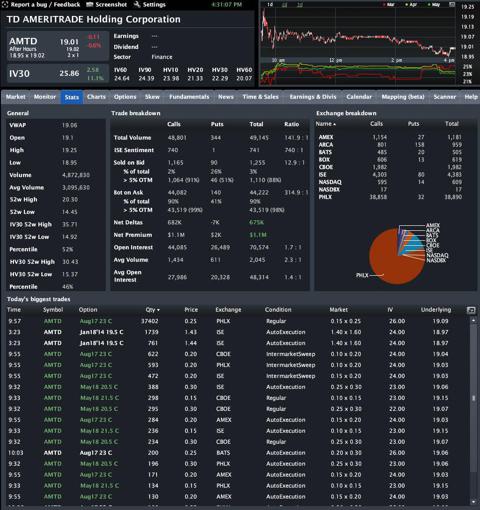 Statistics and Screenshot Provided By LiveVol
Not really unusual options activity but the implied volatility exploded in Intuitive Surgical (NASDAQ:ISRG) after falling more than 11% in just a few short minutes before the close. Computers were rushing to buy protection buying the March 350 strike puts for .05 on any offer they could get. This move came just seconds after a report of a safety probe initiative. Options activity in terms of volume today was nothing to write home to mother about but the net premium is a different story. Today saw almost 100K of net calls sold against 245K of net puts bought on the day. Options activity was under average today but puts outnumbered calls 1.7 to 1 as implied volatility screamed to a 52 week high, up 48.6% on the day.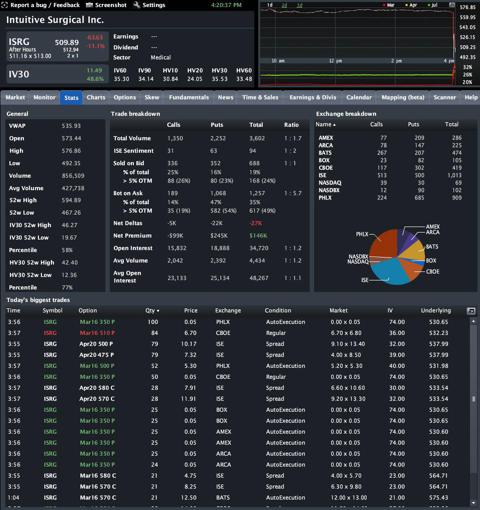 Statistics and Screenshot Provided By LiveVol
Popular ETFs and equity names with bullish / bearish paper:
Bullish Option Flows - ISE and % OTM calls bought on offer
ArvinMeritor (NYSE:MTOR) 86% - 2K OTM calls bought
Windstream (NASDAQ:WIN) 71% - 3K OTM calls bought
Lowes (NYSE:LOW) 46% - 26K OTM calls bought
Bearish Option Flows - ISE and % OTM puts bought on offer
Elan Corp (NYSE:ELN) 98% - 2.5K OTM puts bought
McDermott (NYSE:MDR) 97% -3.2K OTM puts bought
Mednax (NYSE:MD) 95% - 4.4K OTM puts bought
Endo Pharma (NASDAQ:ENDP) 86% - 2.1K OTM puts (Doesn't look good for my calendar long)
As always happy trading and stay hedged.
Remember equity insurance always looks expensive until you need it!
Disclosure: I am long AGNC, BA, CBB, CONE, CRM, ENDP, IOC, JCP, MTGE, NRG, TLM, TUMI, and I am short ARUN, DDD, EDU, LULU, SPY
Trades Today: Closed IOC short weekly calls leaving on back month call, Bought CRM 1x3 call backspread.
Disclaimer: The opinions in this document are for informational and educational purposes only and should not be construed as a recommendation to buy or sell the stocks mentioned or to solicit transactions or clients. Past performance of the companies discussed may not continue and the companies may not achieve the earnings growth as predicted. The information in this document is believed to be accurate, but under no circumstances should a person act upon the information contained within. I do not recommend that anyone act upon any investment information without first consulting an investment professional as to the suitability of such investments for his or her specific situation.
Disclosure: I have no positions in any stocks mentioned, and no plans to initiate any positions within the next 72 hours. I wrote this article myself, and it expresses my own opinions. I am not receiving compensation for it (other than from Seeking Alpha). I have no business relationship with any company whose stock is mentioned in this article.