The last several years were, without a doubt, heady times for the oil and gas industry. Oilfield suppliers in particular enjoyed a kind of prosperity that even many industry old-timers regarded as nothing short of extraordinary. But growth in demand, and the challenges of serving that growth, clearly took a toll on the service and performance customers received from their suppliers during the period. In fact, EnergyPoint Research's Oilfield Customer Satisfaction Index fell significantly beginning in 2004, hitting its all-time low in mid-2008. Ironically, although not surprisingly, this low-point in customer satisfaction came at the same time the Philadelphia Oil Service Index (OSX) reached its historic peak.
Despite enjoying some recent recovery, oilfield supplier customer satisfaction scores still remain conspicuously low. Comparison with other products and services in the broader economy — as measured by the American Customer Satisfaction Index — suggests oilfield suppliers' aggregate ratings currently rank somewhere between those of commercial airlines and the U.S. Postal Service, organizations few consider to be champions of the customer cause.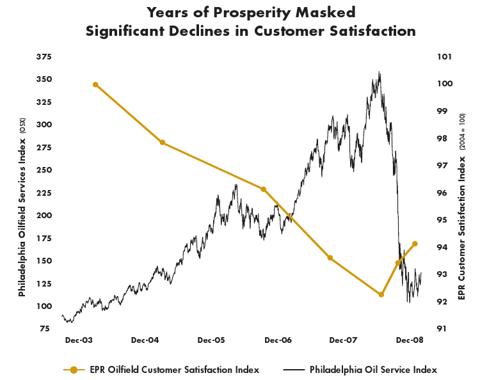 Declines That Mattered
Multiple factors contributed to the erosion of customer satisfaction during the latest up cycle. The majority of the product, service and organizational attributes tracked in EnergyPoint's independent surveys showed some degree of falloff. However, closer analysis does indicate service suppliers struggled in certain areas more than others. The greatest transgressions appear to relate to the perceived inability of suppliers to adequately apply lessons learned across jobs, combined with a failure to remain flexible and responsive to meeting customers' needs. The maintenance, condition and quality of field equipment were also a major source of frustration for customers. What makes the ratings declines in these attributes so newsworthy is that they are all significant drivers of overall satisfaction and customer loyalty. In other words, the largest declines over the last several years occurred in areas that mean the most to oilfield customers.
Service-side suppliers seeing their ratings lag those of peers in these influential attributes include Basic Energy Services (NYSE:BAS), Expro International, Nabors Industries (NYSE:NBR) and Patterson-UTI (NASDAQ:PTEN). Weatherford International (NYSE:WFT), Key Energy Services (NYSE:KEG) and Grey Wolf, now a part of Precision Drilling (NYSE:PDS), also garnered lower scores in certain of these areas. A handful of service suppliers did manage to maintain more upright ratings during the period, including Helmerich & Payne (NYSE:HP) , M-I SWACO, Noble Drilling (NYSE:NE), Rowan Companies (NYSE:RDC) and Wood Group (OTCPK:WDGJF). To a lesser extent, Core Laboratories (NYSE:CLB) also registered strong scores.
To the credit of suppliers, respondent ratings in the all-important area of health, safety and environmental (HSE) policies and procedures showed only mild deterioration during the period. This was the case despite a demanding operational environment. Industry titans Schlumberger (NYSE:SLB) and Halliburton (NYSE:HAL), along with Baker Hughes (BHI) and BJ Services (BJS), all stood out in HSE. Respondents also found less to complain about when it came to the majority of suppliers' geographic reach and breadth of product and service offerings.
On the oilfield equipment side, the largest declines in satisfaction were related to delivery and quality controls. Unfortunately, a number of suppliers saw their standings languish in both metrics, the apparent result of some over-promising on delivery schedules while producing equipment that did not meet or failed to perform at expectations, or both. The list of equipment makers that received lower scores in these areas includes Aker Solutions (AKSO.OL), Hydril, National Oilwell Varco (NYSE:NOV), Tesco (NASDAQ:TESO) and VetcoGray, a unit of General Electric (NYSE:GE). Conversely, Davis-Lynch, Derrick Equipment, Lufkin Industries (NASDAQ:LUFK) and Sumitomo Metals Pipe & Tube enjoyed relatively robust ratings across these key dimensions. Frank's and Smith International (SII) also weighed in with relatively healthy marks.
Categories Vary
Of the oilfield categories covered in EnergyPoint's surveys, respondents were most apt to rate suppliers lower in land contract drilling. In fact, absent the inclusion of scores from long-time standout Helmerich & Payne, and to a lesser extent Precision Drilling, we shudder to think how low aggregate scores for this category would have been. And it was more than just frustration with limited rig availability and escalating dayrates that drove land drillers' ratings down. Offshore drillers also suffered from limited rig availability, while charging 10 to 20 times more in dayrate than land drillers; yet satisfaction levels for offshore drillers remained relatively buoyant during the period. In fact, two offshore drillers, Rowan Companies and Noble Drilling, recorded some of the highest satisfaction ratings of any suppliers in our surveys. Our take is that too many land drillers simply under delivered for too long, resulting in too many frustrated, and sometimes angry, clients.
Ratings also fell in the high-profile arena of subsea equipment, in part due to some low marks received by Aker Solutions. Lower ratings for VetcoGray and FMC Technologies (NYSE:FTI) also contributed. These were offset somewhat by stronger marks from category leader Dril-Quip (NYSE:DRQ). To be sure, the conditions under which subsea products must operate are anything but accommodating. Nonetheless, survey participants appeared relatively uninspired by the performance of this segment over the last several years.
IMPACTS ON the Future
Some decline in customer satisfaction can be expected during times of rapid and extended growth. After all, oilfield suppliers are no different than most companies — when stretched beyond their means, their performance suffers. But it is both the severity and breadth of the declines in customer satisfaction registered during the 2004 – 08 up cycle that are so striking. Accordingly, as suppliers seek to divine what the future holds for their organizations over the next few years, they might want to ask themselves how loyal they can expect their past customers to be given their performance. For some, we suspect the answer might prove quite revealing.