BlackBerry (BBRY) has been battling a rapid decline in consumer market share for the last several years. BlackBerry didn't make a name for itself by selling phones to consumers; however, the corporation had a stranglehold on enterprise solutions that allowed it to be highly profitable. It's now 2013, and many companies have abandoned or are in the process of cutting off BlackBerry in lieu of different server providers. What was once a strong source of revenue for the ailing corporation may never come back.
Back in Q1 2012, BlackBerry announced that it would be refocusing on the enterprise part of its business. During the year following the announcement, however, enterprises shook off BlackBerry by the score. Although current numbers are not yet available, current estimates believe that BlackBerry's 52% enterprise market share in 2011 has fallen to ~30%. Anecdotally, this becomes evident: news constantly comes around of a different company dropping BlackBerry for Android or Apple devices. While this may still be a healthy chunk of the enterprise market, trends do not bode well for BlackBerry.
Competition for the enterprise market has been mounting. Apple's (AAPL) iPhone recently overtook the BlackBerry in enterprise usage, according to the latest Mobile Enterprise Survey. While BlackBerry may still be in second place, Android is encroaching on its position from third place. Companies are also starting to institute BYOD (bring your own device) policies in order to cut costs. While BYOD may be a relatively new phenomenon, adoption rates are growing steadily. An infographic from blog CXO Unplugged shows that people are now more willing to mix business and personal life in one device, with developing economies showing much higher rates of adoption for BYOD policies.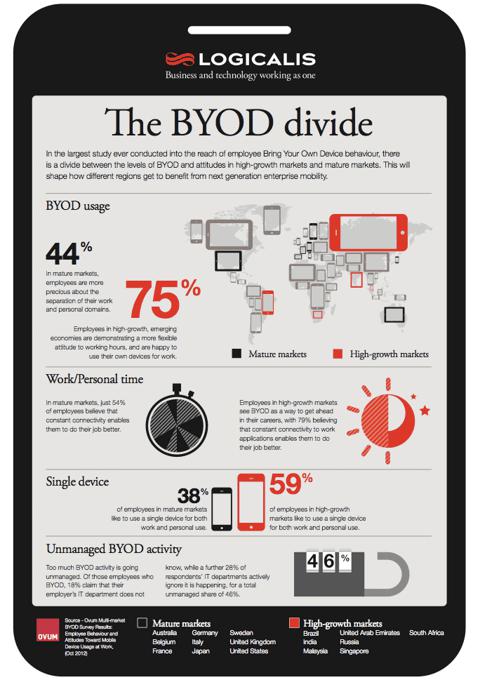 BlackBerry has long been heralded as the most secure enterprise platform. In a recent study published by Canada's government, there are several flaws within the operating system's security. PIN to PIN data messaging (BBM), was shown to attach a unique electronic address to every message that was sent. It was stated that "any BlackBerry device could potentially decrypt all PIN-to-PIN messages sent by any other BlackBerry device." The report also said that this "may expose information to compromise."
While BlackBerry may have had a powerful grip on the enterprise market back in 2011, times are changing. As companies expand their repertoire and begin to support BYOD policies, BlackBerry's position continues to weaken. Even though BlackBerry is now focusing on its enterprise solutions, it is bleeding market share. It is not advisable to go long because of these findings.
Disclosure: I have no positions in any stocks mentioned, and no plans to initiate any positions within the next 72 hours. I wrote this article myself, and it expresses my own opinions. I am not receiving compensation for it (other than from Seeking Alpha). I have no business relationship with any company whose stock is mentioned in this article.