At first glance, Exxon Mobil (NYSE:XOM) looks like it could be a laggard according to its low below average annual expected earnings growth of 1.79% for the next five years. The average annual earnings growth for the S&P 500 is expected to be between 8% and 9% over the same period. However, Exxon Mobil has a few good things going for it. For one, the company is a solid dividend payer. Exxon Mobil's dividend payments have grown at an average annual rate of 6% over the past 30 years. The company's current yield is 2.6%.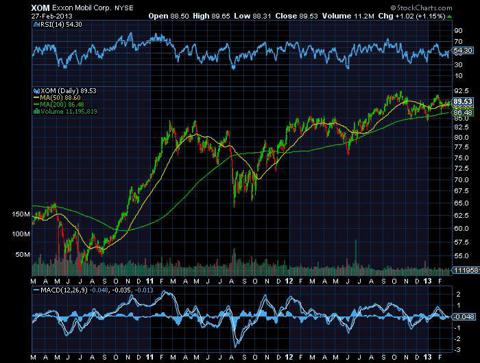 In addition to dividends, the company is also a large buyer of its own shares. These stock buybacks reduce the amount of shares outstanding, which increases value to shareholders. Steady stock buybacks can help a company's shares appreciate as the total supply of shares is reduced. During 2012, the company purchased 244 million shares which amounted to $21.1 billion. The company announced that it will purchase $5 billion of its stock in the first quarter of 2013.
The stock has slightly lagged the market over the past 3 years. However, Exxon Mobil has outperformed the market over the long-term. The company's performance looks solid over decades, so long-term investors should not have to fret about poor performance in the short-term.
The Eia.gov website states that crude oil production, particularly from tight oil plays, is expected to rise sharply over the next decade. Domestic production of crude oil is expected to increase sharply with annual growth averaging 234 thousand barrels per day through 2019, when production reaches 7.5 million barrels per day. Exxon Mobil has invested $300 million on a pilot project with OAO Rosneft to tap tight oil resources in Russia. Exxon Mobil's XTO Energy subsidiary has given the company a significant footprint in unconventional resource plays. Exxon Mobil operates over 37,000 gross wells.
The company's trailing P/E ratio of 9.23 and forward P/E ratio 10.95 are significantly lower than the S&P 500's P/E of 14. Another attractive valuation metric is XOM's price-to-book ratio of 2.45. These metrics show that XOM is undervalued as compared to the overall market.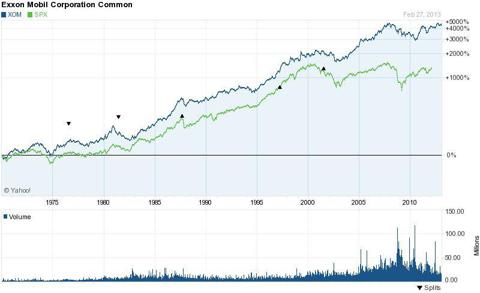 Risks
Exxon Mobil does depend on the price of commodities including: crude oil, bitumen, and natural gas. Lower prices for these commodities could have a negative effect on revenues, operating income, and cash flow. The company also needs to add to existing proved reserves in order to maintain increased production. Stricter changes in environmental laws and regulations could have a negative effect on the company's revenue and income.
Looking Forward
The company should perform well for the next 5-6 years as oil production continues to increase. XOM's large stock buybacks should continue to create value for shareholders and perhaps compensate for the company's low expected earnings growth in the form of price appreciation. The dividends are consistently increased each year, which makes the company attractive for long-term dividend investors.
Disclosure: I have no positions in any stocks mentioned, and no plans to initiate any positions within the next 72 hours. I wrote this article myself, and it expresses my own opinions. I am not receiving compensation for it (other than from Seeking Alpha). I have no business relationship with any company whose stock is mentioned in this article.