Apple (NASDAQ:AAPL) and Berkshire Hathaway (NYSE:BRK.A) again placed first and second on the 2009 list of the "World's Most Admired Companies," which was released by Fortune Magazine today. Many of the other top-10 companies on the closely watched list represent America's most valuable brands and include Toyota (NYSE:TM), Google (NASDAQ:GOOG), Johnson & Johnson (NYSE:JNJ) and Procter & Gamble (NYSE:PG).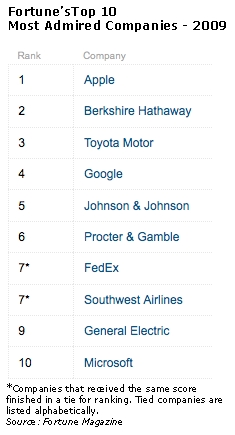 Two companies dropped out of the top 10 this year: Starbucks (NASDAQ:SBUX), the now struggling coffee café chain, which plummeted from #6 in 2008 to #34 in the 2009 rankings; and GoldmanSachs (NYSE:GS), which dipped only slightly, from #10 to #15, according to Fortune.
Two newcomers to the top 10 - Southwest Airlines (NYSE:LUV) and Microsoft (NASDAQ:MSFT) - were close to breaking into the top 10 last year.
The survey annually measures the perceptions of investors, securities analysts, and executives on a numbers-ranked basis in nine specific categories: innovation, people management, use of corporate assets, social responsibility, global competitiveness, management quality, financial soundness, long-term investment, and quality of products and services.
2009's Least Admired
Despite the fact that the research was conducted before numerous economic and performance problems with many companies became readily apparent, some of the least admired firms on the 2009 list went on to experience even greater difficulty after the research was completed. Among 2009's least admired:
Not surprisingly, the automotive, airlines and publishing industries housed many of the other least-admired firms. Receiving weak scores were Ford (NYSE:F) (despite being the only of the Big 3 not to ask for bailout money), Fiat (FIATY.PK), Delphi (OTC:DPHIQ), Tribune Company (which filed for bankruptcy protection in December), struggling magazine publisher Meredith Publishing, American Airlines (NASDAQ:AMR), USAir (LCC) and United Airlines (UAUA).
On the other hand, several big banks and regional banking powerhouses scored fairly well, with the exception of National City, Citigroup (NYSE:C) and Royal Bank of Scotland (NYSE:RBS).
Other notable companies that took a hit in the rankings: Jones Apparel (NYSE:JNY) (overall score of 4.06), Pilgrim's Pride (PGPDQ.PK) (4.26), CA – formerly known as Computer Associates (NASDAQ:CA) (4.15), weak performer Alcatel-Lucent (ALU) (4.09), Aegon Insurance (NYSE:AED) (4.69), and Affiliated Computer Services (ACS) (4.88).
About the rankings: This year Fortune has revamped its Most Admired Survey by combining the former America's Most Admired Company (AMAC) and World's Most Admired Company (WMAC) surveys into one. This year's survey covers 64 industries: 25 international industries and 39 primarily US-market industries. A total of 689 companies from 28 countries were surveyed.