The common investor seldom uses the long-short strategy in their investments. Large hedge funds such as Citadel, headed by CEO Ken Griffin, have performed at the top among their peers for a reason. Several hedge funds completely collapsed during the financial meltdown of 2008 because they had improper strategies to deal with such a tumultuous situation.
As you guessed, the basics behind this idea are to short a company as well as go long another company. The key here is that both companies must be in the same sector. You may ask, shouldn't both companies move relative to each other in the same exact industry? The answer is yes, but we are now taking advantage of the difference in price performance. Even if both stocks go up, we simply need our long stock to outperform our short stock. For example, stock A is our long position and stock B is our short position.
By illustration, assume that stock A increases by 10 percent annually, and stock B increases by 7 percent annually. Since we have made 10 percent on the long position, and lost 7 percent on our short position, we have now made this differential of 3 percent on our investment (10%-7%=3%).
How about if we were in a bear market? Assume that stock A falls 7 percent, as stock B falls 10 percent. Now our short has made us 10 percent and the long has lost 7 percent. Again, our gain is 3 percent.
For purposes of comparison, let us assume that an investor has chosen to invest by going long in two companies of the same sector because he is confident in both of them. His investment is now subject to macroeconomic news, much of which can be quite unexpected, and a plethora of various influential factors that can impact the prices of their stocks negatively. In order to mitigate those risks, the investor should analyze which company will outperform another, even though he may believe that both stocks will rise.
You may say this is a great idea, but the return seems too low since most stocks in the same sector will most likely have very small percentage performance differentials. So how do hedge funds utilize this strategy effectively? It is called trading on leverage in order to multiply the returns on an investment. For the average investor to enhance his returns with this strategy, that would entail trading with the use of margin. This will effectively double the investor's return using this strategy. With margin effectively doubling the money invested, a 3% gain translates to a 6% gain on the money we've put at risk.
In addition, the assumption is that the investor will not need to wait an entire year for each paired investment to work out in her favor. Should this strategy play out successfully in a particular pair, the investor can take her 3 percent profit perhaps in a month's time, doubled to 6 percent with the use of margin.
Should this be successful, say 6 times per year, the total return utilizing this strategy could approach 36%, minus the cost of the margin loan from the broker and commission costs.
For our long-short example, we will analyze two casino giants, MGM Resorts International (NYSE:MGM) and Las Vegas Sands (NYSE:LVS). I have chosen these in particular due to the extremely different paths that they have taken throughout their recoveries.
Long LVS
1. Las Vegas Sands initiated a dividend of $1.00 per share in 2012, just under a 2 percent yield at today's current price.
2. LVS plans to increase its dividend in future quarters.
3. CEO Sheldon Adelson is the largest shareholder. He has a great incentive to act in shareholders' best interests such as making special dividend payouts and dividend increases.
4. LVS has a larger presence than its competitors in Macau's lucrative market with a first comer advantage.
5. A special dividend of $2.75 per share was paid to shareholders in December, 2012.
6. It is engaged in active expansion globally.
7. Stock call options indicate a high potential for a strong stock increase according to Jon Nejarian, CEO and founder of Options Monster.
8. Macau's Q3, 2012 gambling revenue rose by 19 percent, which actually marked acceleration from the previous quarter. The company's Q4 EPS of $0.54missed the consensus by 5 cents. Revenue was in-line, and the stock spiked up 4.2% after hours.
Short MGM
1. MGM has a larger presence in the Las Vegas market, which has struggled with oversaturation.
2. It has no dividend which presents less shareholder value.
3. MGM has a large debt of over $13 billion, with high interest rates compared to its peers.
4. The Macau market is three times as big as the Las Vegas market, and MGM has only a small presence in Macau.
5. MGM is expected to lose $0.35 per share next year.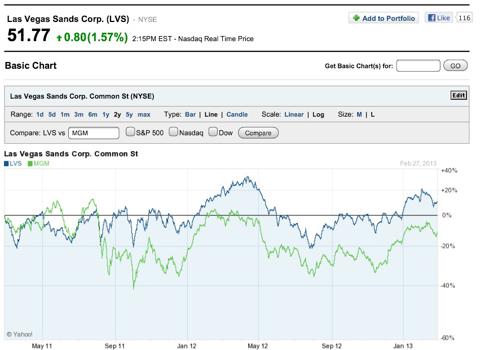 Yahoo Finance February 28, 2013
This is a clear example of how two companies in the same industry can perform very differently. The key is to find the best performer in the industry and go long, while at the same time finding the weakest performer and go short. A risk to the strategy is that the positions may not diverge sufficiently in a reasonable time period, therefore costing us margin interest if we used leverage to double up our position.
Another important risk factor to mention is dividends. Regarding the stock that we have shorted, we must pay the dividend to the person we have borrowed the stock from. If the dividend payable date comes up during the time we have this position on, we are liable for paying the dividend, which would reduce our gains on the position, and might even result in a loss. Therefore, we must pay attention to these dates when putting on the hedge.
One way to mitigate this problem is to use this strategy only on non-dividend paying stocks, or to use dividends to our advantage as in the illustration above. In this example, we have an advantage in our long position in Las Vegas Sands , which has a dividend that we will collect, and no dividend payable on our short position in MGM Resorts International since MGM does not pay a dividend.
This is an overlooked strategy among mom and pop investors, yet should be incorporated a great deal into their portfolios. Applying research and stock analysis on a comparative basis, the direction of the overall market is no longer the major issue. The more important consideration is choosing the better stock among the two and capturing the gain from the spread in their performance.
Several matching pairs in different sectors should be established in order to diversify this strategy, enhancing the returns and mitigating overall risk.
Disclosure: I am long LVS. I wrote this article myself, and it expresses my own opinions. I am not receiving compensation for it (other than from Seeking Alpha). I have no business relationship with any company whose stock is mentioned in this article.