The boys and girls at Qualcomm (NASDAQ:QCOM) really know how to get the technology world excited. As you may be aware, Qualcomm is the world leader in everything involving mobile semiconductors. It makes the most sophisticated 4G modems, have excellent RF, and can roll a killer applications processor to boot. While the rest of the world struggles to tame the furnace that is ARM's (NASDAQ:ARMH) Cortex A15, Qualcomm's next generation, super-speedy Snapdragon 600 system-on-chip finds its way into Samsung's flagship Galaxy S IV, set to be announced in March. While Intel (NASDAQ:INTC) seems to be pushing similar processor performance numbers, it still doesn't have the on-die LTE integration necessary to really win the sockets that Qualcomm currently nabs with ease.
Qualcomm pretty much stole the show at Mobile World Congress, and coupled with the recent earnings beat-and-raise, the stock should still have its mojo for the next several quarters (at least) as long as the broad market stays healthy. Here are some of the highlights from the show that should keep investors excited:
1. Snapdragon 600 Is The Right Product At The Right Time
Qualcomm apparently knows how to do next generation mobile chips right. While Samsung (OTC:SSNLF) is learning very quickly that ARM is big, LITTLE is a huge disaster (I'll cover this more in a separate article), Qualcomm seemed to know better. The Krait isn't as fast as the ARM Cortex A15, but it'll actually fit in a phone without suffering from heat problems -- the right tradeoffs were made for the right applications. According to Piper Jaffray's Gus Richard,
"We believe Samsung's Galaxy S4 has slipped and the Galaxy S3 has been in production a quarter longer than expected," the report quoted Richard as saying. "We believe the S4 is being delayed primarily due to power issues with the company's eight-core Exynos Octa. … We believe the company is likely to shift more to external sources. We believe QCOM will pick up more of Samsung's S4 business."
It's also quite impressive that Qualcomm managed to fit 4 "Krait" cores, Adreno 320 graphics, as well as an on-die LTE modem into a phone. While battery life tests of devices sporting this brand new chipset remain to be seen, I have faith that the company knows what it's doing.
2. Qualcomm Still Has No 2013 LTE Competition
While Nvidia (NASDAQ:NVDA) and Intel have made strong progress on the compute side of the mobile SoCs, the former won't be shipping an integrated LTE modem + apps processor until the end of the year (although it is sampling discrete now), and the latter will begin shipping discrete LTE in 1H 2013. It's not clear when an integrated LTE + apps processor part will be in commercially available phones, so it's hard to draw any conclusions from that. Broadcom (BRCM) is sampling its discrete 28nm modem now for release in early 2014.
During the course of 2013, Qualcomm will run unopposed and should really have no problems meeting/exceeding earnings and sales estimates during this period. Margins won't really come under pressure and market share in LTE/baseband will obviously be quite high. The picture turns a little murkier in the early part of 2014, although it's unclear just how much of the LTE pie the other vendors will be able to take. These are strong companies, but Qualcomm has a strong head start in this area and equally strong R&D to skew the odds in its favor of maintaining that lead: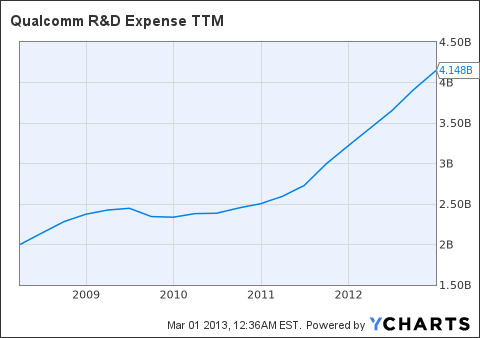 QCOM R&D Expense TTM data by YCharts
3. Company Is Still Posting The Growth Numbers, But...
At the most recent earnings announcement, Qualcomm raised full year EPS guidance to $3.61 - $3.81 per share, representing a 3% - 9% increase in GAAP EPS. This is a little bit misleading as revenue growth is supposed to be in the 22% - 28% range and margins aren't exactly coming under pressure for the company's real moneymaker (patent licensing). Further, the semiconductor products (including LTE modems) don't exactly have a lot of competition right now, so margins should be good.
The problem at the bottom line is that share based compensation is expected to eat away ~$0.51/share in GAAP EPS. For an engineering driven company operating in such a fast industry, retaining top talent is key, so being liberal with share based compensation is expected and perfectly normal. However, if you were wondering why GAAP EPS isn't growing as fast as sales, know that it's almost entirely due to share based compensation and not anything particularly sinister.
Conclusion
Qualcomm operates in a secular growth industry as far as semiconductors go, and it's drawing on a stream of essentially free money thanks to its vast patent portfolio that spans nearly everything wireless. While I'd like a dividend increase and perhaps more aggressiveness on the buybacks to offset dilution from share based compensation, the company is superbly run and on the right track to stay at the top of the heap in mobile chips for years to come.
Would I buy the common stock here now? No. Wait for a pullback or, for those of you not afraid of options, sell some $65 strike May 2013 puts for $2.55/share. Either you get the shares for about a $3/share discount to today's price, or you collect the free money. Can't lose with this strategy if you were planning to buy Qualcomm shares outright today and hold for at least 3 months!
Disclosure: I am long NVDA, INTC. I wrote this article myself, and it expresses my own opinions. I am not receiving compensation for it (other than from Seeking Alpha). I have no business relationship with any company whose stock is mentioned in this article.
Additional disclosure: I am short QCOM put options, BRCM put options, as well as INTC put options. I am short ARMH common and as a hedge may be short ARMH puts or long ARMH calls at any time.