The Dividend Champions spreadsheet and PDF have been updated through 2/28/13 and are available at http://dripinvesting.org/Tools/Tools.asp. Note that all references to Champions mean companies that have paid higher dividends for at least 25 straight years; Contenders have streaks of 10-24 years; Challengers have streaks of 5-9 years. "CCC" refers to the universe of Champions, Contenders, and Challengers.
Growth Continues
February, like January, was a month of subtle changes and continuing growth in the universe of dividend raisers. The biggest change was somewhat "hidden" from immediate view as the "Near-Challengers" - companies with four-year streaks of higher dividends - continued its rapid expansion, as listed in Appendix B on the Notes tab. Many of the companies that raised their dividends in 2010, 2011, and 2012 (after not doing so in 2009) began the year by extending their streaks to four years, so we'll likely see a wave of new Challengers in 2014, when I believe the CCC universe will expand beyond 500 companies. Another group of new Challengers in 2015 will come from the "fallen" companies that cut their dividends during the "Great Recession," but resumed increases a year or two later, such as General Electric (NYSE:GE) and Pfizer (NYSE:PFE), as well as those listed in Appendix C.
A couple of changes this month are worth mentioning. The first was a review of the "Overdue" increases that spanned the entire year of 2012.I determined that most of those companies that had last raised their dividend rate in 2011 had, in fact, "backed into" another year of higher dividends in 2012, so I incremented the length of their streaks. In order to make the situation clearer, though, I added a note to each, such as "2012=Year 7" (in Red) to go along with the dates in Red and the Dividends Paid in 2012 amount, also in Red. So although those companies are still subject to deletion if they don't increase their dividend this year, any confusion about the number of years in their streaks and the 2011 dates should be dispelled.
The second change is more of an evolution in procedure and it concerns foreign companies that trade as ADRs (American Depository Receipts). Essentially, I have decided to delay the extension of the streak (as listed, in U.S. dollars) until their last payment of the year, not the point at which they announce an increase in their "home" currency. Having observed the effect of fluctuating currency exchange rates over the past few years, I think this more conservative approach is judicious. It's quite possible, for example, for such a company to declare an increase in the first quarter, but for the total payments in the current year to dip below those of the previous year. Some exceptions may apply, such as companies that pay only once per year or those that announce their dividends in U.S. dollars (and follow the American pattern of paying the same rate once it is increased). This change may be more gradual, but don't be surprised if, for example, the CCC lists many Canadian firms with fourth-quarter increase dates - even though you may see announcements much earlier in the year.
As always, please feel free to leave any suggestions in the Comment area below.
Quick Summary
The Summary tab includes a table comparing the composite numbers from the latest update to those from the previous month and the end of the previous year. Below that is a summary of the latest month's activity, in terms of companies added, deleted, or promoted. That is reflected below:
Quick Summary:

2/28/13

Champions

Contenders

Challengers

Total

No. of Companies

105

199

167

471

Ave. No. of Years

39.4

14.2

7.1

17.3

Average Price

57.25

56.91

47.29

53.58

Average % Yield

2.77

2.92

3.33

3.03

Ave. MR % Increase

8.31

8.43

10.42

9.04

1/31/13

Champions

Contenders

Challengers

Total

No. of Companies

105

189

175

469

Ave. No. of Years

39.1

14.3

7.1

17.2

Average Price

56.35

56.29

47.02

52.85

Average % Yield

2.77

2.89

3.35

3.03

Ave. MR % Increase

7.82

8.62

10.64

9.14

12/31/12

Champions

Contenders

Challengers

Total

No. of Companies

105

183

170

458

Ave. No. of Years

39.0

14.3

7.2

17.3

Average Price

53.48

50.89

45.25

49.39

Average % Yield

2.93

3.02

3.62

3.22

Ave. MR % Increase

7.75

8.58

10.43

9.06

MR = Most Recent

Additions:

Mead Johnson Nutrition Co. (NYSE:MJN) to Challengers

Principle Financial Group Inc. (NYSE:PFG) to Challengers

Sturm Ruger & Company Inc. (NYSE:RGR) to Challengers

Deletions:

Robbins & Myers Inc. (NYSE:RBN) from Challengers

Promotions:

Compass Minerals International (NYSE:CMP) from Challenger to Contender

Deere & Company (NYSE:DE) from Challenger to Contender

Hasbro Inc. (NASDAQ:HAS) from Challenger to Contender

L-3 Communications Holdings Inc. (NYSE:LLL) from Challenger to Contender

Landauer Inc. (NYSE:LDR) from Challenger to Contender

Natural Resource Partners LP (NYSE:NRP) from Challenger to Contender

Robert Half International Inc. (NYSE:RHI) from Challenger to Contender

Sempra Energy (NYSE:SRE) from Challenger to Contender

Texas Instruments (NYSE:TXN) from Challenger to Contender

WaterFurnace Renewable Energy Inc. (OTC:WFIFF) from Challenger to Contender
(Table from author; may include underlying data from FinViz.com)
Every Picture Tells a Story
As a bonus, I'm inserting one of Chuck Carnevale's F.A.S.T. Graphs below, highlighting one of the companies listed above. When the stock's price line has moved into the green area, it indicates that the stock is undervalued in relation to its earnings. I'm attaching the chart below.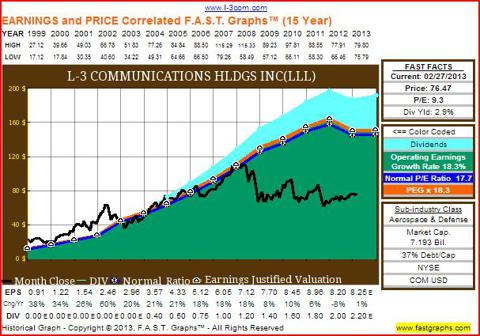 Disclosure: I am long DE. I wrote this article myself, and it expresses my own opinions. I am not receiving compensation for it (other than from Seeking Alpha). I have no business relationship with any company whose stock is mentioned in this article.